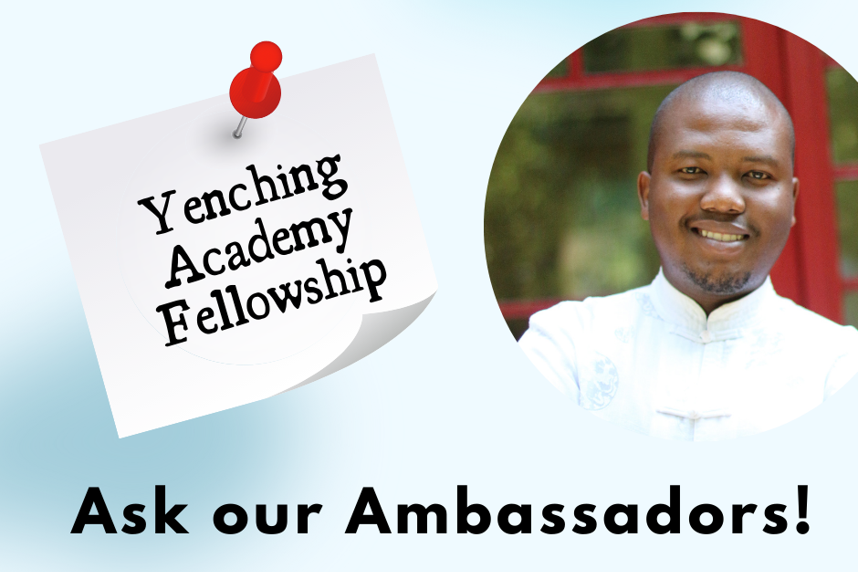 In our new 'Ambassador Advice' series, our Africademics Scholarship Ambassadors share their experience and advice for scholarship applicants in and from Africa. This week Thabiso Donald Mphelane from South Africa, a Master's student in Law at Yenching Academy in China, introduces the Yenching Academy Fellowship and shares valuable tips for future applicants.
About the Scholarship
The Yenching Academy of Peking University which was established in 2014 aims to build bridges between China and the rest of the world through an interdisciplinary Master's program in China Studies. This initiative brings together young people who have demonstrated a talent for leadership and innovation. At Yenching, scholars are immersed in an intensive learning environment where they can explore China and its role in the world through different lenses such as the past, present, and future.
The Academy's goal is to shape new generations of global citizens with a nuanced understanding of China. The Yenching Academy provides full fellowships to its scholars and offers them a wide array of interdisciplinary courses on China within broadly defined fields of the Humanities and Social Sciences.
Yenching Scholars enjoys the freedom to create their own study paths by choosing courses from six related Research Areas:
Politics & International Relations
Literature & Culture
Economics & Management, Law & Society
History & Archaeology
Philosophy & Religion
Scholars participate in a variety of extracurricular activities and field studies, all organized by the Yenching Academy, and designed by scholars themselves. Studying at the Academy is an exceptional opportunity to take part in intercultural exchanges and interdisciplinary learning, developing both personally and professionally.
Funding and Benefits
Successful applicants are awarded the Yenching Fellowship which covers round-air fare, accommodation at the beautiful Shaoyuan Hotel, a monthly stipend, tuition, and Dean's Research grants to conduct research within the borders of China. This kind of research can be carried anywhere within Beijing and other provinces of China, however, your scope of research must be China-focused.
Furthermore, in certain selected courses, scholars have the opportunity to conduct fieldwork under the auspices of their professors and the Yenching Academy covers those costs. For instance, in one of the Courses that I selected namely "Chinese Perspective on Global Migration", we had the opportunity to be flown to the Guangzhou province to conduct research about African migrants and all expenses were covered by the Academy.
All scholars participate in a weeklong field work trip to the Sichuan province where all expenses are also covered by the Yenching Academy. Lastly, the Fellowship is offered on an annual basis and the duration of the Master's programme is two years full-time.
The Yenching Global Symposium (YGS)
The Yenching Academy's flagship event, called theYenching Global Symposium (YGS), is a highly selective conference with an acceptance rate of less than 1% and Yenching Scholars are given first priority. Hosted at Peking University every spring, the symposium comprises engaging lectures, panel discussions, and interactive sessions addressing both China's impact on the world and the influence that the world has on China.
Each year, the symposium features prominent Chinese and international speakers across a wide range of fields, including both scholars and leading professionals. These leaders will share their insights with their potential counterparts: 200 students and young professionals from around the world with a noted passion for China in their work and research.
YGS 2019 received over 6,000 applications, making YGS one of the most competitive academic conferences in Asia. The 98 selected delegates, hailing from 47 countries, joined 83 Yenching Scholars to create a cross-disciplinary gathering of rising global leaders. All selected participants receive full funding whereby the programs run for four days. 2021's theme was "Shared Renewal: Recoupling East with West".
Eligibility and Application
The Yenching Academy annually enrols roughly 120 new students from both the Chinese Mainland and abroad, to study, live, and learn together. International students comprise roughly 80% of the student body.
Applicants should meet the following requirements: a minimum of a Bachelor's degree in any field or currently enrolled in a degree program awarded no later than August 31, 2022; an outstanding academic record; strong interest in the interdisciplinary study of China; a record of extracurricular achievement, community engagement, social responsibility, and leadership potential and English proficiency.
Potential candidates must apply through Yenching Academy's online portal. A completed online application form must include the following: a personal statement (750 words or less); statement of Research Interest (maximum 1500 words, excluding citations); up to date Curriculum Vitae; official transcript(s); Diploma(s) or Certificate(s) of Enrolment; two academic letters of recommendation.
English requirements and minimum scores:
IELTS (Academic): Overall 7.0
TOEFL (iBT): Overall 100
Cambridge English Scale (Advanced): Overall 185
CET 6: Overall 600
TEM 4: Pass level of "良好" or above.
Native English speakers and students or alumni of an English taught degree program (undergraduate or above) are not required to provide English proficiency test scores. English proficiency tests must be taken after September 1, 2020. Unfortunately, the Yenching Academy does not accept TOEFL MyBest Scores.
Applicants should please bear in mind that submission of English scores such as the IELTS, TOEFL, and Cambridge tests, will only be accepted by the Academy if the scores are sent directly to the admissions team. Therefore, applicants must ensure that they choose "Yenching Academy of Peking University" as the designated recipient of their scores when they book the exams and for TOEFL, it is advised that the C488 code must be applied.
Throughout the application process, I understood all the contents and therefore, did not require the Academy's assistance or clarity.
Personal Experience and Advice
My application to the Yenching Academy was successful and overall took three weeks to complete. Moreover, the biggest component of the application progress is the personal statement and references from my supervisors/ previous lecturers.
The fellowship has had a tremendous impact on my personal and professional development. For instance, it has a 2.7% selection rate which is something to brag about, however, the biggest achievement is being selected as the first graduate, and graduate of colour from the University of the Witwatersrand (WITS), the University of Johannesburg (UJ) and Fudan University to obtain the Yenching Fellowship since these were established.
I am also the only South African from 131 selected Scholars in 2019, the first one from the following provinces respectively; Limpopo, Gauteng, KZN, Mpumalanga, Free State, Northern Cape, Eastern Cape, and North West!
I had the opportunity to meet the Minister of Higher Education Dr, Blade Nzimande, who congratulated me on this milestone achievement and was interviewed by Khaya and Thobela FM and even got featured in the Sowetan Newspaper.
On the other hand, Peking University has offered me access to an opportunity at one of America's IV League universities, namely Stanford University on an exchange programme called the Forum for American – Chinese Exchange (FACES) which is dedicated to promoting dialogue and foster long-lasting relationships among future leaders in U.S. – China affairs.
Every year, our two-part summit in the United States and China brings together young leaders and accomplished speakers to discuss the future of the two countries. This is a very competitive leadership programme. I was the only African Scholar selected to participate in the 2020/21 cycle and the theme for the 2020/21 Summit is: "U.S.-China fallout and recovery in light of COVID-19".
I acquired a couple of comprehensive skills through the Yenching Fellowship incorporating both soft and hard skills such as public speaking, Chinese writing, internationalisation and adapting to new cultures just to name a few. The Fellowship has offered me the opportunity to learn and be mentored by one of the best Professors at Peking University, Stanford University, Tsinghua University, and other leading universities across the world.
I had the opportunity to network with those Professors including my peers/ scholars across the world which developed my confidence abilities, and networking skills.
Lastly, I would encourage everybody to apply for this Fellowship because you have nothing to lose, and it requires no admission fee but dedication and determination from your end. To make your application strong, please participate in extra-curricular activities within your university spaces such as mentoring and volunteer programs which will strengthen your application.
Furthermore, have a good professional relationship with your lecturer as their recommendation letters play a vital role in the selection process and practice over and over once invited for the interview. Most importantly, reach out to past alumni on LinkedIn, Facebook and Instagram for assistance and advice about the Fellowship and general life in China.
Fellowship link: https://yenchingacademy.pku.edu.cn/ACADEMY.htm