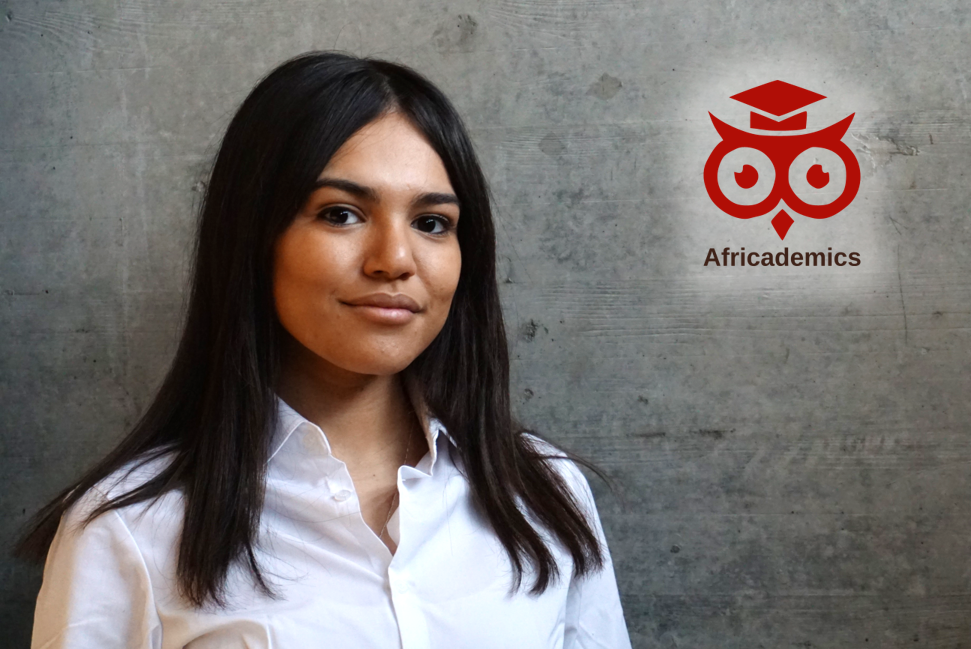 Twenty-five years old, born in Italy to Moroccan parents. Shaped by a mix of cultures and environments that led her to discover the world and investigate its diversity. A passion for facts and figures that has taught her to keep her feet on the ground. This is Nadia Elghaouat, the protagonist of our story. A story made of challenges and perseverance and crowned by success.
Second-generation child: Between Europe and North Africa
Nadia is one of the many second-generation youngsters born and raised far from Africa. Her family is originally from Morocco, but it's been 35 years since her father left Beni Amir to move to Italy and 27 years since her mother joined him.
Despite the lengthy stay in the central-southern European country, her family lived relatively isolated from the Italian culture, facilitating Nadia and her two siblings' exposure to their Moroccan heritage. At school, she absorbed the language, customs and habits of her native country; at home, she learned the language of her parents, fasted during the holy month of Ramadan, and grew up watching North African news, TV programs and films.
Although the home environment and the rare trips to Morocco have given the young woman the opportunity to get in touch with a physically distant reality, Italian everyday life has always been more tangible; this has consequently contributed to shaping most of Nadia's identity. These conditions explain why, when faced with a difficult question that investigated how much she recognised herself as African, the girl hesitated a few seconds before answering. She then admitted to acknowledging that Africa is in her roots, and although she feels like a fruit far from these roots, the fruit would have never been such without them. She continued recalling that the feeling of belonging to a culture other than the one in which she grew up has matured over time.
Such awareness developed while travelling to other European cities and getting in touch with people from all over the world. In particular, Nadia tells us, learning about the South African culture more perceptively has allowed her to reflect on the differences between north and sub-Saharan Africa, thus identifying more clearly with the northern part of the continent.
The beginning of the university journey
The constant multicultural exposure also played a significant role in Nadia's education path. There is a great fascination for languages and the curiosity to discover customs and traditions different from those known alongside the passion for facts and figures.
After high school, the choice of the degree course fell on financial markets and international trades at the Faculty of Economics of the University of Bergamo. She enrolled in 2014, and only after a few months into the course Nadia realised that it did not entirely satisfy her needs. Since the lessons were fully delivered in Italian, they lacked the linguistic variety in which she has a strong interest. Furthermore, the classes did not boast many non-Italian students and teachers; thus, Nadia was burdened by the absence of a more international outlook.
The young woman began to reflect on how to fill the gaps in her course of study. Unaware of where to start and unacquainted with peers and staff at her institution, she began looking for information on the University's website and the various brochures and leaflets available from the secretariat. The poor success of this research discouraged Nadia, to the point that she was thinking of abandoning the idea of modifying her curriculum.
It then happened by chance, through a classmate, that Nadia found herself participating in a meeting attended by the referent of the international programs at her University. She discovered the possibility of applying for an Erasmus starting from the second year of studies. Erasmus is a student exchange program of the European Union that allows young people enrolled in an institution participating in the program to attend a semester at a university located in another European country.
Wasting no time, Nadia immediately sent an application to participate in the exchange program. Among the destinations available, the most attractive were the German ones, having her studied the language during high school.
At that point, she began a series of curriculum exams to complete the first academic year, other exams for the English and German language certification (TOEFL and Goethe), and individual interviews to explain why she would be a suitable candidate. Once ascertained that her grades were high enough, that the language level corresponding to that required, and her motivations were valid, Nadia got accepted for a semester at the University of Trier.
Since Nadia had only one working parent at home, her concern was financing her stay in Germany. Surely, some features of the program gave the student peace of mind. She didn't incur extra tuition expenses, Erasmus offered a grant of about € 250 per month – 30% given at the start of the program, and the remaining 70% credited once she completed her exams – and, finally, the University of Bergamo integrated up to € 550 per month.
However, to ensure she could fund her permanence abroad without worries, Nadia decided to find summer jobs. She worked as a secretary at a local company during the day and as a waitress in the evening. A small sacrifice that allowed her, in September 2015, to pack her bags and officially leave for Germany.
Trier: a new, exciting reality
Once she arrived at the University of Trier, the young student found a very different institution compared to the Italian counterpart. She was positively surprised by a much more engaging and interactive organisational and educational system. The semester fee included local transport and some extra-local trains. The University planned an orientation program for international students. It involved local outings to familiarise them with the German culture, daily leisure activities, and weekly meetings arranged as speed dates, in which students got to know each other while sipping tea.
According to her experience, the lessons were much more captivating. They were structured as seminars that required learners to read texts individually and then discuss them in class with the other peers. The small classrooms facilitated this interaction which, Nadia says, helped her stimulate a critical vision and aided in memorising and retaining the concepts she learned more efficiently. The teachers were more of guides and mediators, rather than an authority to be followed in silence while taking notes, as it happened in Italy.
In addition to being fascinated by the university system, her involvement with students from the most varied countries, with whom she learned about exotic cultures, customs and traditions, and even shared some short trips around Europe, made her desire to repeat the experience the following year.
Not long after having undergone the new University, Nadia decided to go ahead and register for Erasmus 2016. This advance allowed the young woman to worry only about completing the curriculum exams once she returned to Italy.
She remembers that, at the time, the prospect of a future career was not yet in the picture. She was more oriented towards cultivating her passion for the German language and keep travelling. The first two years of University had certainly clarified many things about her course of study and allowed her to narrow the ideas about which path was most suitable. However, they weren't enough to make a definitive choice, and Nadia didn't stress unduly about it. The moments of doubt and despair were not lacking, but she never forgot that they are unavoidable; hence, she imperturbably continued accumulating work and academic experiences.
Berlin: the beginning of an endless love
After another summer spent working to save money, in September 2016, the young woman left for Berlin. Unlike Trier, the German capital is much larger, and it's easy to get lost among the many streets and buildings. Nadia remembers Berlin as an isolated experience, where human connections were scarce.
The student attended HWR Berlin – Higher School of Economics and Law. It is a school more oriented towards work rather than the academic approach. Nadia recalls that all her professors had a working background. During the lessons, they reported first-hand experiences, resultantly the classes were much more practical and in step with the times. They mainly used case studies to teach and required students to prepare presentations to share with peers. Teachers encouraged group work and focused more on finding an immediate and effective solution to a real problem than spending hours analysing theories. At the time, little she knew that all this would have benefited her career in the future.
Although she particularly appreciated the educational structure of the HWR, it certainly did not invest in fostering and building relationships between students like the University of Trier.
In addition to not organising events and activities to involve exchange students, the school she attended was not equipped with dormitories. For this reason, the students had to arrange the accommodation independently, and as a result, they found themselves living scattered around the city. Such a circumstance certainly did not encourage associations among students outside the school environment.
After a couple of months, Nadia started a relationship; she also didn't lack friends and family who visited her from different parts of Europe. Thanks to that, despite the somewhat difficult start, the girl managed to find the company she needed, which made it easier to go through her stay abroad.
The city, so young, vibrant, rich in history and culture, fascinated Nadia to the point of considering moving back there as soon as she completed her undergraduate course. Not having a clear idea of which career path to follow, she contemplated enrolling in a Masters of International Security Management through HWR the following year. However, being busy completing the curriculum exams and preparing the degree thesis, she has postponed the registration to the Master's. In March 2017, the young student returned to Italy, and in October of the same year, she graduated.
Back to the city of the heart
She soon realised it was a bit late to register for the Master's course in Berlin, but tried her luck anyway. As an alternative, she decided to enrol for a Master's course in Management, Entrepreneurship, Marketing and Social Change at the University of Bergamo. She submitted the documents required for both programs, and by November 2017, Nadia was back in her beloved Berlin, where she started a digital marketing internship that lasted four months.
During her experience as an intern, the young woman discovered that some documents required for HWR Berlin would not arrive in time, precluding her from taking part in the course. She consequently decided to complete the registration for the Masters with the University of Bergamo. At that point, Nadia remembers, a hectic period began for her. After completing her internship, she found employment as a hostess for various companies at international fairs. The girl found herself working full time during the day, studying at night, and travelling between Germany and Italy, where she returned from time to time to take exams.
One day, the young student received an email for a call for a Master's program offered by the University of Bergamo. Thanks to her university affiliation with Russian and Austrian institutions, the program included a rotational year split into quarters. A limited number of students from each country involved would have attended a term in each institute, starting from Russia, continuing in Austria and finishing in Italy.
In Trier, the young woman met several Russian-speaking friends, and she was intrigued by their language. As the rotating program offered, among others, a Russian course, Nadia didn't think twice and sent an application.
A year of striking growth
Her spotless academic career has earned her acceptance to the program, so after a summer spent in Berlin and Morocco, she left for Nizhny Novgorod in September 2018. Nadia remembers Russia as an experience that enriched her perspective on many things, but it wasn't always like that.
Initially, the culture shock struck her with surprise. Living in such a vast country, where few spoke English, and even signs and instructions were exclusively in the Russian language, was not easy. She understood she had to modulate communication and self-expression with many local people because of the profound difference between their cultures. Moreover, living in close contact with a group of unfamiliar persons was unusual for her, who was accustomed to living and travelling alone. Initially, the young woman struggled to adapt to the circumstances because of the lack of privacy, and she missed doing things according to her time and preference. Little by little, however, she has come to appreciate the novel situation.
The Russian collectivist culture's influence helped her open up more to the new environment and its inhabitants and strengthened the relationship with her travel mates. In hindsight, Nadia admits, learning to share both leisure time and academic duties with the group served her job in the future.
In December 2018, Nadia continued the experience in Linz, Austria, which was relatively less challenging. Knowing the German language already, she did not have to break down the linguistic barrier, as happened in Russia. The customs and habits were much more similar to neighbouring Italy. Furthermore, being Austria part of the European Union, the student managed to find a job as a hostess during her stay in Linz.
The experience ended in Italy, where Nadia and the rest of the group flew in April 2019. During the program, the girl and her companions visited different companies to understand their dynamics and functioning. For one of these – IBM to be precise – the group worked on a project to develop a new channel for cloud products in close contact with the operational and managerial sector. The young girl remembers that period as remarkably formative. The company staff were willing to assist the young students, and Nadia admits she learned a lot from the people with whom she came in contact.
With the presentation of the projects, in June 2019, the program came to an end. Another success to add to her list of academic accomplishments.
The beginning of a new adventure
A few days later, the girl flew to Berlin for a few days. She still had three first-year exams to catch up on, and she had to complete her thesis but, despite this, she still decided to go ahead and look for an internship. Through LinkedIn, using the certificate obtained a few months earlier at the end of the program, she was able to find an internship in logistics at the cosmetics company KIKO.
Meanwhile, she graduated, and thanks to one of her professors, she managed to extend the apprenticeship for six months. Nadia recalls that she came into close contact with the e-commerce department during that period, which soon offered her to join their team with an actual contract.
Having no other prospects, she accepted. The job is very appealing because it is much more varied and stimulating compared to her previous role. Destiny must have repaid the dedication and commitment constantly maintained during the years of study because the first lockdown in Italy was announced in February 2019. Nadia, even if remotely, is working full time.
Nadia admits that she most likely would not have put the same effort into her studies had it not been for Erasmus. Opening up to an international reality was a fundamental motivator. Moreover, the girl points out, it was the best choice to facilitate her entry into the world of work.
Nadia shows us how important it is to enjoy the journey instead of stressing about getting to the destination. She is an example of how perseverance, dedication, zeal and courage can make a difference. We hope this article will inspire some of our readers. We thank Nadia for sharing her story with us and wish her good luck in her future!
Hillary Frattini is completing a Psychology degree through the University of Essex. She is a passionate storyteller and adventurer, and she firmly believes that education is the key to a better future. Hillary has recently started working on combining her passions to represent the voices of her generation. The views and opinions expressed in this article are her own and do not necessarily reflect the opinions or views of Africademics.