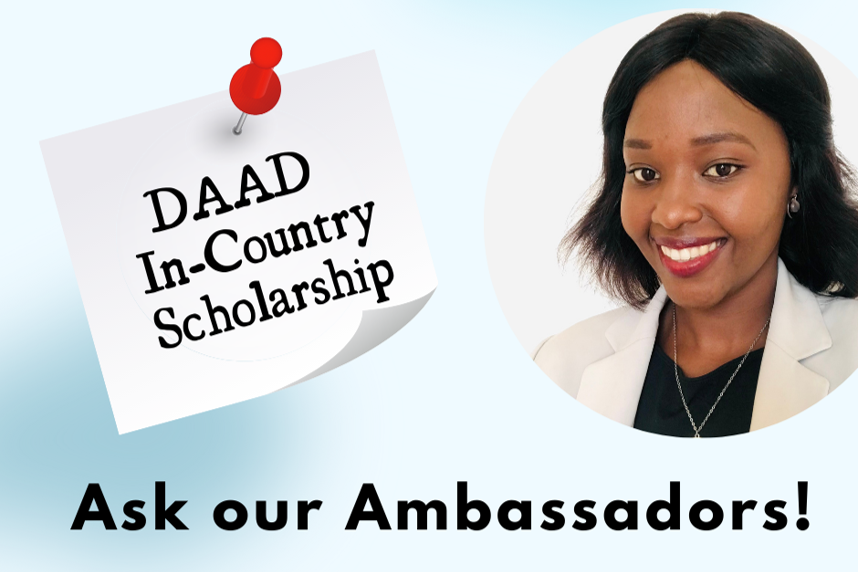 In our new 'Ambassador Advice' series, our Africademics Scholarship Ambassadors share their experience and advice for scholarship applicants in and from Africa. This week Caroline Chasara from Zimbabwe, a PhD student at the Nelson Mandela Medical School, University of KwaZulu Natal, introduces the DAAD In-Country/ In-Region Scholarship Programme and shares valuable tips for future applicants.
About the Scholarship
The DAAD In-Country/In-Region Scholarship Programme for Sub-Saharan Africa is funded by the German Academic Exchange Service (DAAD) and caters for candidates interested in studying as an in-country/in-region student in another Sub-Saharan Africa region (West and Central Africa or Southern African region).
Generally, the scholarship covers a monthly allowance, study and research allowance, printing allowance, and tuition fees. Additional allowances, such as the travel and health allowances, are dependant on various factors including the country of residence and the nature of the research carried out.
Interestingly, the DAAD In-country/In-Region scholarship also offers various research training workshops and summer school programmes which I found very beneficial as they have significantly boosted my confidence and enhanced my communication skills. These workshops created a platform for me to network and exchange ideas with other individuals across the globe.
Eligibility and Application
The scholarship programme targets both female and male candidates from less privileged regions with a first academic degree if applying for a Master's programme, or with a Master's degree if applying for a doctoral programme. In both instances, candidates should be willing to pursue Master's or Ph.D. studies in their home country (In-Country scholarships) or another Sub-Saharan African country (In-Region scholarships).
Applications for the DAAD In-country/In-Region scholarship programme are usually open in August every year. However, application dates are subject to change and they may also differ between regions and institutions. DAAD Germany provides a scholarship step-by-step application guide which makes the application process easier and clearer.
In summary, the application process involves visiting the DAAD official website Scholarship Database – DAAD – Deutscher Akademischer Austauschdienst, creating a portal, selecting the specific call for applications, and following the instructions outlined for the respective call.
Personal Experience and Advice
Based on my experience, one of the most nerve-wracking moments in applying for scholarships is waiting for feedback from the scholarship committee. Fortunately, the selection process for the DAAD In-country/In-Region scholarship programme is quick, and it begins with the pre-selection of applicants.
The pre-selected applicants are then shortlisted, and they are then expected to submit another application through the portal. The submitted applications undergo a second and final screening round before the announcement of scholarship beneficiaries. The successful applicants are then notified via the DAAD portal. It is important to note that the selection criteria and the general application procedure may differ depending on the host institution and the respective call for applications.
I highly recommend the DAAD In-country/In-Region scholarship to individuals willing to pursue their Master's and Doctoral studies as this opportunity increases the range of one's knowledge, understanding, and overall expertise.
Link to the scholarship: DAAD 2021 In-Country/In-Region Scholarship Programme for Sub-Saharan Africa | ScholarshipTab