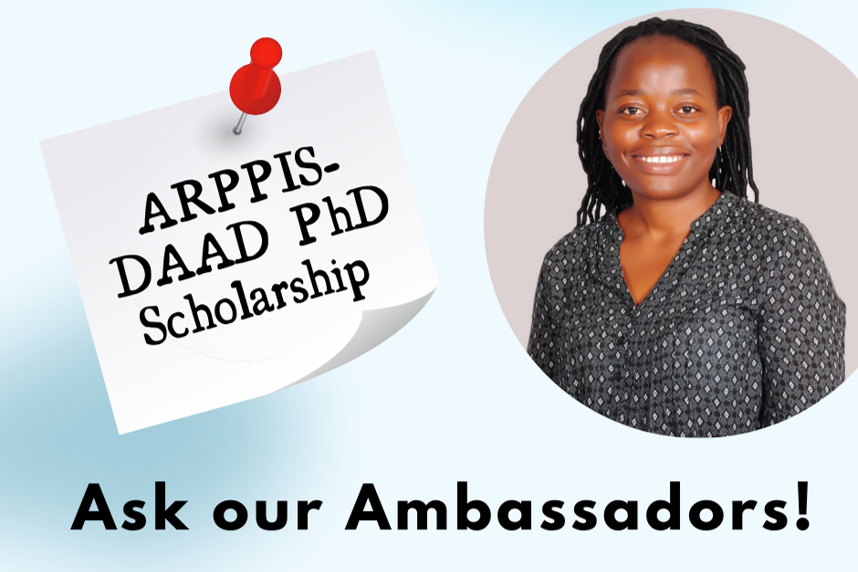 In our new 'Ambassador Advice' series, our Africademics Scholarship Ambassadors share their experience and advice for scholarship applicants in and from Africa. This week Mukundi Mukundamago from South Africa, a PhD student at the International Centre of Insect Physiology and Ecology, introduces the ARPPIS-DAAD PhD scholarship and shares valuable tips for future applicants.
About the Scholarship
I am currently participating in the ARPPIS-DAAD PhD scholarship at the International Centre of Insect Physiology and Ecology (icipe). This is a three-year Doctoral Training in Insect and Related Sciences for Development. The scholarship has afforded me the opportunity to be part of the PhD cohort in the African Regional Postgraduate Programmme in Insect Sciences (ARPPIS) targeting African students.
The program is offered by the International Centre of Insect Physiology and Ecology (icipe), Kenya, in partnership with the German Academic Exchange Service (DAAD) In-Country/In-Region PhD Scholarships Programme and African university partners.
The programme is offered by specifically the International Centre of Insect Physiology and Ecology (icipe), with a possibility to enrol at any African University of choice. However, the DAAD In-Country/In-Region scholarship programme is awarded to Sub-Sharan African students for full-time Master or PhD degrees in their home country or in another Sub-Saharan African country. This serves as a promotion for mobility of researchers between Sub-Saharan African countries and capacity building for Sub-Saharan African universities.
The programme is offered on an annual basis depending also on host institution's funds availability for the project costs. The overall In-Country/In-Region Scholarship programmes can be found on daad.de/go/en/stipa10000486 scholarship database. The ARPPIS scholarship programme at icipe can be found at http://www.icipe.org/news/arppis-daad-phd-scholarships-study-icipe-2021
Funding and Benefits
The programme offers various benefits to the scholarship recipients namely:
Tuition fees
Study and research allowance
Printing allowance
Monthly stipend (i.e., for accommodation, food, and other expenses whilst away from home country)
Travel allowance (round-trip for in-region scholarship holders)
Health insurance
DAAD In-Country/In-Region scholarship holders are also eligible to apply for a research stay in Germany for 3 – 6 months. This short-term research scholarship includes:
A monthly stipend payment for living costs.
Health/accident/personal liability insurance
A flat-rate travel allowance
Additionally, scholarship holders are also eligible to apply for participation in any call of applications for summer school in Germany that is relevant to their study.
Eligibility and Application
Application requirements are two pronged as there is the application to the institution and that of the DAAD, respectively. However, they do complement each other.
In order to apply for the DAAD In-Country/In-Region scholarship, applicants must meet the following criteria:
Must be nationals or permanent resident of a Sub-Saharan African country
Bachelor's degree with above average results (at least Second Class/Upper Division or equivalent)
Master's degree with above average results (at least Second Class/Upper Division or equivalent), taken with both coursework and research in the field of natural sciences or other field relevant to the PhD project advertised.
Additional requirements may apply depending on the PhD project selected by the applicant.
Master's degree must have been completed less than six years ago at the time of application.
Completed application form, PhD project proposal (based on one of the available PhD projects) and accompanying supporting documents.
Good working knowledge of written and spoken English.
Clearly show motivation and strong commitment.
Candidates who are staff members of a public university, or considered for university teaching or research staff recruitment, are encouraged to apply.
Qualified female candidates and candidates from less privileged regions or groups as well as candidates with disabilities are especially encouraged to apply.
Qualified nationals of French- and Portuguese-speaking countries in Africa are also encouraged to apply.
The applicant is required to familiarise themselves with the respective application processes (they provide the application instructions links within the call). This is accompanied by two application deadlines – for applications to icipe and that of DAAD, respectively.
The challenge I encountered when applying is putting together the documents for both applications as per requirements. Another challenge was minor in terms of results in terms of its equivalent with the National qualifications framework of South Africa. With regards to these applications, I have learned that it is crucial to prepare one's application in advance and have all the documentation in order.
The host institution organisers are kind enough to provide detailed application instructions including FAQ section, with also an option to contact the relevant personnel should anything be unclear.
I was lucky enough to receive support from colleagues (University of Venda) and friends during my application process. My colleagues (Stellenbosch University) helped me in writing tailor-made recommendations for the application, which were crucial in support to my application. My friends helped in reading through and providing critiques for the two PhD project proposals, this ensured that my proposals stand out in terms of demonstrating my knowledge, ability to address a research problem and clearly communicate.
Personal Experience and Advice
Having spent almost two decades of my life within my home country with no cross-border experience I decided to take the leap of faith and applied for several international scholarships. Immediately I saw the advert of this scholarship I did not resist the urge to also put in my application to this call, which I was rejected but persisted.
I participated in this Sub-Saharan African scholarship because I have always been an African history fanatic, thus I was curious to see how other African countries conduct research and what challenges they deal with. My participation in the scholarship was aimed at professional development as well as drawing from other fellows' experiences from their home country regarding the teaching pedagogies that works best for Africa.
This was also a networking gateway for both myself and my future students who would wish to explore studies beyond the boundaries of South Africa. Participating in this scholarship has been culturally and academically enriching. I mingled with students and researchers from Africa and beyond who possess a plethora of skills, experiences which they do not shy away from freely sharing. My knowledge was augmented as I have been afforded the opportunity to interact with experts in various fields within the centre and beyond.
My research project has woken up the tourist in me, sprinkled with the opportunity to learn the different dialects within Kenya with its rich culture as I get up-close to homesteads to sample in smallholder farms. Networking has been at the core of the entire experience as I also participated in trainings, workshops, webinars, and conferences within the centre and beyond.
Overall, I can say that my encounters within and beyond the centre have emancipated me to a certain magnitude although the culture shock has been a bit of a roller coaster. I have adjusted and am embracing the process. Whilst participating in the scholarship, I have learned a surfeit of skills both soft and technical, some continue to be refined. Soft skills that I have gained that can facilitate my transition to the job market are strong work ethic, emotional intelligence, research skills, friendly personality, leadership skills, and team work.
I also learned about organizing and productivity software (Google drive, Microsoft Office Suite, Slack, Evernote and am able to use different conference calling software) and communication skills. The technical skills that render my preparedness for the digital era include programming languages (python, R, SQL and PowerBI), data management (Anaconda and Amazon Web Services, project management (Agile proficiency), geospatial skills.
Given all these personal and professional benefits that I have earned through my continued participation in this scholarship, I wish to extend my invitation to fellow young and upcoming scholars to apply. Maybe you think you are not good enough, my advice is apply anyways. Just as the author of Reverie Erin Hanson said: "There is freedom waiting for you, on the breezes of the sky, and you ask, "what if I fall?" Oh, but my darling, what if you fly?"
After two failed attempts, I successfully wrote and won this scholarship on my third attempt. I had challenges in deciding whether to take the offer or not due to fears for my safety far away from home in a country that would be home for the next 3 years. I also struggled with "impostor syndrome other uncertainties surrounding my future project.
In the end I had to choose to move out of my comfort zone to go after what I have always yearned for. Yes, when all is said and done and you are offered the opportunity, you will start worrying about so many things caused by anxiety of relocating, and then you start doubting your ability to successfully execute the project to success but trust me it gets easier with time.
The founder of Virgin Group, Richard Branson said "If somebody offers you an amazing opportunity but you are not sure you can do it, say yes – then learn how to do it later!"