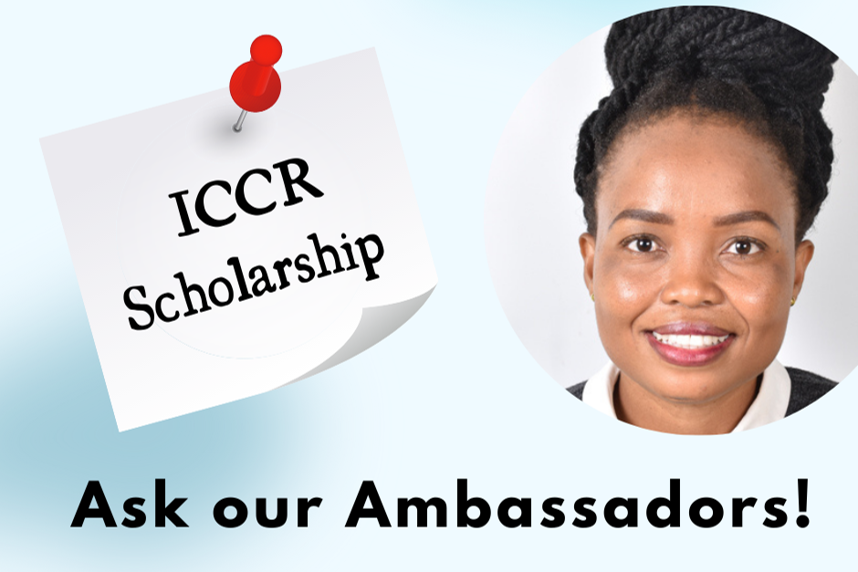 In our new 'Ambassador Advice' series, our Africademics Scholarship Ambassadors share their experience and advice for scholarship applicants in and from Africa. This week Obakeng Ramasu from South Africa, a Master's student in Political Science at Delhi University, introduces the Indian Council for Cultural Relations Scholarship and shares valuable tips for future applicants.
About the Scholarship
The Indian Council for Cultural Relations Scholarship is a scholarship offered by the Government of India annually. This scholarship is meant to strengthen bilateral and cultural relations between India and the partner countries.
The scholarship is awarded to undergraduate, postgraduate and higher course programmes at universities in India. The number of scholarships awarded each year varies, and for Africa the scholarships are implemented by the Indian Council for Cultural Relations on behalf of the Ministry of External Affairs of India.
The scholarship is administered by the different Indian High Commissions or Embassies in respective countries, they are responsible for issuing the ICCR scholarship advert and the application documents are also submitted to them. They then shortlist and send the recommended names to the Indian Council for Cultural Relations in India to award the scholarship to the nominated candidates. The scholarship covers tuition fees, accommodation, living allowance and one round trip air ticket.
My decision to apply for this scholarship was solely influenced by the kind of financial aid that the ICCR offered during the period I submitted my application. I needed a scholarship that would cover all costs since I was not in a position to pay certain costs such as medical insurance.
Eligibility and Application
The eligibility criteria for undergraduate level studies state that the candidate must have completed, for Botswana, their Botswana General Certificate of Secondary Education/ International General Certificate of Secondary Education. For Masters' level, they must be in possession of a four year qualification in a program from a recognised Institution in Botswana or abroad.  For doctoral posts, a synopsis of the proposed area of research is required and for students of performing arts they should enclose, if possible, a video/audio cassette of their recorded performances.
In addition candidates have to have a good academic record and meet both the age and nationality requirements. This scholarship gives priority to students who have never studied in India before. However the scholarship is not open to the following courses: Bachelor of Medicine/ Bachelor of Surgery or Dentistry/ Nursing.
As per the new guidelines for the 2021/2022 admissions, the ICCR scholarship no longer covers medical insurance. It is therefore compulsory for all scholars to procure a medical insurance policy with the minimum sum assured for Indian Rupees Five Lakhs (equivalent to US$6800) per annum on their own before travel or immediately after reaching India.
A 500-word essay in English has also been introduced to ascertain English language proficiency; alternatively candidates can submit their TOEFL/IELTS test scores. For more detailed guidelines on the process of applying for the ICCR scholarship, visit A2A Portal online: https://www.a2ascholarships.iccr.gov.in
The ICCR application process is one of the easiest application processes however the candidate needs to do a thorough research with regards to the courses and eligibility criteria of Universities of interest before applying. The first application step, the A2A portal will prompt a candidate to create an account, then fill in their details, choose a program and five Institutions they wish to be placed at, download a medical form (to be completed by a medical practitioner).
The candidate will then be prompted to fill in their qualification credentials, upload transcripts, references, scanned medical form, passport homepage and insert their signature. After ensuring that every section is completed, the candidate will now submit and print out their application. The printed out application together with attachments that were uploaded online should be submitted to the Indian Embassy in the candidate's area or country.
Personal Experience and Advice
Ever since I became part of this scholarship, I have grown to be more disciplined. This is because the classes had to be taken virtually due to the pandemic. My technology skills have improved as I had to use tools I have never used before. Initially, the online learning was unbearable. This is because India is ahead of Botswana by three hours and thirty minutes. Due to the time differences I had to be in class at six o'clock in the morning, something I wasn't used to. This was a challenge I had to overcome, and because I was determined, I managed and got used to the times.
In addition, the pandemic made disruptions worldwide and we too were affected as we had to start classes two months later than the normal times. This meant that the semesters were shorter,  five months of work was compressed into three months. The pressure was and still is a lot to take in, as classes have to run even on weekends but despite all this, the end result is all worth-while.
This scholarship has exposed me to diverse cultures as I continue to have interactions with different nationalities and build networks that will be essential to my career path as I progress in academia.
I would like to encourage anyone who is interested in applying for this scholarship, to go for it. Our struggles are only for a short period, but the results of our labour are everlasting. The Covid-19 situation and online classes should not deter applicants from pursuing their dreams.