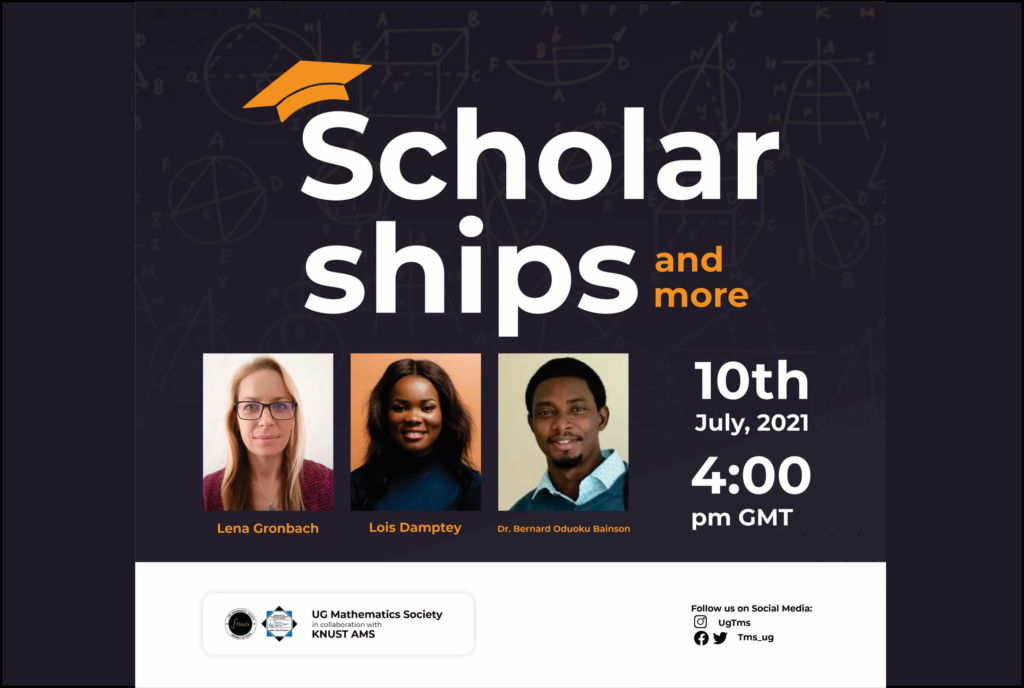 The Mathematics Society of University of Ghana, in collaboration with Association of Mathematics Students at Kwame Nkrumah University of Science and Technology invites all Mathematics students to a scholarship webinar on Saturday, 10th of July 2021, starting at 16:00 GMT (18:00 South African time/ GMT+2). The webinar seeks to inform students about scholarship and study abroad opportunities, how to apply and prepare for them, and provide additional information about scholarship programmes for Mathematics students. Africademics founder Lena Gronbach will be one of the three speakers – so don't forget to sign up via this link and join us for an exciting and insightful event!
Meet the speakers!
Lena Gronbach is a researcher, social entrepreneur and youth empowerment advocate. Originally from Germany she has been living, working and studying in South Africa for close to 10 years and is currently completing her PhD at the University of Cape Town. Lena is passionate about education, intercultural exchange, and creating opportunities for young people from all walks of life. Having benefitted from various scholarships and funding programmes throughout her studies she founded Africademics in 2019. Today Africademics reaches over 30,000 followers with daily scholarship updates and has received several prizes and awards.
Lois Damptey is a PhD candidate in Materials Engineering at the Open University, UK. She is also the founder of Dear Young Graduate, an initiative to help students from developing countries access further education through scholarships. She is also the Director of the Sankofa Mentorships Hub at the Synergies Institute Ghana and the secretary for Vacation Initiatives in Science, Africa. Both NGOs are actively focused on the use of innovative and fun activities to advocate for STEM education. Lois has been a recipient of many scholarships, including from the Royal Academy of Engineering, the Global Challenges Research Fund, and the Robert Bosch Foundation award for young African researchers.
Dr. Bernard Oduoku Bainson is one of the initial beneficiaries of the Master's scholarship offered by the African Institute for Mathematical Sciences (AIMS). He was awarded this prestigious award in 2012 after completing his Bachelor/s degree in Mathematics from the University of Cape Coast, Ghana. After successfully completing his MSc in Mathematics at AIMS Ghana he joined the Department of Mathematics at Heriot-Watt University Edinburgh to undertake PhD training in Algebra. Since his graduation he has worked as a course instructor at AIMS-Rwanda, UCC, KNUST and AIMS-Ghana. In addition to his love for Mathematics he enjoys spending his free time at the football stadium or go to the cinema and the opera.