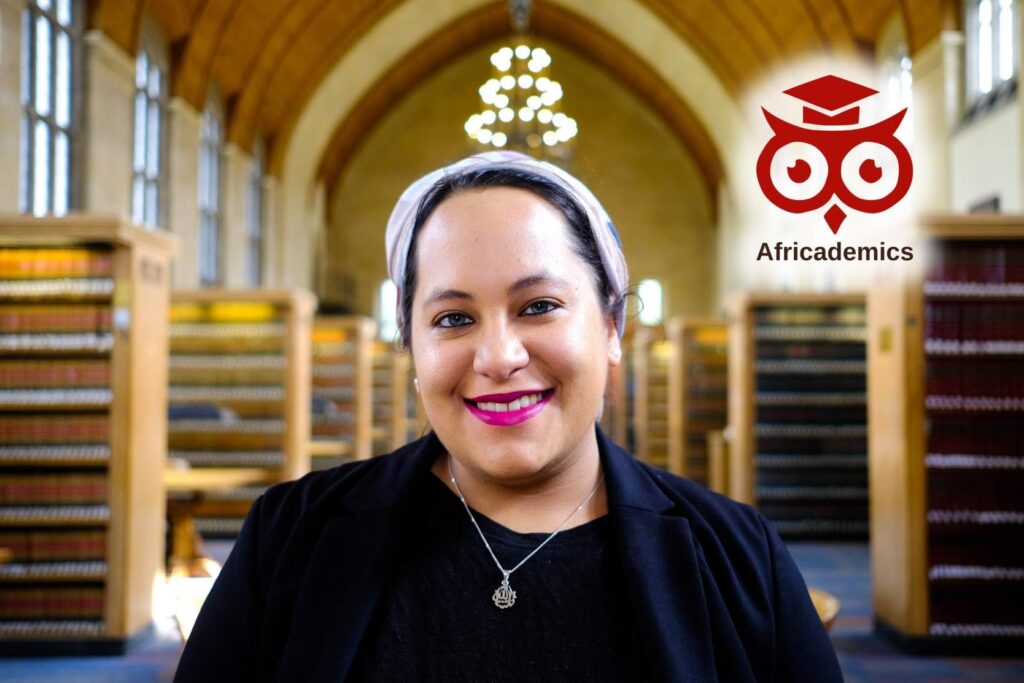 Ibtisaam Ahmed was born and raised in Cape Town. The dynamic and multicultural city was a source of inspiration for her, who grew up between a loving family and numerous passions. Shortly after graduating from the University of Cape Town, the university offered her a scholarship for a Master's course that took her to Cornell Law School in New York. Today Ibtisaam is a university lecturer, independent researcher and blogger, and her American experience has reawakened her passion for singing, writing and other creative pursuits.
Cape Town, an endless source of inspiration
Those who know Cape Town have most likely grasped its cosmopolitan, lively and fresh spirit. It is a dynamic city where something new is always happening, and avoiding its inspiring, culturally diverse soul and its breath-taking sceneries is almost impossible. Cape Town has something to offer for everyone who comes in contact with it, including the protagonist of our story. Ibtisaam Ahmed was nurtured by the Mother City and Cape Town remains a vital source of inspiration for her.
Of mixed Indian and Malay origin, born in 1991, Ibtisaam is the second of three sisters with whom she grew very close. The multi-ethnic domestic environment, flanked by the varied cultural context of the city, exposed Ibtisaam to diversity from a very young age. Growing up in a country with a tremendously complex relationship with heterogeneity has increased the young woman's sense of justice which has profoundly marked her path up to this day. In addition to forming part of her ethics, family and diversity were the essential ingredients to nurture her other great passions, such as writing, singing and baking. How these interests blend is part of the charm of Ibtisaam's story.
Nourishing the soul in Europe
After graduating from high school, Ibtisaam was unsure which academic path would suit her best. There was no doubt that humanities and social sciences were her preferred fields, but, at the time, she couldn't choose between political science, history and law. Through her religious community, the young woman had the opportunity to travel to Europe. As a result, she shared a year of spiritual and personal growth with the communities of Granada and Norwich.
Her passion and desire to contribute to society intensified during her experience in Europe. As soon as she returned to her home town, Ibtisaam enrolled at the University of Cape Town's (UCT) faculty of law. The young woman admits that the gap year cleared her mind regarding her future, and she highly recommends all young students undergo a short break before beginning their tertiary studies.
A passionate academic in the making
Ibtisaam started her journey with UCT in 2011. She recalls that she truly enjoyed her university years, mainly thanks to the professors. She found passionate and attentive tutors, who, despite lecturing to big classes, maintained a classical approach and never missed the opportunity to engage with students.
UCT's educational approach is based on the UK system; thus, students play a relatively passive role for the first year, listening to the lectures while taking notes. However, this approach did not remove the lessons of their intrinsic value, teaching students that the law can be a precious tool of liberation in full respect of South African history.
Ibtisaam recalls how the last two years of her course were more engaging because students played a more active part. Group work was compulsory, and with delight mixed with terror, she recalls the mock trials she had to perform in front of her class and outside spectators.
Ibtisaam says UCT fervently promoted exchanges, fellowships and social work. For example, during her senior year, community service was compulsory for the law department. As a result, she invested 50 hours in assisting attorneys and gave talks at local high schools, addressing social issues such as human rights violations. Thanks to this experience, she realised she was more interested in pursuing the academic route.
While an undergraduate student, the young woman devoted herself purely to her studies. She neglected passions that had characterised her in her youth, but in return, her dedication paid off with a law degree in 2015.
An exciting opportunity
Ibtisaam's academic achievements earned her a job as a teaching and research assistant at UCT where she took full advantage of this opportunity to gain experience in the educational field.
While employed at UCT, she received an email from the university containing a list of twelve scholarships for the Master's program. Among the eleven European destinations, the only American offer stood out. It was an opportunity to complete a Master's of Law at Cornell Law School in Ithaca, New York, at the UCT fee. Ibtisaam was aware of the prestigious status of the American institution and did not think twice about sending an application. However, a limitation of the program was that it offered only one seat, and many were eager to compete.
After a series of interviews in which she explained her motivation and future career prospect, and a few weeks of further waiting, Ibtisaam received the decisive email: that the one place at Cornell was hers.
New York, New York
2017 was the year of the New York adventure. In preparation for her departure, Ibtisaam recalls joining a Facebook group shared with other students who were also enrolled in the same course at Cornell. This medium helped create connections beforehand and entering into the perspective of what to expect once she would land in America.
Ibtisaam got in touch with South African businesses and trusts like the Oppenheimer Memorial Trust and found summer jobs to finance her trip. She says that the process was long and stressful, as she encountered many closed doors before getting the assistance she needed. She recommends students who face a similar situation to seek help from local businesses to finance their study abroad; she warns them not to get discouraged by rejections and prepare to be resilient and tenacious.
Only once she landed at JFK Airport, the young woman recalls, she managed to breathe a sigh of relief. Knowing that she had done everything in her power to make this experience possible, she was now ready to enjoy it and make the most of it.
She had visited the United States as a tourist before, and the trip to Europe had already prepared her for different contexts. Though the then newly elected President Donald Trump had sparked fear of racism and social tension, Ibtisaam knew that these fears could not taint her experience.
Life at Cornell
The university, Ibtisaam says, lived up to the expectations and was very demanding. She felt a lot of pressure because of its prestige, but the institution would adequately repay the efforts.
The young woman was pleased to know that the institution offered broad support to students, assisting them with the university tasks and guiding them in choosing a future career. She could undoubtedly sense that the university was investing in its students.
Cornell Law School houses around ninety international students and three hundred Americans in total. The resulting small classes fostered abundant interaction between the learners themselves, as well as with the professors. In addition, the teaching approach based on the Socratic method allowed pupils to dictate the direction of the lessons, supporting students in building confidence.
In 2018 Ibtisaam successfully crowned an intense year of determination graduating for the second time. Cornell recognised her talent and offered her a job as a research assistant. The experience lasted a year, after which her visa expired and Ibtisaam returned to South Africa at the end of 2019. However, the circumstances did not sadden her particularly, as she was ready to return to her home town and build her career.
Ibtisaam loved life in Ithaca, a university town that enabled her to create many networks and stimulate new ideas. The fear that the new political leadership would spur social tensions proved unfounded, at least in New York, where the young woman met numerous welcoming and enriching people.
Thanks to a friend she met during her stay in the USA, she reconnected with singing, one of her greatest passions. The man, of Brazilian origin, was a lawyer and a musician. He managed to bring back Ibtisaam's memories of the jazz music her maternal grandmother loved to listen to, the devotional songs her paternal grandfather used to sing in Urdu, as well as her high school years which she spent engaging with musical theatre and violin lessons. The two friends started jamming together, and soon they got some gigs that led them to perform in New York clubs.
Ibtisaam re-approached singing purely out of love, without obsessing over building a profession. It was liberating, an escape from the academic life which had absorbed all of her time for years.
Rediscovered passions
Once she had rediscovered her passion for singing, the enthusiasm for writing and baking followed. The young woman remembers her mother's fondness for reading and how she conveyed this interest to the daughter. Reading had naturally led to writing, and at twelve Ibtisaam used to entertain herself with writing fiction. Years later, the university contributed to transforming and refining her writing style.
She still flicks through the pages of a good book to improve and preserve her writing, apart from relaxing. Today, Ibtisaam writes articles for various blogs, one of which, HIKAAYAT, is managed by her.
Sometimes she works on more informative articles intended for a knowledgeable audience; on other occasions, she dedicates herself to more creative pieces meant for the general public. She says that moving from one genre to another reflects her multiple passions and interests. Therefore, it's not too difficult to switch between different styles, although she doesn't mind a challenge from time to time.
She is a baking enthusiast, thanks to her maternal grandmother and mother. Cape Town and travelling have rekindled this hobby and she is driven by the desire to recreate her hometown's tastes and flavours, as well as those discovered during her stays overseas. In addition, she enjoys baking because it stimulates her with something other than history and the law and allows her to produce something with her hands.
Besides writing articles, Ibtisaam is an independent researcher and also currently lecturers in history, law, politics, internal relations and philosophy to university students in Turkey. She sometimes offers classes at other institutions as well, such as Dallas College and UCT. She also provides private legal consultations, and when she can, she delights with singing performances.
Although she has never been an obsessive planner, as her philosophy is to remain flexible and open to new experiences, discipline is innate in Ibtisaam. It is fundamental to juggling all the different tasks she engages in. She sets priorities and commits to faithfully meeting deadlines. She does not overload herself with responsibilities and never makes promises that she cannot keep. Knowing how and when to say no is essential, she says.
For Ibtisaam the connection between the numerous endeavours is active gratitude. It means showing appreciation for the skill with which she was gifted. When she performs, she does it for the sparkle of joy in the audience's eyes; baking is a delightful way to share a moment with family and friends while showing them care; writing and teaching give her the means to pass on knowledge. The most precious recompense is giving to others because it is a reminder of the thousand godsends with which she is blessed.
The Islamic religion is the basis on which Ibtisaam builds her life. Justice, to her, is a means of liberation and not a tool to enrich materially. Music is intended as something extremely spiritual. Her passions are a manifestation of her love for God and life.
Ibtisaam emphasises that knowing how to keep various interests alive is remarkably valuable, especially given the current times. She reminds our readers to be honest with themselves and others, be clear about what they can do, and recognise how far they can go without losing the spirit of getting involved and taking risks.
Her story encourages us to trust in our abilities and give back what we receive. We hope that you will find a source of inspiration and good energy in Ibtisaam's story. We thank her for her wisdom and hope that she will continue to be an example of integrity and gratitude towards life.
Hillary Frattini is completing a Psychology degree through the University of Essex. She is a passionate storyteller and adventurer, and she firmly believes that education is the key to a better future. Hillary has recently started working on combining her passions to represent the voices of her generation. The views and opinions expressed in this article are her own and do not necessarily reflect the opinions or views of Africademics.