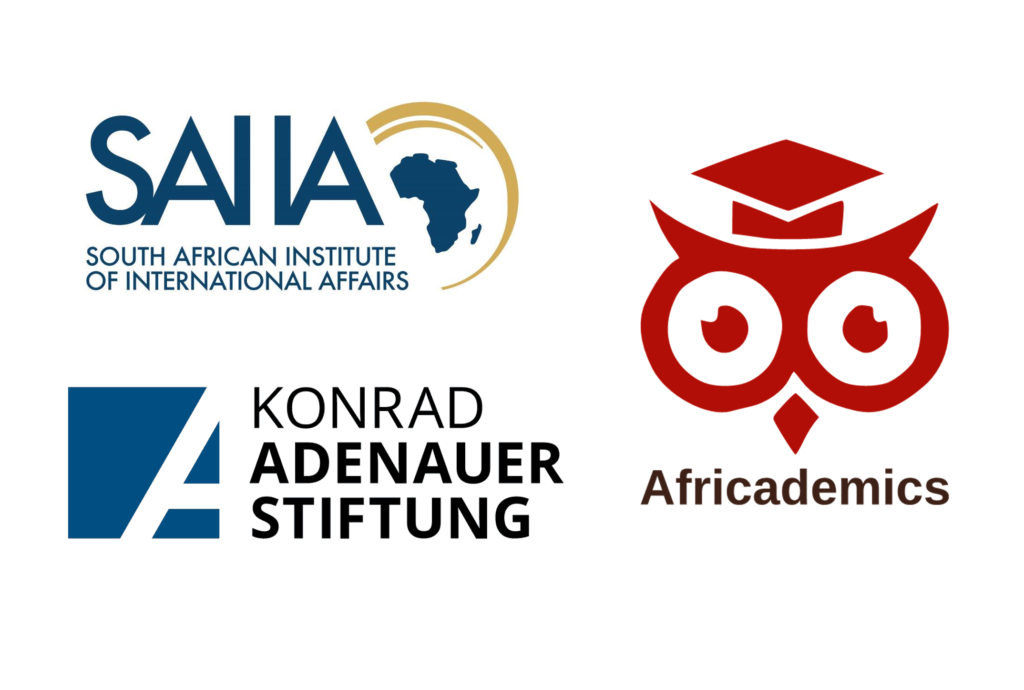 The annual Careers Event is a joint initiative by the South African Institute of International Affairs (SAIIA) and the Konrad Adenauer Stiftung (KAS) that provides a platform for undergraduate and postgraduate university students in International Relations, Development Studies, Political Studies, Sociology, Economics, Law, Communications, Media and Journalism to gain a better understanding of the opportunities that are available to them.
About the Careers Event
The virtual event took place on 14 Jul 2021 and Africademics was invited to join the event as an exhibitor. The theme of this year's Careers Event was 'Careers in transition: A post-pandemic green economy and implications for the world of work'. In addition to a live event with speakers from various organizations and backgrounds, SAIIA/KAS have made a variety of resources and information available on their event website.
These include an overview of various scholarship programmes open to students and young scholars from African countries, a careers page with information about various career paths for young graduates, as well as a section with additional resources and a space for exhibitors (including Africademics).
Background
COVID-19 has dramatically exacerbated South Africa's socio-economic malaise, with the unemployment rate rising to 32.5% in the last quarter of 2020. At the same time, the South African government is pursuing long-term strategies towards a green economic recovery based on cleaner and sustainable forms of energy. In light of this, the world of work is continuously evolving, making it imperative for graduates to diversify their skillsets and position themselves strategically in a competitive labour market.
The focus of this year's Careers Event was therefore to unpack the challenges and opportunities for students and young professionals presented by these transitions. Guest speakers at the event included: Broadcast Journalist and Anchor, Cathy Mohlahlana; Director at Signal Risk and Co-founder of Mindflux Training Ronak Gopaldas; and Partner Implementation Lead and Co-founder of Africa Matters, Farai Mubaiwa. More information about the speakers and panellists is available here.
KAS/ SAIIA Scholarship Programme
Did you know that KAS and SAIIA also offer a joint (funded!) internship programme for students and young graduates? The programme has been running since 1999 and is implemented in collaboration with the University of the Witwatersrand (Wits) in South Africa. This internship programme provides successful candidates with the opportunity to enroll for a Master's degree by course work in International Relations, Development Studies, Political Science, Economics, Law or Journalism at Wits, while simultaneously working at SAIIA.
The successful applicants would have to meet the entry requirements for a Master's degree at Wits, namely a minimum average of 65%, and should not be older than 30 years. The duration of the internship is from February to November each year. Successful candidates receive a full bursary for their tuition fees and a monthly stipend to cover their living costs and accommodation.
The programme is output-focused and the KAS – SAIIA scholars, who are assigned to mentors, generally move on to high-profile and high-powered positions. The scholars are supported in honing their methodological, research and writing skills, and are encouraged to:
Co-publish newspaper articles on topics relevant to the work of SAIIA and their studies
Co-author articles in SAIIA publications
Improve their presentation and organisational skills
KAS/ SAIIA especially encourage applicants with a grounding in economics or development economics to apply for this scholarship. For more information, visit the programme website!