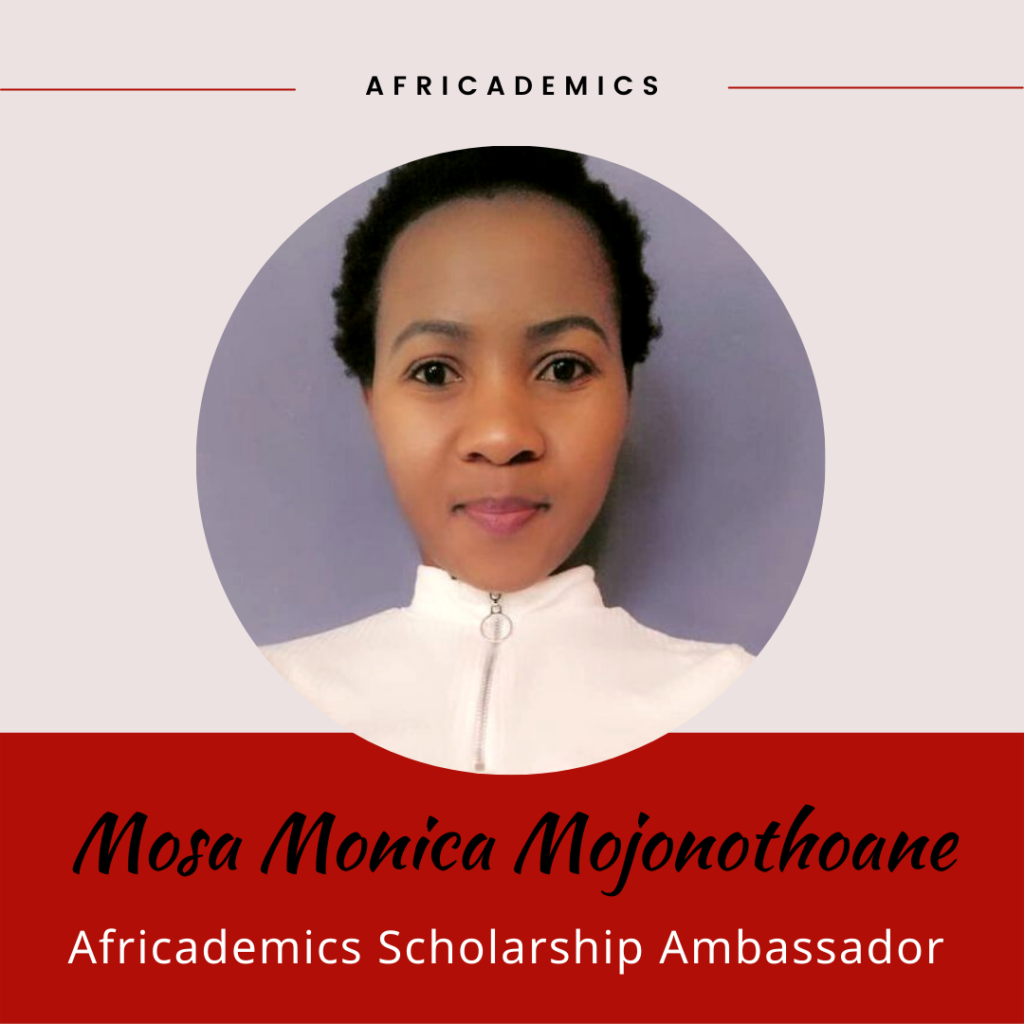 Mosa Mojonothoane from Lesotho is currently completing her Master's degree in Higher Education from Botho University (using blended distance learning), while working as the Sub-editor of Informative Newspaper in Lesotho. She holds a Bachelor's degree in English Language, Linguistics, Theatre, and Drama from the National University of Lesotho.
In addition, Mosa holds many other training certificates, like the YALI Certificate in Effective Communication for Healthy Outcomes, the YALI Certificate in Advancing the Role of Women in Politics, Peace and Security and Economic Institutions, as well as the School of Internet Governance Certification. For the completion of her Master's Studies, Mosa received the Botho University Media Scholarship.
The reason Mosa joined the Africademics Scholarship Ambassador Programme is because she believes that she is an informer by nature, hence her career in media, and she has an intense interest for educational studies and initiatives. She wants to be of service to others and help them walk their academic journey well informed and with better decision-making skills regarding scholarship applications.
In 10 years' time, Mosa sees herself as a well-recognized English scholar and educator. She wants to make an impact by helping others excellently express themselves in a way that sells their ideas and leaves an intended effect. She wants to make the world see the value of language and its significance in the academic, professional, and socio-cultural world.
Welcome to the Africademics Ambassador Programme, Mosa!
The Scholarship Ambassador Programme
Through the Scholarship Ambassador Programme Africademics trains volunteers from across Africa to become scholarship advisors and mentors. Ambassadors complete a 4-month online course with virtual lectures, case studies and additional activities. Once they have successfully graduated, our Scholarship Ambassadors offer personal support, advice and mentorship for scholarship seekers and applicants in and from Africa.
Our 2022 Ambassador cohort started their training in April 2022 and we are thrilled to have over 90 students and scholars from across the African continent on board this year. In 2021, we welcomed our first cohort of 30 Scholarship Ambassadors who completed their training in November 2021. They now offer free scholarship consultations, mentorship and application assistance for scholarship seekers in and from Africa on a regular basis.
Meet our team of Scholarship Ambassadors here and let us know via our contact form if you would like to book a personal consultation with one of them!