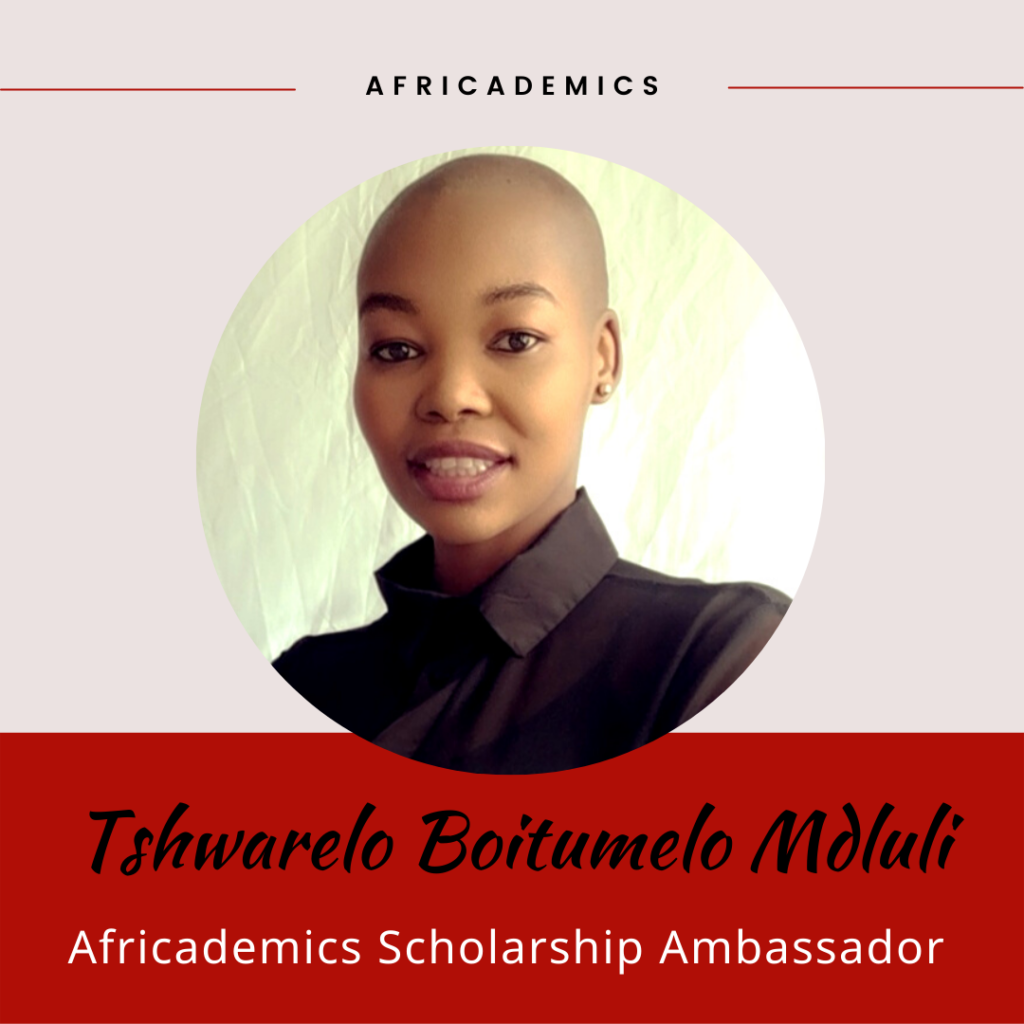 Boitumelo Mdluli from South Africa is a Research Support Assistant at North-West University (NWU) in South Africa. She manages the National Research Foundation (NRF) Postgraduate Scholarship Programme for the NWU (pre-award processes). She is always striving to find efficient ways to assist researchers and students to access funding opportunities and apply accordingly and has now become the "go-to" person when students from her university need information regarding postgraduate scholarships/funding.
She has several years of experience in research management, grants, and contracts management, postgraduate awards administration, client-student-stakeholder liaison, support for online funding platforms, and administrative support.
Boitumelo decided to join the Africademics Scholarship Ambassador team to use her extensive experience and knowledge to help fellow Africans get funding and reach their dreams. In 10 years' time Boitumelo sees herself having assisted many students to move away from the small town in the North West province that she grew up in, to explore a diverse range of disciplines and countries.
Academically, her 10 year plan is to complete a Master's and PhD, as she currently has a Bachelor's degree in Psychology. An interesting fact about Boitumelo is that she is someone who brings others together – a true people's person.
Welcome to the Africademics Ambassador Programme, Boitumelo!
The Scholarship Ambassador Programme
Through the Scholarship Ambassador Programme Africademics trains volunteers from across Africa to become scholarship advisors and mentors. Ambassadors complete a 4-month online course with virtual lectures, case studies and additional activities. Once they have successfully graduated, our Scholarship Ambassadors offer personal support, advice and mentorship for scholarship seekers and applicants in and from Africa.
Our 2022 Ambassador cohort started their training in April 2022 and we are thrilled to have over 90 students and scholars from across the African continent on board this year. In 2021, we welcomed our first cohort of 30 Scholarship Ambassadors who completed their training in November 2021. They now offer free scholarship consultations, mentorship and application assistance for scholarship seekers in and from Africa on a regular basis.
Meet our team of Scholarship Ambassadors here and let us know via our contact form if you would like to book a personal consultation with one of them!