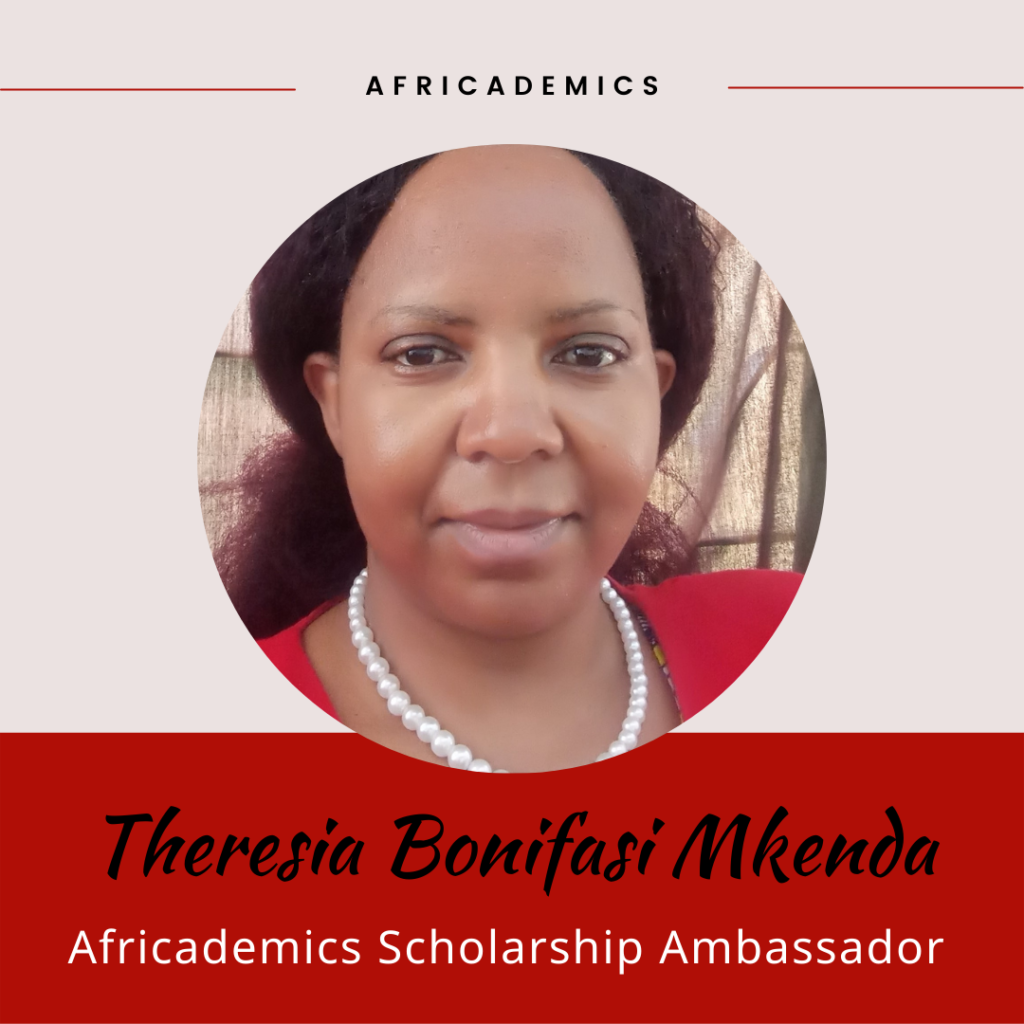 Theresia B. Mkenda from Tanzania is a lecturer in Mathematics and Statistics at Mwenge Catholic University (MWECAU) in Tanzania. She is an experienced trainer, researcher, and scholar in the field of Mathematics and Statistics. She obtained her Bachelor's degree in education from Mwenge Catholic University in Kilimanjaro, Tanzania, holds a Master's of Science in Mathematics at University of Dar es Salaam, and a PhD in Mathematics from the Catholic University of Eastern Africa in Nairobi, Kenya.
During her studies has been the recipient of a OWSD PhD Fellowship, as well as a Master's scholarship from PORTICUS. Currently she is serving as the Head of the Department of Mathematics and Statistics at MWECAU and she is the General Secretary of the Tanzanian Women in Mathematics Association (TWM).
Theresia was motivated to join the Africademics Scholarship Ambassador team because of her own life history and experiences. She spent most of her childhood life in a village where access to social services and education was limited. Her parents could not afford to pay for all of her basic needs, and when she was 16 years old her father passed away. Her mother struggled to raise her and her two brothers until she finished her secondary education. After completing her secondary education Theresia joined a Teachers' Training College and thereafter managed to secure loan from Higher Education Students' Loan Board to pay for her undergraduate studies.
However, her Master's and PhD studies were all financed by people who she never met face to face. She received a lot of support, both financially, emotionally, and academically from volunteers. Their kindness taught her a great lesson of extending a helping hand to whoever else needs such support. She knows that without their support, her academic journey would have been much harder, and she wouldn't be where she is today. It is from such experiences that she feels motivated to join the Africademics Scholarship Ambassador Programme, so that she may help young people to achieve their life dreams just as others has helped her.
In 10 years' time, Theresia hopes to be a senior lecturer in Mathematics. Something people might not know about Theresia is that she has an extreme fear of flying.
Welcome to the Africademics Ambassador Programme, Theresia!
The Scholarship Ambassador Programme
Through the Scholarship Ambassador Programme Africademics trains volunteers from across Africa to become scholarship advisors and mentors. Ambassadors complete a 4-month online course with virtual lectures, case studies and additional activities. Once they have successfully graduated, our Scholarship Ambassadors offer personal support, advice and mentorship for scholarship seekers and applicants in and from Africa.
Our 2022 Ambassador cohort started their training in April 2022 and we are thrilled to have over 90 students and scholars from across the African continent on board this year. In 2021, we welcomed our first cohort of 30 Scholarship Ambassadors who completed their training in November 2021. They now offer free scholarship consultations, mentorship and application assistance for scholarship seekers in and from Africa on a regular basis.
Meet our team of Scholarship Ambassadors here and let us know via our contact form if you would like to book a personal consultation with one of them!