By Lena Gronbach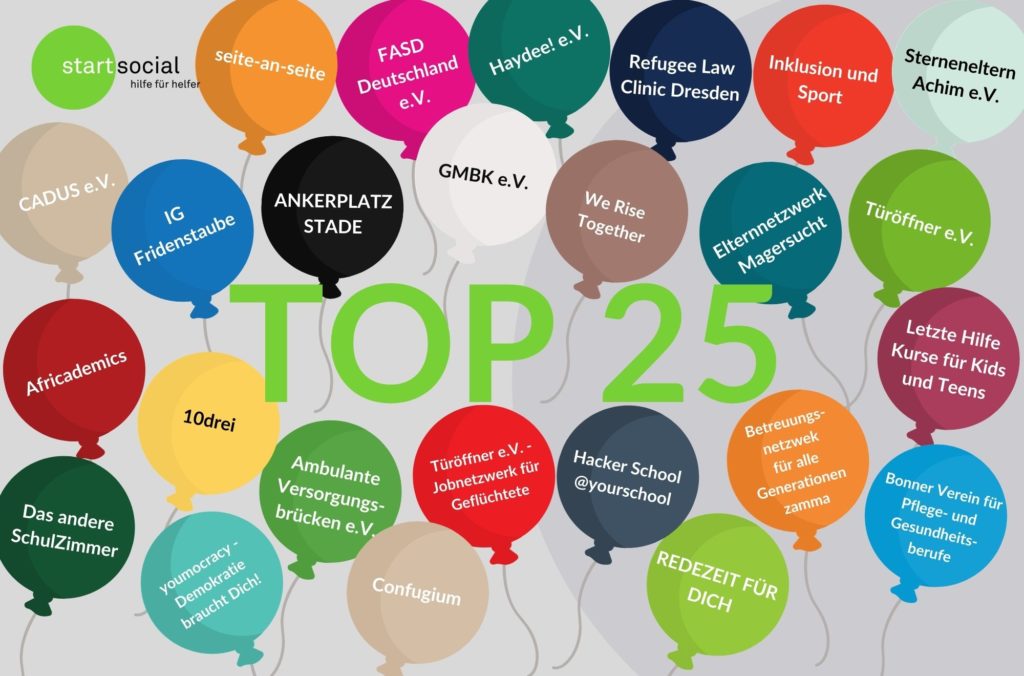 Last year Africademics was selected to participate in the annual startsocial competition for social projects and initiatives for the second time after making it into the finals in 2020/21. A total of 100 social initiatives from across Germany were selected by a high caliber jury and received coaching and mentorship from experienced leaders and experts. For four months each initiative was supported by two coaches and worked towards specific goals or milestones. An independent jury then selected the 25 finalists based on criteria such as impact, sustainability, scalability and efficiency and we are beyond excited that Africademics was once again selected as one of the Top25!
The finalists will be celebrated at an official award ceremony on 22 September 2022 which will be attended by German Chancellor Olaf Scholz. Seven initiatives will receive cash prizes valued 35,000 Euro in total, including a special prize awarded by the German Chancellor.
The Africademics team would like to extend a special thank you to our two coaches, Michael Perscheid and Elena Butz for their support and guidance during the 4-month coaching period and look forward to seeing the results of our planning, mapping and strategizing sessions! We also appreciate the extensive feedback given by the jurors and judges at the beginning and the end of the programme.
Last but not least, we would like to congratulate the other 24 finalists (more information about them can be found here) and to encourage other social initiatives to apply for the next round of the startsocial programme. Applications for the next cohort are currently open and will close on 30 June 2022, so don't hesitate and submit your application here!
About startsocial
Startsocial is an annual competition to support and promote volunteer work and social engagement. It was launched in 2000 as part of the preparations for the International Year of Volunteering and has enjoyed the support and patronage of the German Chancellor since its foundation.
"I wholeheartedly welcome the continued efforts of everyone involved in the startsocial programme. I am honoured to take over patronage of the startsocial competition. This initiative is not only an indicator of the diversity and strength of volunteering in Germany, but also illustrates the potential for growth and development that can be realized when volunteers and professionals join forces."

Olaf Scholz, Chancellor of the Federal Republic of Germany
Startsocial is supported by various private sector organizations, including McKinsey & Company, ProSieben Sat.1, Allianz, Deutsche Bank and SAP, as well as a growing network of experts and coaches from business, academia and the nonprofit sector. For more information about the startsocial programme, visit their website and follow them on Facebook, Instagram and LinkedIn.