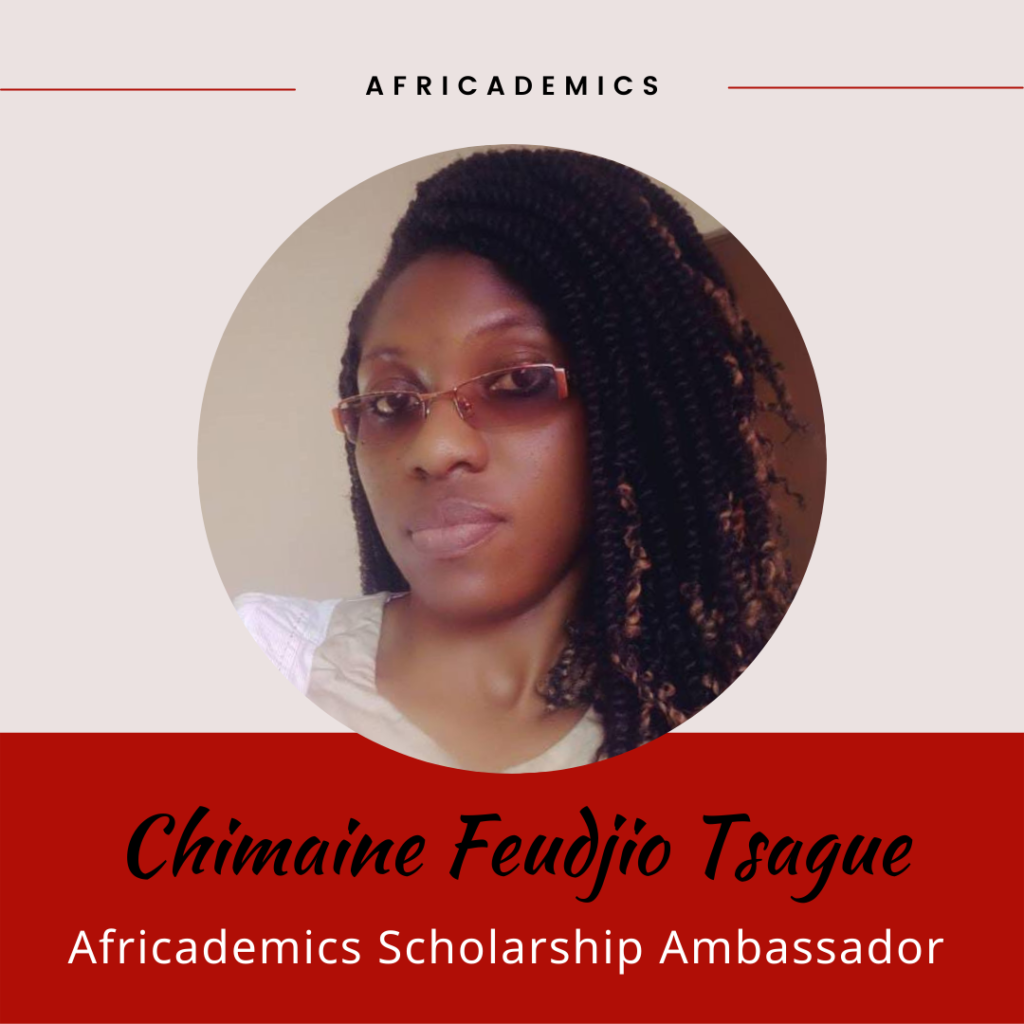 Chimaine Feudjio Tsague from Cameroon is currently pursuing her PhD in Chemistry and Nanotechnology from the University of Yaoundé in Cameroon, in collaboration with the University of the Western Cape in South Africa. While she is working on her PhD, she is also a chemistry and physics teacher at the Government Bilingual High School Nkolndongo and a core partner of the Global Challenges Research Fund (GCRF) Networking Grants project.
Chimaine holds two degrees from the University of Yaoundé 1, including a Master's degree in Inorganic Chemistry, specializing in Coordination Chemistry. She has also been the recipient of the OWSD (Organization for Women in Science for the Developing World) sandwich programme award, and the excellence scholarship from the head of the Cameroonian state.
Chimaine joined the Africademics Scholarship Ambassador Programme because she would like to assist students to achieve great things by mentoring them, she would like to be the kind of leader that enables others to grow. She is open to helping anyone who is in need of mentoring, but she is especially interested in assisting females in the field of research in Central Africa and North Cameroon, where girls are still very undereducated and poorly represented in the field of research.
In 10 years from now, Chimaine hopes to be a University Professor, a leader of the Nanotechnology / Environmental Water Research Group, and a mentor to African Youth. Something that often surprises people about Chimaine is that she is always in a good mood, no matter how stressful her day has been.
Welcome to the Africademics Ambassador Programme, Chimaine!
The Scholarship Ambassador Programme
Through the Scholarship Ambassador Programme Africademics trains volunteers from across Africa to become scholarship advisors and mentors. Ambassadors complete a 4-month online course with virtual lectures, case studies and additional activities. Once they have successfully graduated, our Scholarship Ambassadors offer personal support, advice and mentorship for scholarship seekers and applicants in and from Africa.
Our 2022 Ambassador cohort started their training in April 2022 and we are thrilled to have over 90 students and scholars from across the African continent on board this year. In 2021, we welcomed our first cohort of 30 Scholarship Ambassadors who completed their training in November 2021. They now offer free scholarship consultations, mentorship and application assistance for scholarship seekers in and from Africa on a regular basis.
Meet our team of Scholarship Ambassadors here and let us know via our contact form if you would like to book a personal consultation with one of them!