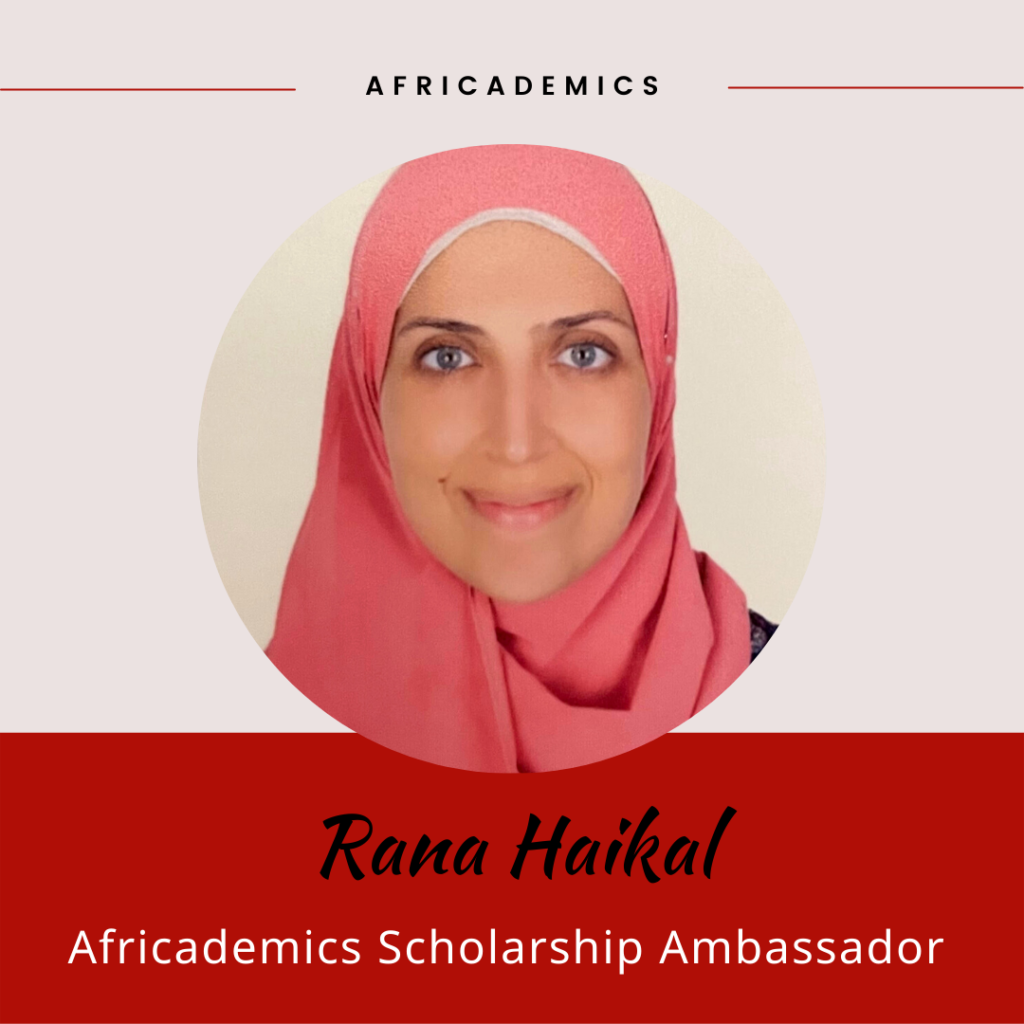 Rana Haikal from Egypt is currently an Assistant Professor in the Materials Science Program at the University of Science and Technology, Zewail City. She received her B.Sc. degree in Pharmacy and Biotechnology from the German University in Cairo, Egypt. She was then accepted for an Erasmus Mundus Master Program "Advanced Spectroscopy in Chemistry" and received her Joint M.Sc. degree from the University of Helsinki, Finland.
After graduating she joined the Functional Materials group at the Center for Materials Science at Zewail City of Science and Technology, Egypt, where she received her PhD. She continued her research on microporous solids for catalytic and environmental applications as a postdoctoral researcher. She received an Individual Research Grant from the International Foundation for Science (IFS) to prepare metal-organic framework composites for industrial wastewater treatment applications.
Rana is motivated to become an Africademics Scholarship Ambassador because she remembers the struggle she faced when trying to apply for a scholarship to continue with her graduate studies abroad, and feels that she wants to help others through similar struggles. She also feels an obligation to pass on the experience she has gained with the different funding agencies available on a national as well as international level.
She believes that the Scholarship Ambassador training will enhance her leadership skills, especially with regard to mentoring other young academics. Moreover, it will provide her with the opportunity to expand her network by meeting and interacting with other leaders from the entire African region, which shall lead to developing the quality of education and research in this area.
In 10 years' time, Rana hopes to become a full-time Professor at a respectable university and be the director of a research group focusing on nanomaterials for biomedical applications. Something people might not know about Rana is that she has been playing piano since she was three years old.
Welcome to the Africademics Ambassador Programme, Rana!
The Scholarship Ambassador Programme
Through the Scholarship Ambassador Programme Africademics trains volunteers from across Africa to become scholarship advisors and mentors. Ambassadors complete a 4-month online course with virtual lectures, case studies and additional activities. Once they have successfully graduated, our Scholarship Ambassadors offer personal support, advice and mentorship for scholarship seekers and applicants in and from Africa.
Our 2022 Ambassador cohort started their training in April 2022 and we are thrilled to have over 90 students and scholars from across the African continent on board this year. In 2021, we welcomed our first cohort of 30 Scholarship Ambassadors who completed their training in November 2021. They now offer free scholarship consultations, mentorship and application assistance for scholarship seekers in and from Africa on a regular basis.
Meet our team of Scholarship Ambassadors here and let us know via our contact form if you would like to book a personal consultation with one of them!