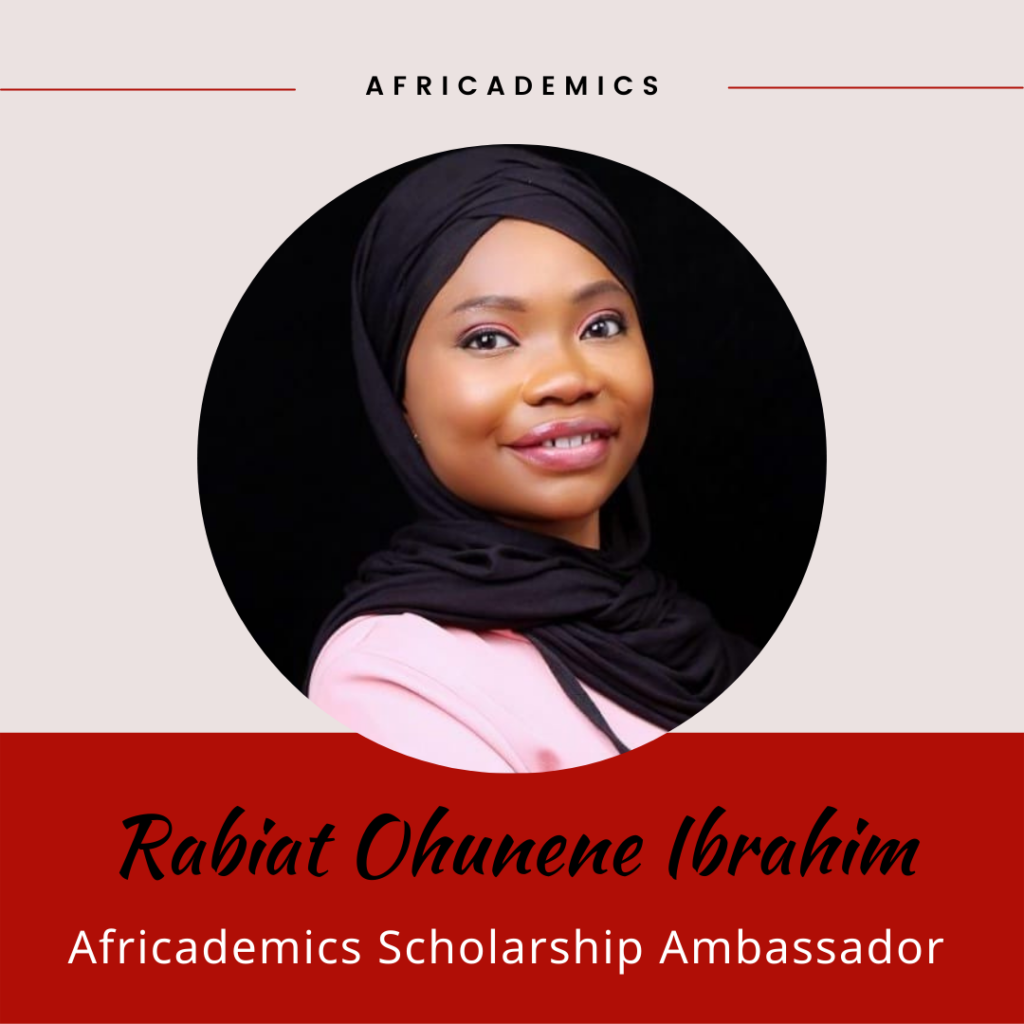 Rabiat Ohunene Ibrahim from Nigeria holds two Master's degrees, one in Energy Engineering from the Pan African University for Water and Energy in Algeria, and another in Mathematical Science from the African Institute for Mathematical Sciences in Cameroon.
Rabiat's research interests include energy management, machine learning, and optimisation. She is currently looking to pursue her PhD in this field. Rabiat has been the recipient of numerous scholarships, including the African Union Scholarship, the MasterCard Foundation Scholarship and the University of Ilorin Undergraduate Scholarship.
She became an Africademics Scholarship Ambassador because she would like to positively impact her community by helping others gain similar opportunities as she did, to further their education and develop themselves. She believes that being an Ambassador will give her the opportunity to do so, and through that, she is able to contribute to building the Africa we all want.
In the next 10 years, Rabiat hopes to be a lecturer where she can impact the knowledge and skills gained by university students, and colleagues, as well as carry out cutting edge research. She also sees herself working or collaborating with industries where she can apply theoretical findings to practical and real-world scenarios. Furthermore, she pictures herself as a person who will be committed to mentoring the younger generation and be someone they can look to for motivation and guidance.
An interesting fact about Rabiat is that in her free time, she loves reading about myths and legends as well as astronomical discoveries.
Welcome to the Africademics Ambassador Programme, Rabiat!
The Scholarship Ambassador Programme
Through the Scholarship Ambassador Programme Africademics trains volunteers from across Africa to become scholarship advisors and mentors. Ambassadors complete a 4-month online course with virtual lectures, case studies and additional activities. Once they have successfully graduated, our Scholarship Ambassadors offer personal support, advice and mentorship for scholarship seekers and applicants in and from Africa.
Our 2022 Ambassador cohort started their training in April 2022 and we are thrilled to have over 90 students and scholars from across the African continent on board this year. In 2021, we welcomed our first cohort of 30 Scholarship Ambassadors who completed their training in November 2021. They now offer free scholarship consultations, mentorship and application assistance for scholarship seekers in and from Africa on a regular basis.
Meet our team of Scholarship Ambassadors here and let us know via our contact form if you would like to book a personal consultation with one of them!