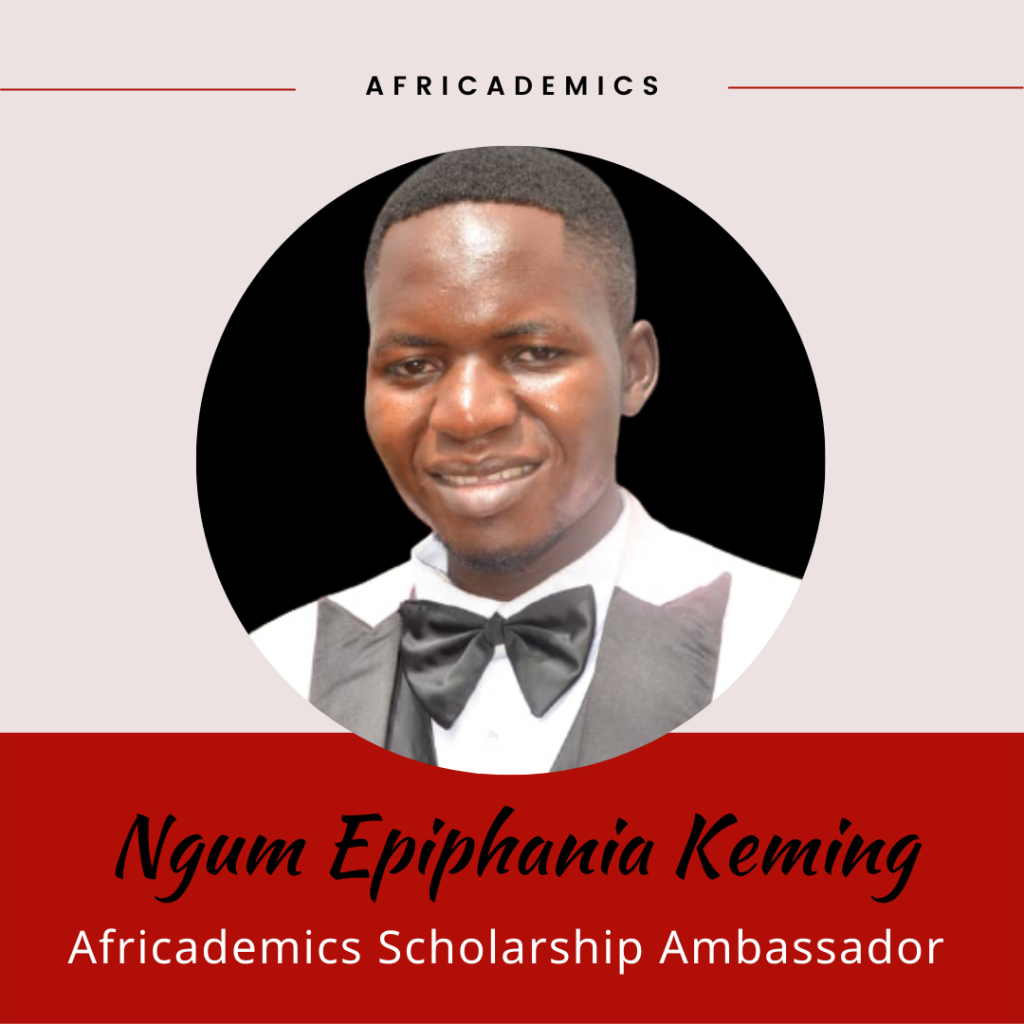 Ngum Epiphania Keming from Cameroon is currently an instructor of Computer Science and Information and Communication Technology (ICT) at GTHS Omvan Yaounde and a lecturer at Yaounde International Business School. He is also completing his Master's degree in Leadership, at the International leadership University in Cameroon.
Ngum has been in receipt of the Yali Regional Leadership Fellowship and the ICT University Foundation Fellowship. Ngum also founded Dream Realization Academy, an NGO that rallies young people on a common platform and organizes activities that help them discover their self-worth, get exposed to a wide range of opportunities that can help them stand out, and get educated on how to harness those opportunities to reach their goals. Last but not least, he runs Giant's hub, a mentorship and empowerment platform where monthly impact sessions are organised to help young people discover their potential, learn strategies to attain greatness, and stay relevant in their communities as they pursue their dreams in life.
It is clear that Ngum has a passion for empowering the youth in his community, and that is also why he decided to join the Africademics Scholarship Ambassador program.
Something people might not know about Ngum is that he loves telling jokes and making people laugh.
Welcome to the Africademics Ambassador Programme, Ngum!
The Scholarship Ambassador Programme
Through the Scholarship Ambassador Programme Africademics trains volunteers from across Africa to become scholarship advisors and mentors. Ambassadors complete a 4-month online course with virtual lectures, case studies and additional activities. Once they have successfully graduated, our Scholarship Ambassadors offer personal support, advice and mentorship for scholarship seekers and applicants in and from Africa.
Our 2022 Ambassador cohort started their training in April 2022 and we are thrilled to have over 90 students and scholars from across the African continent on board this year. In 2021, we welcomed our first cohort of 30 Scholarship Ambassadors who completed their training in November 2021. They now offer free scholarship consultations, mentorship and application assistance for scholarship seekers in and from Africa on a regular basis.
Meet our team of Scholarship Ambassadors here and let us know via our contact form if you would like to book a personal consultation with one of them!