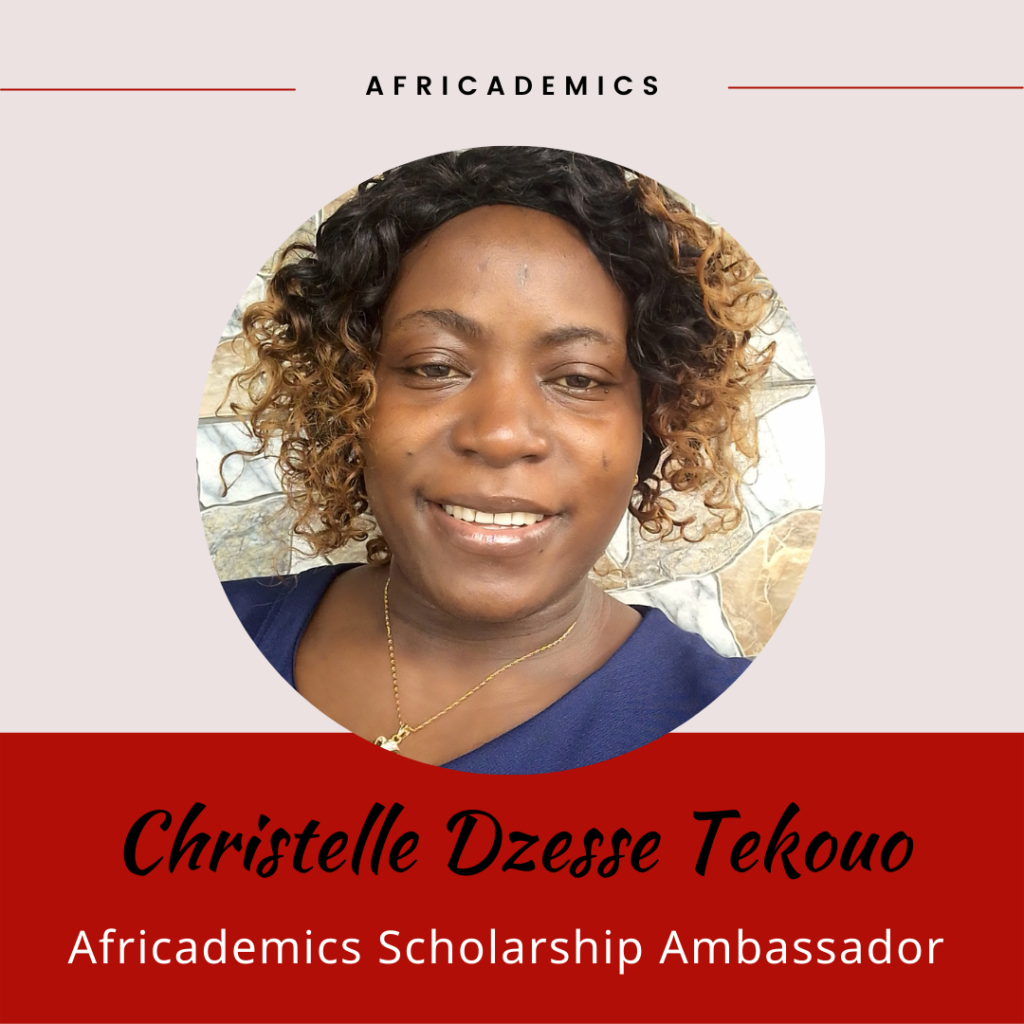 Christelle Noelle Dzesse Tekouo from Cameroon is a senior lecturer of Inorganic Chemistry within the Mineral Engineering Department of the School of Chemical Engineering and Mineral Industries of the University of Ngaoundere, Cameroon. She obtained her BSc and MSc degrees from the University of Dschang in Cameroon, and completed her PhD at the University of Buea, Cameroon and the University of Cape Town, South Africa, thanks to a sandwich OWSD PhD fellowship.
Her research interest focuses on the syntheses of metal-organic frameworks and the exploitation of their various applications such as sensors, for gas sorption/separation, drug carriers for cancer therapy and in water treatment. This research has led to the publication of different articles in peer-reviewed journals and has also been presented at various national and international conferences.
Christelle Noelle is also a member of various organizations including the Cameroon Professional Research Oriented Women Network (CAPROWN), the Royal Society of Chemistry (RSC, as AMRSC), the Organization of Women in Science for the Developing World (OWSD), the Cameroon Crystallography Association (CCrA) and the Cameroon Academy of Young Scientists (CAYS).
Christelle Noelle is passionate about empowering female scientists to pursue their careers, in addition to managing their responsibilities as caretakers of their families. She has been a mentor to many scholarship seekers in the past and has started a WhatsApp group in which she shares fellowship opportunities.
She decided to join the Africademics Scholarship Ambassador Programme because she believes it is an outstanding opportunity for her to receive formal training that will help her to acquire new skills which in turn will allow her to better help women specifically to secure fellowships despite their numerous occupations.
Something that people might not know about her is that she is actually a very shy person, but she hides her shyness by being courageous.
Welcome to the Africademics Ambassador Programme, Christelle Noelle!
The Scholarship Ambassador Programme
Through the Scholarship Ambassador Programme Africademics trains volunteers from across Africa to become scholarship advisors and mentors. Ambassadors complete a 4-month online course with virtual lectures, case studies and additional activities. Once they have successfully graduated, our Scholarship Ambassadors offer personal support, advice and mentorship for scholarship seekers and applicants in and from Africa.
Our 2022 Ambassador cohort started their training in April 2022 and we are thrilled to have over 90 students and scholars from across the African continent on board this year. In 2021, we welcomed our first cohort of 30 Scholarship Ambassadors who completed their training in November 2021. They now offer free scholarship consultations, mentorship and application assistance for scholarship seekers in and from Africa on a regular basis.
Meet our team of Scholarship Ambassadors here and let us know via our contact form if you would like to book a personal consultation with one of them!