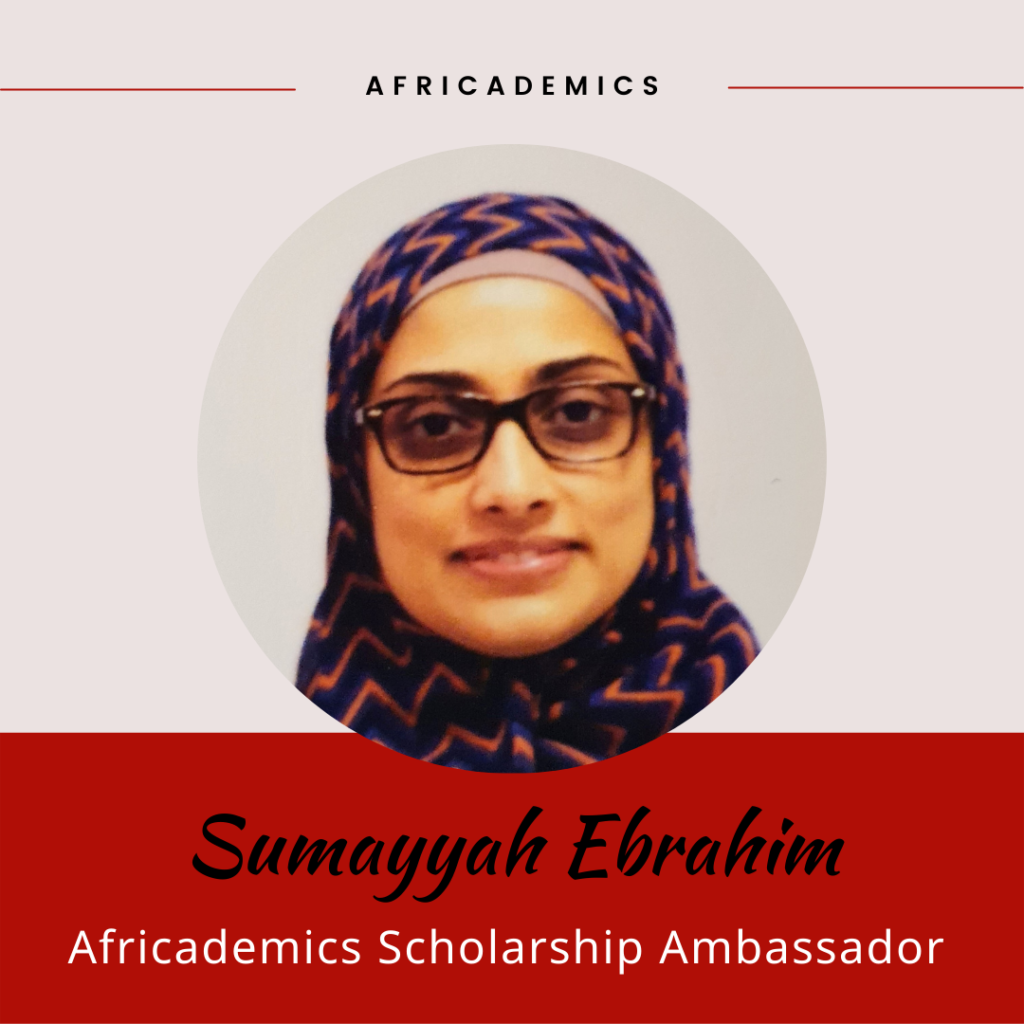 Sumayyah Ebrahim from South Africa is a lecturer at the University of KwaZulu-Natal's School of Clinical Medicine, involved in teaching undergraduate students in General Surgery and supervising postgraduate students completing their Master of Medicine (MMED) degrees. She also works as a technical advisor and epidemiologist for MatCH (Maternal and Child Health), an indigenous South African public-benefit organisation providing a broad range of HIV and TB-focused technical assistance, capacity building, and direct service delivery support.
Sumayyah holds a Master's of Medicine degree (MMED Surgery) from the University of KwaZulu-Natal, as well as a Master's Degree in Epidemiology from Columbia University in New York, for which she was awarded the Columbia University-Southern African Fogarty AITRP Traineeship.
Since her return from New York City in 2013, she feels very passionate about creating training opportunities for young women to study abroad. For this reason, she decided to join the Africademics Scholarship Ambassador Programme, to gain the necessary knowledge, skills and mentorship on how to find and apply for scholarships for her students and colleagues, as well as other African youth, thereby having a positive impact on the lives of others.
In 10 years' time, Sumayyah hopes to further develop the field of Surgical Epidemiology/Public Health and play a role in shaping public health policy and action to better the health and well-being of those affected by HIV, TB and chronic diseases in developing countries.
An interesting and largely unknown fun fact about Sumayyah is that she is a very proud plant parent!
Welcome to the Africademics Ambassador Programme, Sumayyah!
The Scholarship Ambassador Programme
Through the Scholarship Ambassador Programme Africademics trains volunteers from across Africa to become scholarship advisors and mentors. Ambassadors complete a 4-month online course with virtual lectures, case studies and additional activities. Once they have successfully graduated, our Scholarship Ambassadors offer personal support, advice and mentorship for scholarship seekers and applicants in and from Africa.
Our 2022 Ambassador cohort started their training in April 2022 and we are thrilled to have over 90 students and scholars from across the African continent on board this year. In 2021, we welcomed our first cohort of 30 Scholarship Ambassadors who completed their training in November 2021. They now offer free scholarship consultations, mentorship and application assistance for scholarship seekers in and from Africa on a regular basis.
Meet our team of Scholarship Ambassadors here and let us know via our contact form if you would like to book a personal consultation with one of them!