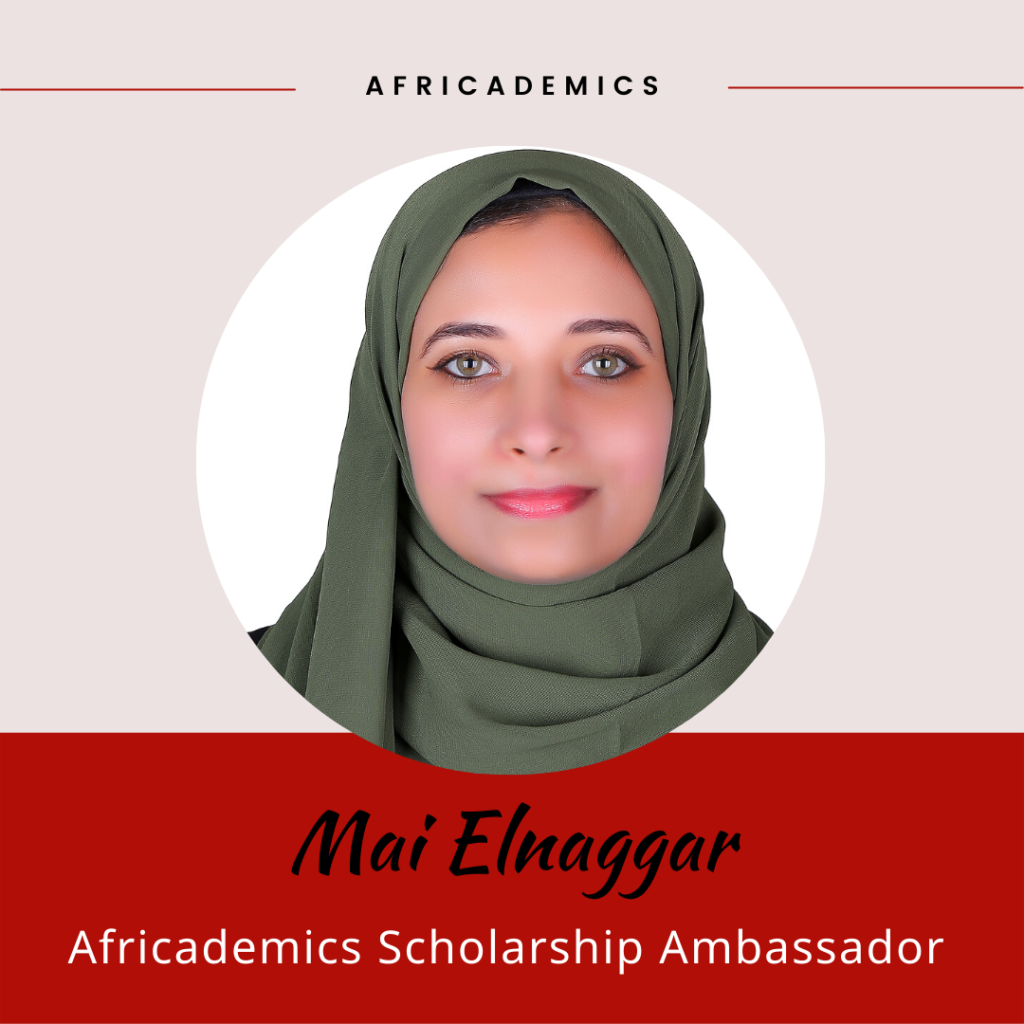 Mai ElNaggar from Egypt is a lecturer at the Department of Pharmacognosy in the Faculty of Pharmacy at Kafrelsheikh University. Her love for nature and finding cures for emerging diseases motivated her to study pharmaceutical sciences.
She holds both a PhD and Master's degree in Pharmaceutical Sciences (Pharmacognosy). In her postgraduate studies, she focused on drug discovery from natural sources and studying natural products chemistry. She has also completed a 6-Months Postdoctoral research fellow at the University of Bradford in the UK offered by the Egyptian cultural affairs and mission sector.
In 10 years' time, Mai hopes to have achieved her childhood dream of being a valued scientist, with even more experience, in the field of drug discovery. She sees herself leading a team of scholars in this field and collaborating with other scientists worldwide.
Mai decided to join the Africademics Scholarship Ambassador Programme because she would like to assist Egyptian students to find scholarships, as she wished she had more knowledge and assistance in this regard when she was a student.
An interesting fact not many people know about Mai is that she loves swinging, especially high altitude swings that face the ocean.
Welcome to the Africademics Ambassador Programme, Mai!
The Scholarship Ambassador Programme
Through the Scholarship Ambassador Programme Africademics trains volunteers from across Africa to become scholarship advisors and mentors. Ambassadors complete a 4-month online course with virtual lectures, case studies and additional activities. Once they have successfully graduated, our Scholarship Ambassadors offer personal support, advice and mentorship for scholarship seekers and applicants in and from Africa.
Our 2022 Ambassador cohort started their training in April 2022 and we are thrilled to have over 90 students and scholars from across the African continent on board this year. In 2021, we welcomed our first cohort of 30 Scholarship Ambassadors who completed their training in November 2021. They now offer free scholarship consultations, mentorship and application assistance for scholarship seekers in and from Africa on a regular basis.
Meet our team of Scholarship Ambassadors here and let us know via our contact form if you would like to book a personal consultation with one of them!