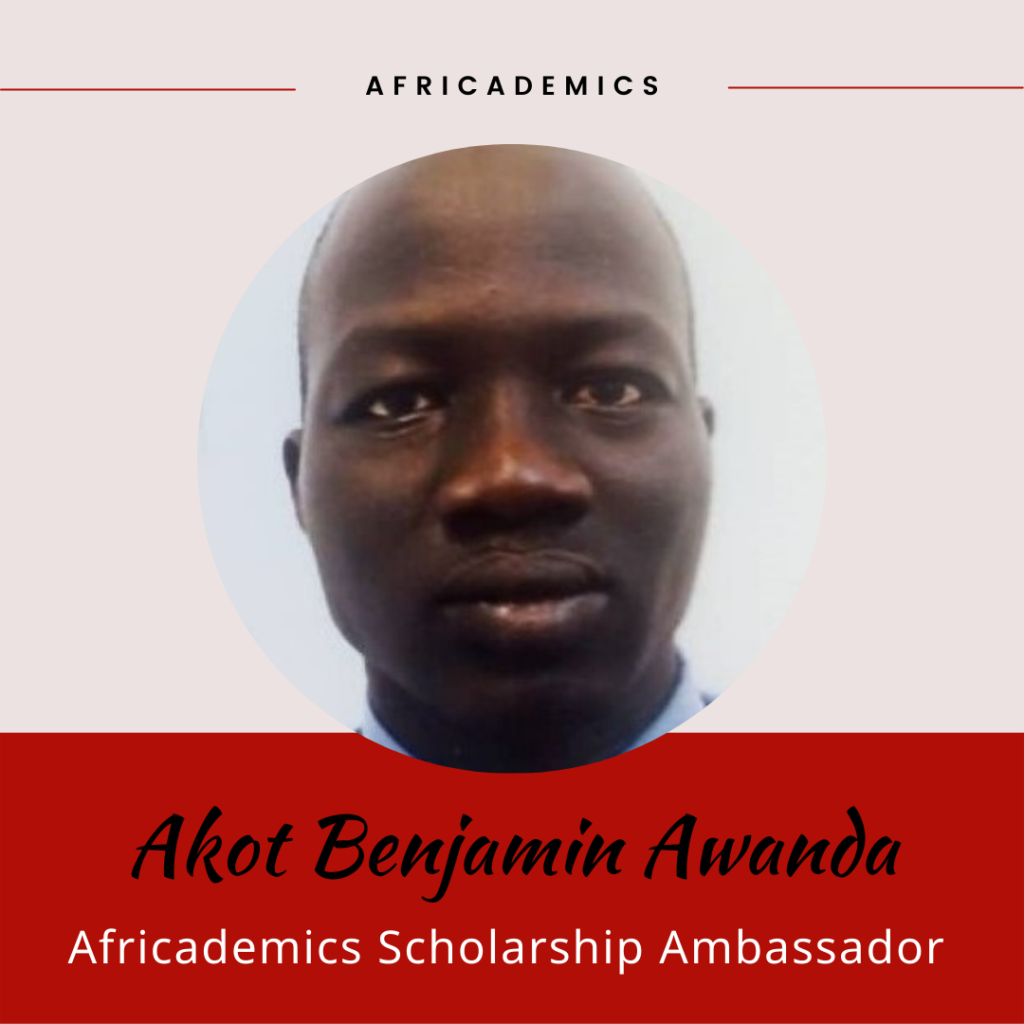 Akot Benjamin Awanda from South Sudan is currently completing his Master's degree in Computer Science at the Namibia University of Science and Technology. He has been a recipient of many scholarships, including a DAAD Scholarship for his Master's degree, as well as a DAAD Short-Term Research Stay in Leipzig, Germany. He has also been an Orskov Foundation Grants Awardee, in addition to receiving the Albert Einstein Education Foundation Initiative (DAFI) Scholarship for his Bachelor's degree.
Akot is not only a researcher but also a software developer for mobile phone-based agricultural market information services (AMIS) in Sub-Saharan Africa (SSA). These services aim to provide small-scale farmers with access to current market prices, traders, and markets. This enables them to sell their commodities in other markets at a higher price or strengthen their negotiating powers against traders, who normally come to the farm gates to acquire commodities at a below-market price.
He has also developed mobile phone software to improve Maternal, New-born, and Child Health (mMaNCH) in SSA. These services provide maternal, new-born, and child (MNC) with Antenatal care (ANC), postnatal care (PNC), nutrition and immunization health information, preventing maternal pregnancy and childbirth complications, and child stunting growth.
Akot decided to become an Africademics Ambassador because he would like to give back to African youth by using his extensive scholarship experience to assist them in securing scholarships themselves.
Welcome to the Africademics Ambassador Programme, Akot Benjamin!
The Scholarship Ambassador Programme
Through the Scholarship Ambassador Programme Africademics trains volunteers from across Africa to become scholarship advisors and mentors. Ambassadors complete a 4-month online course with virtual lectures, case studies and additional activities. Once they have successfully graduated, our Scholarship Ambassadors offer personal support, advice and mentorship for scholarship seekers and applicants in and from Africa.
Our 2022 Ambassador cohort started their training in April 2022 and we are thrilled to have over 90 students and scholars from across the African continent on board this year. In 2021, we welcomed our first cohort of 30 Scholarship Ambassadors who completed their training in November 2021. They now offer free scholarship consultations, mentorship and application assistance for scholarship seekers in and from Africa on a regular basis.
Meet our team of Scholarship Ambassadors here and let us know via our contact form if you would like to book a personal consultation with one of them!