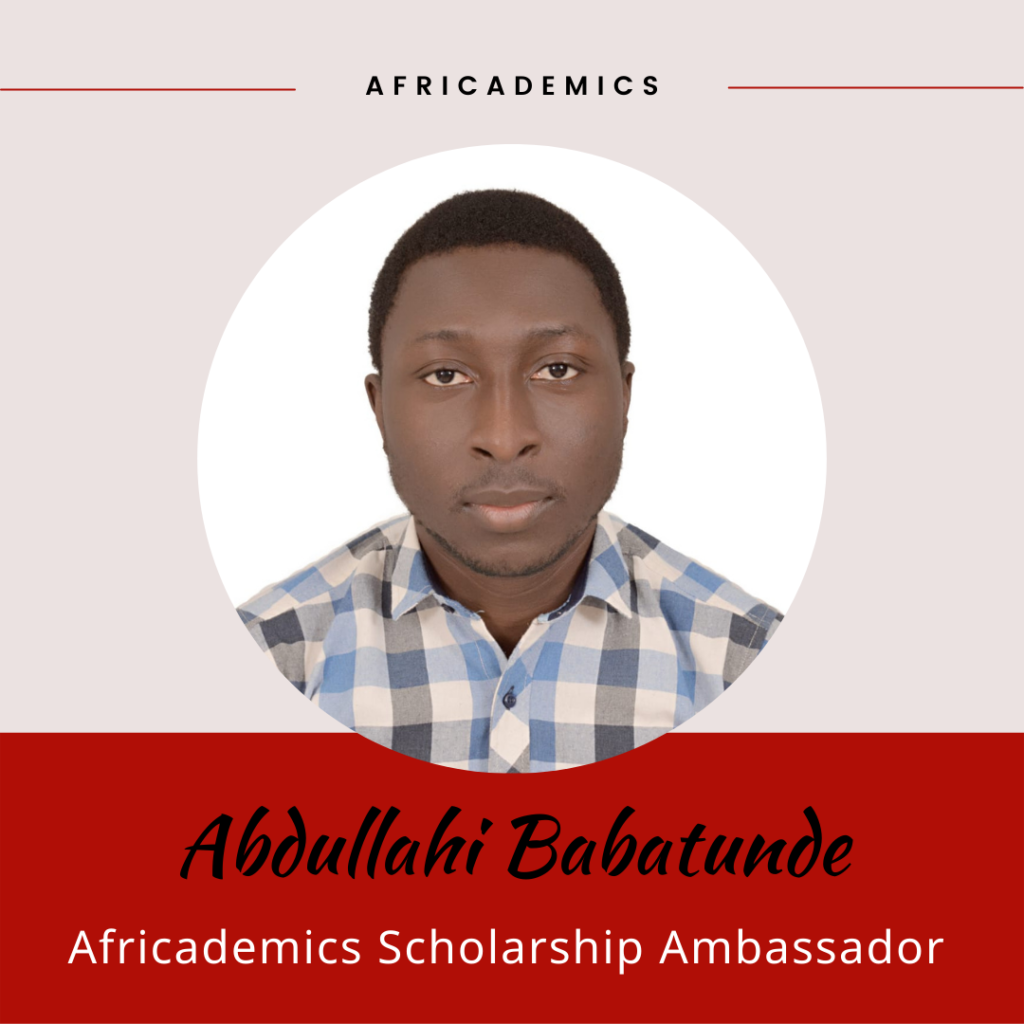 Abdullahi Olanrewaju Babatunde from Nigeria is currently completing his Master's degree at the School of Collective Intelligence at the Mohammed VI Polytechnic University in Morocco and he obtained his B.Sc.(Ed.) in Mathematics from Ekiti State University in Nigeria. Abdullahi is also a recipient of the Ibn Rochd Foundation Scholarship.
During Abdullahi's national mandatory youth service program, he lead campaigns against child labour in Sokoto, a state in Northern Nigeria. Because of this first-hand exposure to the dangers of child and forced labour, he decided to pursue a career in academics, to fight against all forms of child labour and for fundamental human rights.
He also co-founded the Organization for Youth Empowerment Nigeria (OYEN). OYEN is an organisation that assists talented, less privileged, high school students to gain admission into different Nigerian universities through teaching, mentoring, and purchasing of admission exam forms. Abdullahi has also worked as the Vice Principal Academics at the Nobel Standard School where his role was to prepare the final year high school students for writing the West African Examination Council and different National and International mathematics competitions including Cowbellpedia, Olympiad and InterswitchSPAK.
Abdullahi's clear passion to help others and empower the youth has driven him to become an Africademics Scholarship Ambassador and he hopes to support and inspire even more young scholars and leaders in their journey.
Something people don't know about Abdullahi is that he is afraid of anything with wings, even chickens.
Welcome to the Africademics Ambassador Programme, Abdullahi!
The Scholarship Ambassador Programme
Through the Scholarship Ambassador Programme Africademics trains volunteers from across Africa to become scholarship advisors and mentors. Ambassadors complete a 4-month online course with virtual lectures, case studies and additional activities. Once they have successfully graduated, our Scholarship Ambassadors offer personal support, advice and mentorship for scholarship seekers and applicants in and from Africa.
Our 2022 Ambassador cohort started their training in April 2022 and we are thrilled to have over 90 students and scholars from across the African continent on board this year. In 2021, we welcomed our first cohort of 30 Scholarship Ambassadors who completed their training in November 2021. They now offer free scholarship consultations, mentorship and application assistance for scholarship seekers in and from Africa on a regular basis.
Meet our team of Scholarship Ambassadors here and let us know via our contact form if you would like to book a personal consultation with one of them!