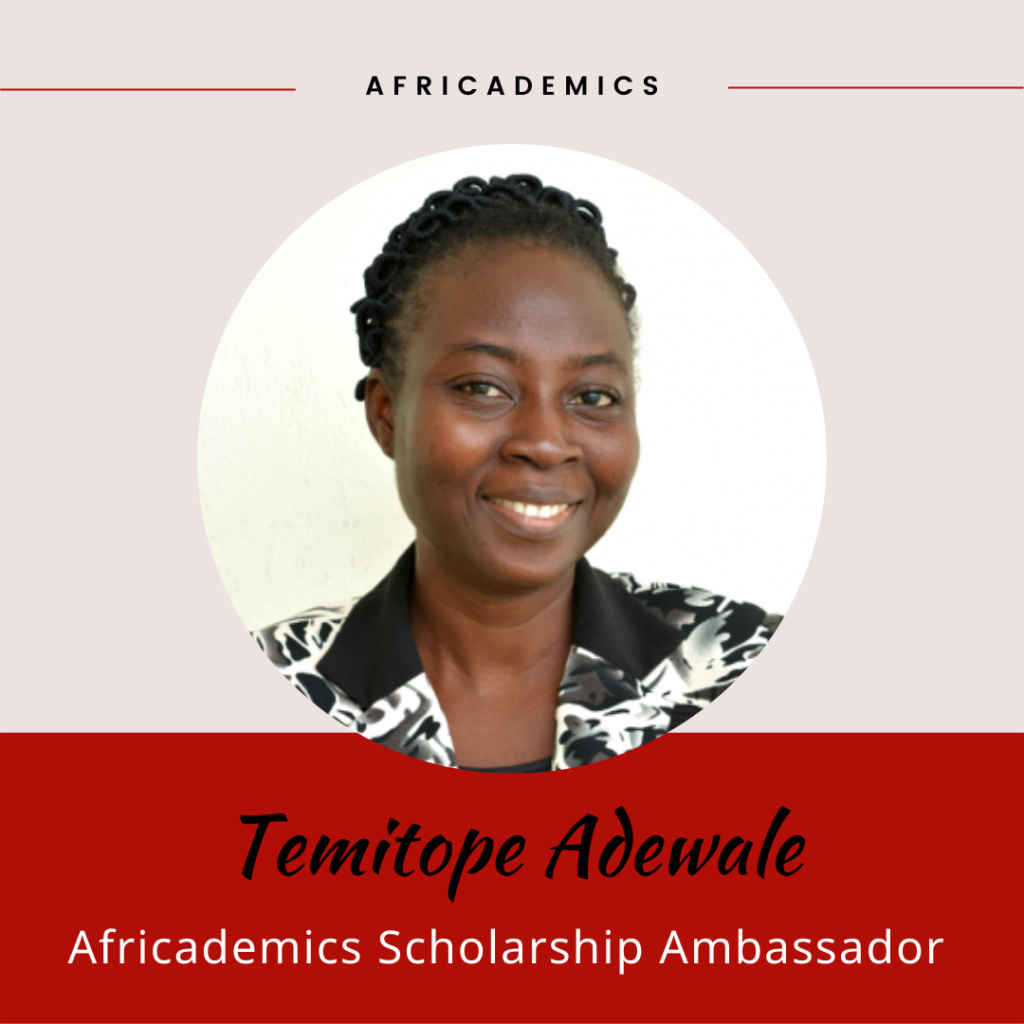 Temitope Adewale from Nigeria is a PhD candidate in Fisheries Science at the African Centre of Excellence in Coastal Resilience (ACECoR) at the University of Cape Coast in Ghana. She also holds a Master's degree in Fisheries Management for the University of Ibadan, as well as a Postgraduate Diploma in Education.
Temitope is a recipient of several awards, including the African Centre of Excellence Scholarship, the Netherlands Fellowship Program (NFP) Scholarship, and Best Graduating Student Award. She has a passion for teaching, women and youth social work, and communicating research work in understandable terms to the end-users.
She expects to become an expert in Fisheries Science focusing on climate change, environmental management, and sustainable livelihoods for fishers in coastal areas. Temitope taught Agricultural Science and Geography at a high school level before joining the Department of Agricultural Education at Lagos State University of Education where her teaching and research focus on fisheries and environmental management.
Temitope decided to become an Africademics Scholarship Ambassador because she wants to help others avoid the struggles, she went through because of not being aware of the scholarship opportunities available to her. She believes Africademics will equip her with the knowledge she needs to be in a better position to help more people access funding, enabling them to achieve their academic and career goals.
In addition to being a successful academic, Temitope is also good at singing and enjoys it very much.
Welcome to the Africademics Scholarship Ambassador Programme, Temitope!
The Scholarship Ambassador Programme
Through the Scholarship Ambassador Programme Africademics trains volunteers from across Africa to become scholarship advisors and mentors. Ambassadors complete a 4-month online course with virtual lectures, case studies and additional activities. Once they have successfully graduated, our Scholarship Ambassadors offer personal support, advice and mentorship for scholarship seekers and applicants in and from Africa.
Our 2022 Ambassador cohort started their training in April 2022 and we are thrilled to have over 90 students and scholars from across the African continent on board this year. In 2021, we welcomed our first cohort of 30 Scholarship Ambassadors who completed their training in November 2021. They now offer free scholarship consultations, mentorship and application assistance for scholarship seekers in and from Africa on a regular basis.
Meet our team of Scholarship Ambassadors here and let us know via our contact form if you would like to book a personal consultation with one of them!