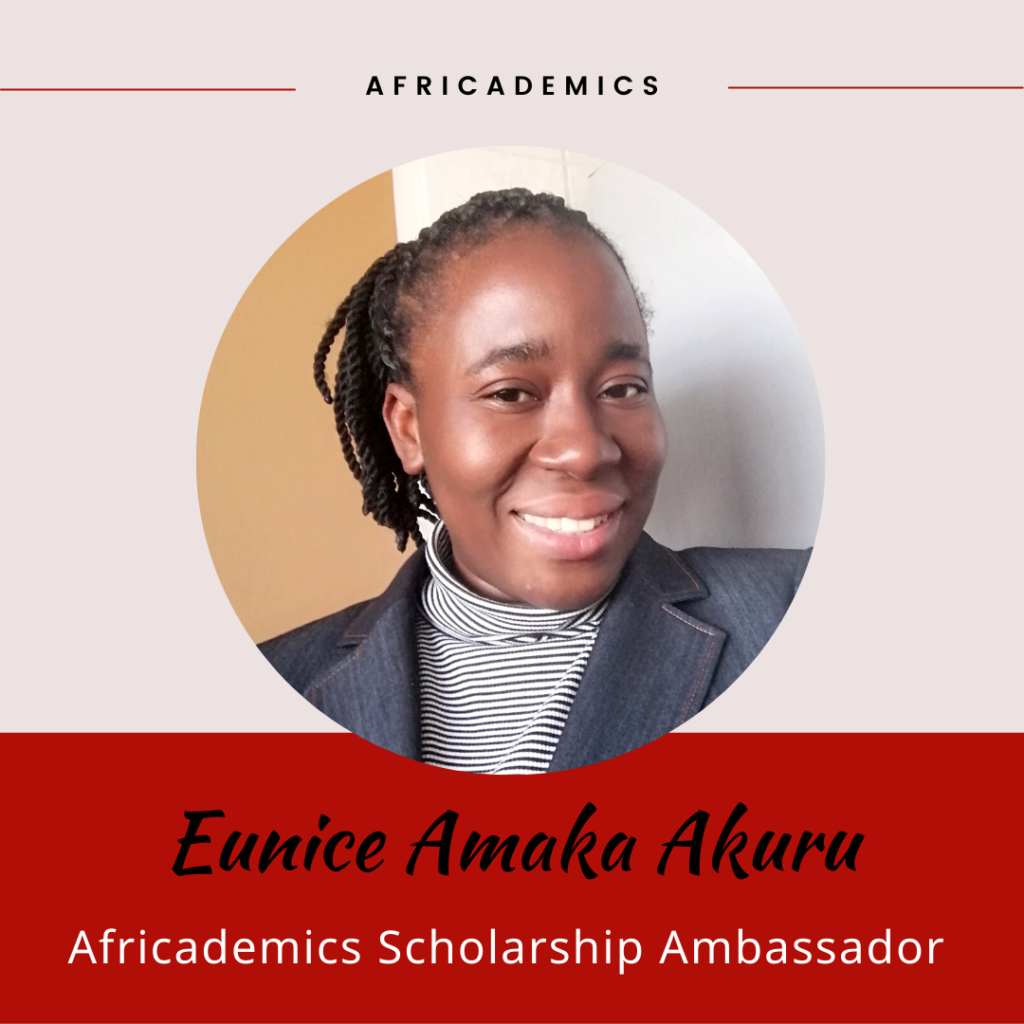 Eunice Amaka Akuru from Nigeria is a PhD candidate at the Department of Livestock and Pasture Science at the University of Fort Hare, Alice, South Africa. She was awarded the NRF-TWAS African Doctoral Renaissance Doctoral Fellowship, under the auspices of the National Research Foundation of South Africa and the World Academy of Science.
During her Master's studies, Eunice was selected for a Master's Research Exchange Student Award by the PAFROID-EU Consortium, a scholarship that afforded her the opportunity to travel to Stellenbosch University in South Africa to conduct the research work required for her M.Sc. degree in Animal Nutrition. At the present, Eunice is on study leave from the Department of Animal Science, University of Nigeria, Nsukka, where she holds a Lecturer II position.
Her PhD research focused on the potential of pomegranate (Punica granatum) peel powder meal as a natural feed additive on the growth performance, carcass, meat and bone quality, histological and blood-biomarker parameters of broiler birds. She has published several articles in the field of Animal Science in highly ranked journals and serves as a reviewer for a number of reputable journals in her field.
Eunice is an ardent researcher who is passionate about using her expertise to mentor other postgraduate students and young researchers. Currently, she provides useful mentorship tips to postgraduate students on a regular basis on her Facebook and LinkedIn pages and she applied to become an Africademics Scholarship Ambassador to further her knowledge, competencies and reach to a greater extent.
Something that people might not guess about Eunice when they meet her is that she is actually an introvert.
Welcome to the Africademics Scholarship Ambassador Programme, Eunice!
The Scholarship Ambassador Programme
Through the Scholarship Ambassador Programme Africademics trains volunteers from across Africa to become scholarship advisors and mentors. Ambassadors complete a 4-month online course with virtual lectures, case studies and additional activities. Once they have successfully graduated, our Scholarship Ambassadors offer personal support, advice and mentorship for scholarship seekers and applicants in and from Africa.
Our 2022 Ambassador cohort started their training in April 2022 and we are thrilled to have over 90 students and scholars from across the African continent on board this year. In 2021, we welcomed our first cohort of 30 Scholarship Ambassadors who completed their training in November 2021. They now offer free scholarship consultations, mentorship and application assistance for scholarship seekers in and from Africa on a regular basis.
Meet our team of Scholarship Ambassadors here and let us know via our contact form if you would like to book a personal consultation with one of them!