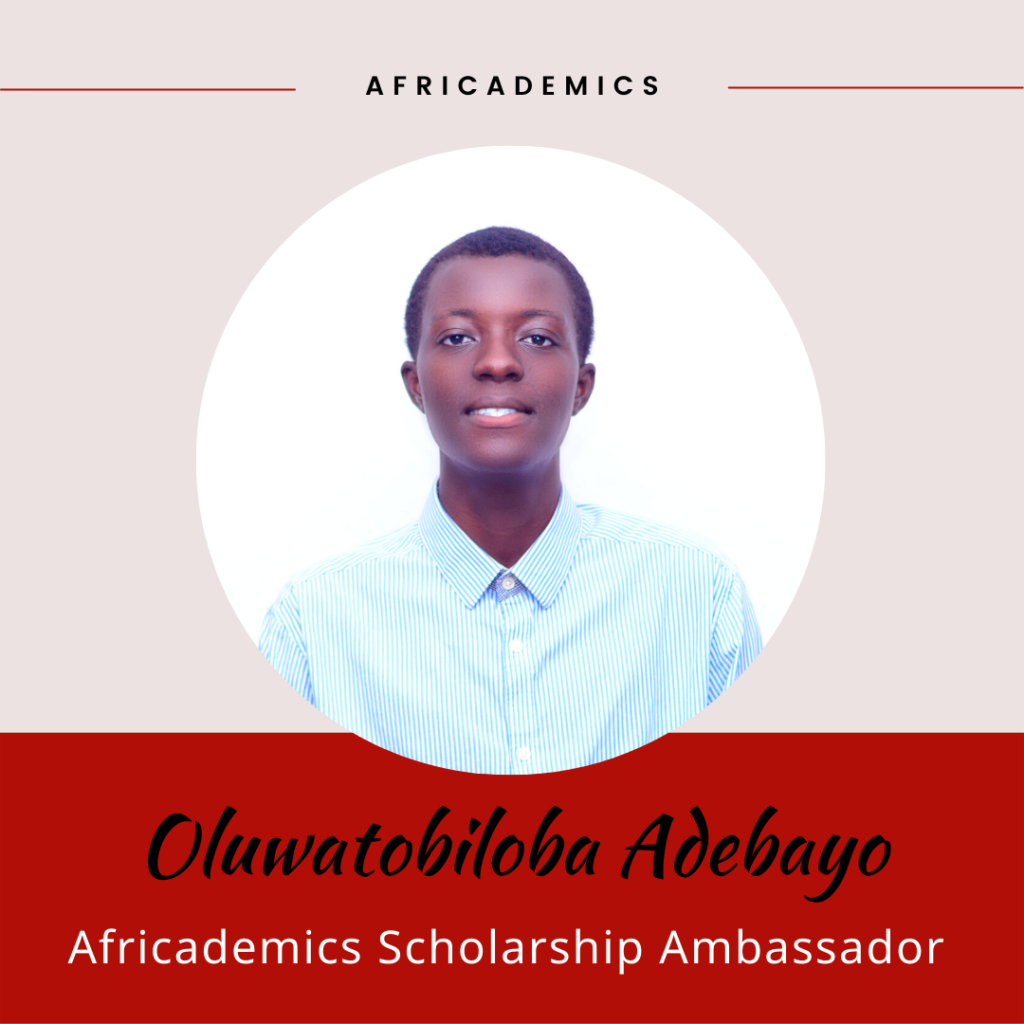 Oluwatobiloba Adebayo is an Administrative Intern at Osun State Internal Revenue Service, and a content creator at Career Development Hub. He holds a Bachelor of Science (B.sc) degree in Business Administration.
Oluwatobiloba is an education advocate whose zeal for inclusive education has earned him numerous International Opportunities like the United Nations Millennium Fellowship, Global Youth Ambassador at Theirworld, as well as the Passion Vector Fellowship. His empathetic spirit has led him to be an opportunity scout, and he then shares opportunities that he comes across on social media with his colleagues.
He joined Africademics as an ambassador because he would like to be a valuable contributor to the upliftment and betterment of his community, nation, and the world at large.
An interesting fact about Oluwatobiloba is that he prefers reading in odd places so that he can enjoy some solitude.
Welcome to the Africademics Ambassador Programme, Oluwatobiloba!
The Scholarship Ambassador Programme
Through the Scholarship Ambassador Programme Africademics trains volunteers from across Africa to become scholarship advisors and mentors. Ambassadors complete a 4-month online course with virtual lectures, case studies and additional activities. Once they have successfully graduated, our Scholarship Ambassadors offer personal support, advice and mentorship for scholarship seekers and applicants in and from Africa.
Our 2022 Ambassador cohort started their training in April 2022 and we are thrilled to have over 90 students and scholars from across the African continent on board this year. In 2021, we welcomed our first cohort of 30 Scholarship Ambassadors who completed their training in November 2021. They now offer free scholarship consultations, mentorship and application assistance for scholarship seekers in and from Africa on a regular basis.
Meet our team of Scholarship Ambassadors here and let us know via our contact form if you would like to book a personal consultation with one of them!