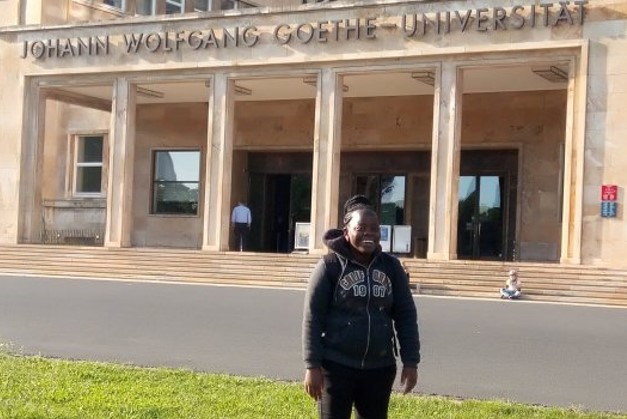 Mukundi Mukundamago is a young scholar from South Africa's Limpopo province, currently completing her PhD at the International Centre of Insect Physiology and Ecology in Kenya. She receives funding through the German Academic Exchange Service (DAAD) and recently shared her experience as a participant of a summer school in Frankfurt, Germany. Mukundi is also a member of our Africademics Scholarship Ambassador programme and provides guidance and mentorship for scholarship seekers and applicants from across the African continent.
My name is Mukundi Mukundamago, I hail from South Africa, Limpopo Province, but currently Kenya has been home far away from home for the past 3 years. I am an African Regional Postgraduate Program in Insect Science (ARPPIS) – German exchange services (DAAD) Scholarship holder hosted by the International Centre of Insect Physiology and Ecology (icipe) in Kenya.
I got the opportunity to participate in a Summer School in Germany, this involved both fun and learning, as we were taught but also got to explore parts of Germany as much as we could. From lessons in lecture rooms of Johann Wolfgang Goethe-Universität Frankfurt am Main Geospatial technologies, teaching didactics and pedagogies, to appreciating the artistic and historic sides of Germany in Frankfurt am Main.
Modules covered had both theory and practical components, including:
Academic communication – academic writing; academic vocabulary; self-editing strategies; structuring academic texts; referencing and quoting; publishing and copyright issues.
Support and Guidance – peer-teaching, tutoring, mentoring, and supervising in higher education; conversation techniques; communication rules; structuring guidance discussions; feedback culture.
Higher Education Didactics – Action- oriented teaching; course planning; activating forms of learning in large-group and small group events; service learning and citizen science in higher education.
Development of a course concept for higher education on the topic of "Geospatial Technologies" in the context of case-based project work performed in small groups.
The modules offered in the summer school in 2019 helped to catapult my PhD, because I acquired novel skills in R studio for land cover/ land use classification, story maps and teaching didactics. With this I am guaranteed preparedness for my next career steps in research and academia. A lot of skills gained in communication, networking, organisational and leadership to mention but a few will come a long way.
We had a visit to the World of Biodiversity – Visit of the Senckenberg Naturmuseum Frankfurt, it was such a delight to be out of the lecture halls. It was even better to even see one of the rarest sights, such as that of the real-life sized models of the rarest and some extinct species of vertebrates and invertebrates. My highlight for the museum visit was the diversity of bee collection from all over the world, I took much interest on them as this is my area of study.
A get-together FB Geographie, Ochsenbraterei, "Deutschhaus "- Philipps-Universität Marburg: University of Marburg was a most welcome trip far way from forever busy Frankfurt. In the western side of Frankfurt is Marburg village which is a small serene historic area. Unlike the busy, noisy, and vibrant Frankfurt, Marburg is serene and low key during the night. Along the highway heading to Marburg, we passed several towns, then transitioned to green agricultural lands, pine plantations with some fragments of natural vegetations until we arrived Marburg. Upon arrival we were in awe of the beauty, though most buildings there are very old. We visited the old town and the castle on the highest level of the city. The red roof tiles on the top of its houses make it a real piece of beauty.
It would not have been a "Geospatial Training" had we not visited the Coordination Centre of the Geospatial Data Infrastructure Project Germany at the Federal Agency for Cartography and Geodesy in Frankfurt. The visit had me thinking to myself – "why has Africa reached this level of organisation in terms of our geospatial technologies and products that even a layman can easily interact with daily?" This is because everywhere we went, you are not able to get lost easily for there are information plaques with relevant maps for easy navigation.
We also had an excursion to explore the Rhine valley via boat, then Aerial tramway (cable car) to the top of the mountain with a great view from above. At the top we had lunch, then later continued with the tour around the mountaintop where there is much of the historic sites worth appreciating. The only thing that stood out for me was the Niederwalddenkmal monument located in the Niederwald, near Rüdesheim am Rhein in Hesse, Germany with a rich history in form of sculptures with historical information plaques containing details of the commemoration of the unification of Germany. It is worth noting that the monument is part of the UNESCO World Heritage sites.
As we continued with lecturers in the following week, we also paid a visit to the DAAD Headquarter Bonn, it was such a delight to finally meet the people behind the strategic and organised scholarships. We got to ask pressing questions that we've always had as students and got to meet and greet the DAAD representatives for different regions.
Overall, my impression about the summer school in Germany is that it was well organised and balanced, allowing both learning and exploring the city. I loved the practicality of the didactics that can be applied not only in higher education but across the board. About the country – the infrastructure development has allowed for effective and efficient transport systems, although there would still be traffic in some parts of the city in Frankfurt. The less carbon footprint transportation within the city such as bicycles and kick scooters available for a coin was an innovative move for me towards accomplishing climate change objectives. Germany is a country that embraces art and history -I say this looking at how they were able to preserve historic buildings with a touch of art in everything and space.
I Wish to acknowledge summer school: GeoTraining Environmental and Remote Sensing Data Analysis via Geospatial Technologies in Research and Teaching – Frankfurt organisers, for a well laid out program. The German Academic Exchange Services for the generous funding that afforded me not only the opportunity to participate in this summer school but also for funding my PhD studies. It is through this In-Region DAAD Scholarship that I am also able to appreciate the capacity and opportunities within Africa. I look forward to contributing not only to the realisation of the 2030 SDGs but also the Agenda 2063 objectives of the African Union within my area of expertise.
This article was originally published by the German Academic Exchange Service (DAAD): https://www.daad.org.za/en/study-research-in-germany/my-time-abroad/