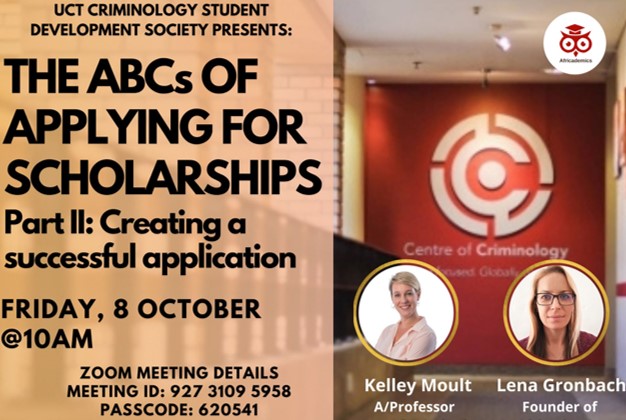 On 08 October 2021 the Student Development Committee of the University of Cape Town's Centre of Criminology held the second webinar of their 'The ABCs of Applying for Scholarships' series. Together with Prof. Kelley Moult (UCT Centre of Criminology), Africademics founder Lena Gronbach shared her advice and personal experience with prospective scholarship applicants. The webinar focused on the timing and content of scholarship applications, drafting the perfect CV and letter of motivation, and obtaining high quality reference letters.
The Centre of Criminology is a niche research and teaching organization within the Faculty of Law at the University of Cape Town, Africa's highest-ranked university. The Centre is committed to advancing policy-relevant research and analysis on critical issues of public safety, criminal justice and evolving forms of and responses to crime. The Centre has hosted high-level conferences on gangs, organized crime and wildlife trafficking, drawing international audiences, and through its associations with policymakers and practitioners at national level and in major multi-lateral institutions, its research and policy work is able to have an impact on national, regional and global debates.
The Centre's Student Development Committee, represented by Annie Kok, Anine Kriegler, Varsha Patel, Izu Sichinga and Gino Michaels, aims to support Criminology students at UCT not only in terms of their studies, but also in preparing for their future career or their further study and research journey. The webinar was well received by all participants and was live streamed on the Centre's Facebook page.
Are you a student, lecturer, faculty member or early career researcher and interested in booking a scholarship webinar for your university, your colleagues or a group of your fellow students? Contact Africademics (info@africademics.com) and get started!
Did you miss the webinar? Watch the recording!