By Mary Adejoh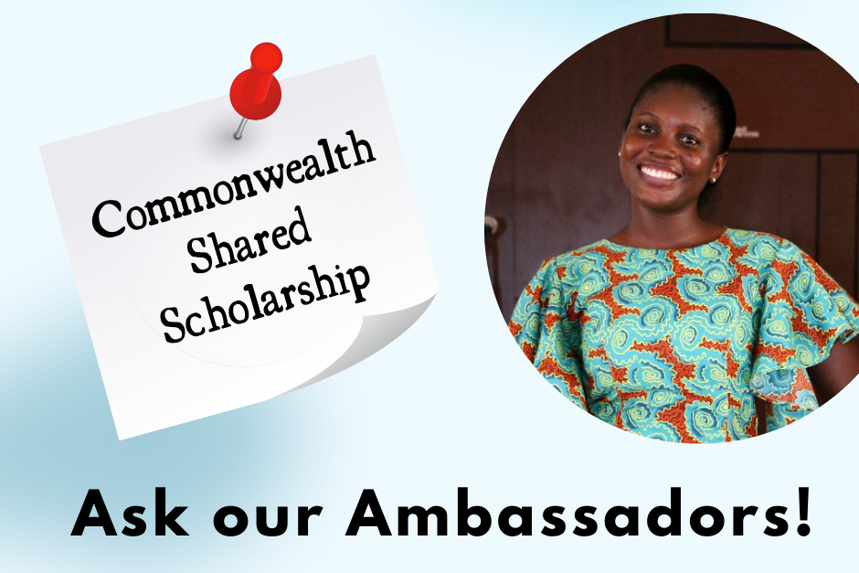 In our new 'Ambassador Advice' series, our Africademics Scholarship Ambassadors share their experience and advice for scholarship applicants in and from Africa. This week Mary Adejoh from Nigeria, a Master's student in Environmental Management at the University of Stirling in the UK and recipient of the Commonwealth Shared Scholarship, introduces the programme and shares valuable tips for future applicants.
About the Scholarship
The Commonwealth shared scholarships are annually funded scholarship opportunities targeted at candidates from developing or lower-middle-income commonwealth countries for a full-time one year master's study in a UK University. Funding is obtained from the UK Foreign, Commonwealth and Development office (FCDO) and is aimed at individuals who would otherwise not be able to afford to study in the UK.
This particular Commonwealth scholarship is to pre-selected universities in the UK along with pre-selected courses which align with the 6 themes of the Commonwealth Scholarship Commission (CSC). The themes are:
Science and technology for development
Strengthening health systems and capacity
Promoting global prosperity
Strengthening global peace, security and governance
Strengthening resilience and response to crises
Access, inclusion and opportunity
The scholarship covers the following expenses for successful applicants:
Airfare to and from the UK to Home country (Economy class or equivalent)
Tuition Fees.
Warm clothing allowance upon arrival to the UK
Monthly stipends (living allowance)
Study travel and thesis grants if applicable to your course of study
The Application Process
Because the Commonwealth Scholarship Commission looks out to identify talented individuals who have the potential to cause a change in their home countries, they are non-discriminatory and commit to equal opportunities while encouraging applications from a diverse pool of applicants.
The selection criteria for this scholarship are also based on these features in your application: Quality and plan to study, academic strength of the applicant, and possible impact on the development of the applicants' country of origin.
Therefore to apply for this scholarship, you must:
Be a permanent resident in an eligible Commonwealth country
Possess citizenship or be granted refugee status by any of the Commonwealth countries or be a British protected person
Be available to commence your studies in the UK when the academic year starts
By September of that year, you're applying, hold a first degree of at least second class upper (2:1) or a second class (2:2) and a relevant postgraduate qualification.
Not have studied or worked for one full academic year in a high-income country
Be unable to afford to study in any UK university without this scholarship
Have provided all requested documents and in acceptable formats.
Below some useful links for the application process:
Personal Experience and Advice
I applied for the commonwealth shared scholarship because I had missed the deadline for the Commonwealth Master's Scholarship. This was a time when I was on the lookout for a master's scholarship abroad.
The application process is pretty straightforward and not a one size fits all process. I proceeded with my scholarship application and school admission simultaneously to save time. The application window was for one month and you are expected to apply with all necessary documents and submit all the required essays.
The process was a learning curve for me as I had to carry out independent research all by myself to apply to my university and course of choice while also putting in my application for this scholarship. The only challenge I had was with getting my transcript from my University. This is quite typical of Nigerian Universities, so I do advise you to start the process of obtaining any document required from your institution as early as possible to eliminate any form of delay. Fortunately I was able to get my transcript in good time for my application. My application was carried out independently with no support from anyone while I was juggling being a Personal Assistant and a Governess.
The only hard part was getting my documents but every other thing about my application taught me independence and resilience. My essays were not reviewed by anyone before I turned them in and I was lucky to get the scholarship on my first attempt. This is possible with diligence and commitment. I appreciated the emotional support from my family and friends at this time because they believed in me and it meant a lot to me being successful with my application.
Being a beneficiary of the Commonwealth Shared Scholarship has taught me independence. Nobody can do it better than you! I have learnt to be patient and understanding of people from other cultures and background. As an international student, you always get to work in a group and this builds your communication and networking personality.
I have learnt to lead and be responsible when no one else is ready to stand up to task I have had to nudge my group members to work despite not meeting in person. This opportunity has made me a great team player, solution-driven, creative and ingenious with my ideas. I am currently the CSC Regional Coordinator for Universities in West Scotland and this has built my character and leadership qualities, engagement and delegation.
The Commonwealth Shared Scholarship provides various workshops and event to help develop scholars in different areas and this is left open to scholars to pick based on their interests. It also offers a mentorship scheme where scholars are paired with mentors in their field or a related field to guide them in their academic and professional journeys.