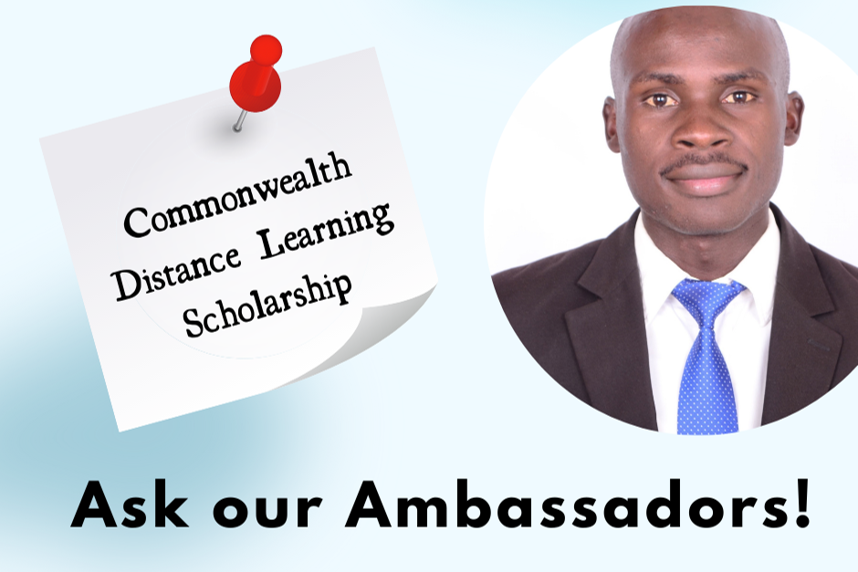 In our new 'Ambassador Advice' series, our Africademics Scholarship Ambassadors share their experience and advice for scholarship applicants in and from Africa. This week Edwin Obombo Magio from Kenya, a Master's student at Leeds University and recipient of the Commonwealth Distance Learning Scholarship, introduces the programme and shares valuable tips for future applicants.
About me
Hello there! Before I start, I would like to thank the Africademics blog team for sharing my scholarship experience and advice to young people keen on applying for and successfully winning a Commonwealth Distance Learning Scholarship (and others).
My name is Edwin Obombo Magio, a graduate of Tourism Management (First Class Honours) from Moi University, Eldoret, Kenya. I am currently pursuing MSc Responsible Tourism Management at Leeds Beckett University, United Kingdom, under the Commonwealth Distance Learning Scholarship. I am also an Africademics Scholarship Ambassador and here is my experience and advice for students wanting to apply for a Commonwealth Distance Learning Scholarship.
General Information
The Commonwealth Distance Learning Scholarship is an award scheme aimed at high-quality postgraduate students who wish to access training not available in their home countries, who wish or need to remain in their home country while they study, and who have the potential to enhance the development of their home countries with the knowledge and leadership skills they acquire.
The scholarship is funded by the Foreign Commonwealth and Development Office (FCDO) and covers tuition fees and study grants where required. Offered annually, the scholarship presents an opportunity to study eligible master's courses at UK universities that are participating in the Distance Learning scheme.
To be eligible for this scholarship you need to:
Be a citizen of or have been granted refugee status by an eligible Commonwealth country, or be a British Protected Person;
Be permanently resident in an eligible Commonwealth country;
Hold a first degree of at least upper second class (2:1) standard. A lower qualification and sufficient relevant experience may be considered in certain cases;
Be unable to afford to study the programme without the scholarship.
The Application Process
After gaining my Bachelor's degree in 2016, I developed an urge to further my education and gain in-depth knowledge in tourism. However, I was unable to do so due to a lack of funds. Thus, I started searching for scholarships in tourism-related courses. I came across a lot of scholarships from the internet and applied for them. However, my attempts to get them were disappointing. Nevertheless, I never gave up.
In 2019, I found the site opportunitiesforafricans.com and came across the Commonwealth Distance Learning Scholarships advertisement. Fortunately, a course in Responsible Tourism Management at Leeds Beckett University was up for the Commonwealth Distance Learning scholarship that same year. So I decided to take a chance.
The scholarship required that I apply and secure admission to study MSc Responsible Tourism Management at Leeds Beckett University before applying for a Distance Learning Scholarship. Thus, I made an application to the university (it is worth mentioning that each participating university has its specific eligibility criteria and deadlines for candidates to be well guided) and got an unconditional offer.
Having received the offer letter, I then proceeded to make an application on the CSC's online application system. The system required that I upload the following documents below in addition to filling the application form:
At least one reference– submitted directly by the referee to the online application system (They sent referees an email requesting recommendation letter);
An offer letter to start the chosen course of study;
Full transcripts detailing all my higher education qualifications (with certified translations if not in English).
The application process was a bit challenging – I had gotten a university admission one day before the scholarship application deadline – so coming up with a solid application within a single day was the most challenging of it all.  However, I had applied for several scholarships, and I guess that served as strength for me.
Moreover, I was fortunate to know an alumnus who guided me through some parts of the application. In particular, development impact, personal statement, and voluntary and leadership experience sections. After successfully submitting my application, I realized that even with limited time you can still accomplish a task if you are fully determined.
Personal Experience and Advice
After a few months, I was notified via email by the University that my application was successful. I was so excited to receive these news, and they marked the start of my incredible journey as a Commonwealth Scholar.
It has been a life-changing experience so far. Through the scholarship, I have been able to engage in development discussions and access online professional courses. Additionally, I have been able to establish relations that foster sustainability, lifelong learning, and the sharing of culture on multiple levels, with various scholars from diverse backgrounds and scientific disciplines.
These benefits are coupled with an opportunity to study at UK University while you remain in your home country and enhance the development of your home country with the knowledge and leadership skills you acquire. I would therefore like to encourage anyone who desires to further their education to consider applying for Commonwealth Distance Learning scholarship.
When applying for this scholarship, I strongly advise you to do the following. First, ensure you check the requirements and make sure you meet them before starting the application. Second, you need to know that CSC considers candidates based on development impact, voluntary and leadership experience, and academic and work experience. Third, the application requires the writing of a personal statement and you, therefore, need to write a compelling personal statement (one that speaks of your passion and your ambition). Fourth, ensure that you choose strong referees who can write good recommendation letters. Finally, do not belittle any section of the application.
The application is currently open, and I am here to guide you if needed. From the subsequent list of applicants, you may be the next lucky scholar to pursue studies in the eligible master's course of your choice. All the best of luck! If you don't get it, keep trying and improving your application, someday you will succeed.