by Lena Gronbach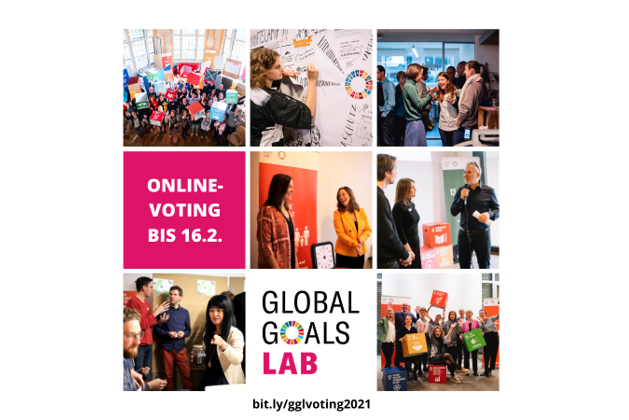 Africademics and the Global Goals Lab
Courageous and innovative actors and collaborative partnerships are needed to move one step closer to achieving the UN Sustainable Development Goals. The Global Goals Lab is one such initiative, gathering people and ideas that promote sustainable development on an economic, social and ecological level, thus making a contribution to achieving the 17 Global Goals. This year's Global Goals Lab is focused on 'reducing inequality' and 'creating good working conditions'.
The Global Goals Lab, initiated and run by Social Impact Lab and Deutsche Bank, offers various innovative formats of networking, sharing and coaching in support of the consolidation or scaling of their business models and networks. Support is provided by recognised experts from business, science and the welfare sector.
The programme has several stages, such as the Future Camp, followed by a 3-month period of mutual support, networking and collaboration between the selected social initiatives. This phase culminates in a 4-day challenge in April 2021 and the opportunity to receive financial support for the top three initiatives through the Global Goals Lab Impact Fund.
Vote for Africademics!
Africademics was selected to participate in the 2021 Global Goals Lab, given our commitment to ensuring access to inclusive and equitable quality education and promoting lifelong learning opportunities for all (SDG4). The competition has reached the public voting stage, and individuals from across the world can cast their votes until the 16th of February.
To cast your vote, visit the voting page and follow the instructions below. NB: The page is unfortunately only available in German but you can use Google Translate or the 'automatic translation' function of your browser to have it translated into English.
Vote here: https://voting-socialimpact.eu/voting/1/vote
Important voting guidelines
Click on the link above to access the voting page
Enter your email address
Tick three boxes to vote for a total of 3 initiatives (including Africademics – our organization is at the very end of the list)
You will receive an email to confirm your vote. Please check your spam folder if you do not see the email in your inbox within a few seconds of submitting the voting request
Click on the 'Vote bestätigen' link in the email (it means 'confirm vote' in German)
Done! You will be re-directed to a confirmation page and your vote has been counted.
Last but not least, please share the voting link and instructions with your friends and networks and help us get as many votes as possible! You can simply share the link to this page with them to ensure they receive the voting instructions as well.
Thank you for your support – and let's win this!