By Aydn Parrott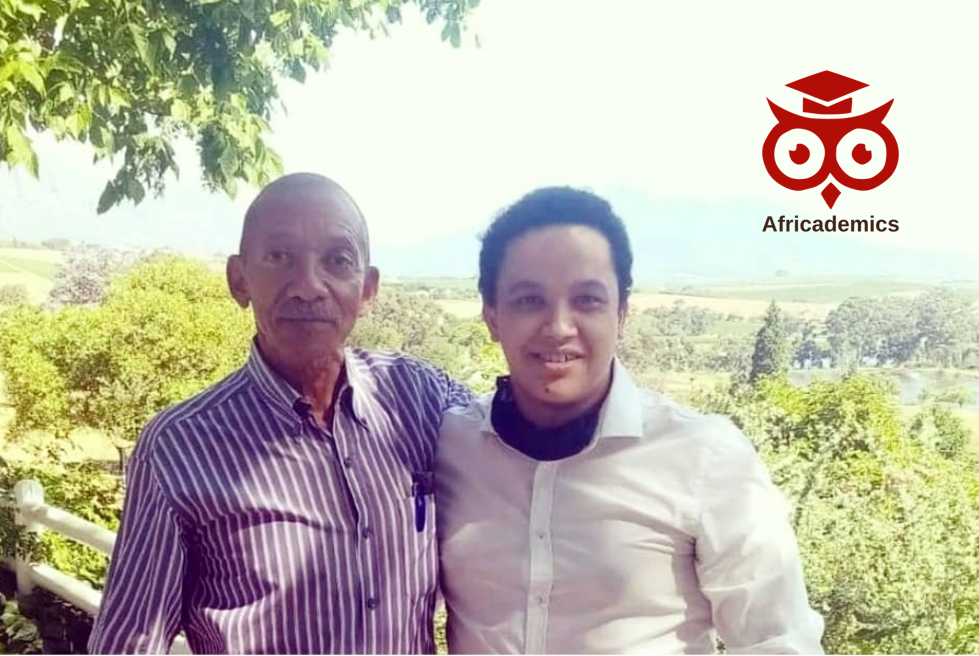 "Over the years Uncle Wilfie has told many stories which offer many lessons. The best of these always start with him saying that he will give his guest an education: 'it's free but it's compulsory'"

Aydn Parrott about his mentor, Wilfred Daniels
It's after 9pm during the December holidays. We have just come from visiting everyone and anyone in Stellenbosch. My dad says, "Listen let's just check if this man is at home because if he finds out I was in Stellenbosch, and he will, and that I didn't pop in to visit. . . Dan gaan daar groot moelikheid wees ("then there will be big trouble)." Uncle Wilfie is my father's old athletics coach. However, the close relationship Uncle Wilfie and my father developed over the years has seen him become, in his own words, "a spiritual grandfather" to my younger brother Pierre and I.
'Uncle Wilfie' – Wilfred Daniels
I should probably mention that Uncle Wilfie is known to South Africa and the world as Wilfred "Wilfie" Daniels. He has a superior knowledge on coaching, which he gained through books and attending a coaching clinic at Loughborough University, England. This was in the late 1970s when access to coaching knowledge was not available for blacks in South Africa. Wilfie coached my father and his elder brother as well as many people who went on to make an impact on different facets of South African society.
The lessons he passed on to my father, my father passed on to me. Uncle Wilfie inspired my father to gain knowledge in coaching too by reading extensively and talking to as many athletes and coaches as he could. Uncle Wilfie's achievements as a black athlete, coach and administrator and his belief that nothing is impossible, are among the most inspiring aspects of his life.
For him – someone growing up as the son of farm labourers – to reach the heights he achieved, meant that he had to overcome tremendous odds. That is a trait that can be followed on any day, by anyone. That inspired my father to be a coach and teach others that they can overcome overwhelming odds as well.
Uncle Wilfie never considered himself high and mighty, or better than others, just because of what he had achieved. That is another trait worthy of following. He always says to take the best characteristic in someone and follow that. Do not follow the bad traits.
Personal and professional achievements
As an administrator he is a former Sports Secretary of South African Amateur Athletics Board (SAAAB) Convener of Coaches of SAAAB, Convener of Coaches Committee of Athletics South Africa and was Head Coach of South African Athletics Olympic Teams of 1996, 2000, 2004 and 2008. As an athlete, Uncle Wilfie is also a former senior men's 400m, 800m and 1500m champion and record holder in 1975. He helped establish the Stellenbosch Amateur Athletics Club in September 1976.
He has been a linchpin in putting coaching structures in place in the Western Province. Uncle Wilfie served as Sports Secretary of Club Athletics under Western Province Amateur Athletics Union (WPAAU) since 1980. He was instrumental in the building of the University of the Western Cape's Sports Complex in 1984. He had worked as Head Athletics Coach at the university while Prof. Jakes Gerwel was the Vice-Chancellor.
In 1993, Daniels was appointed National Coach of the new athletics body Athletics South Africa(ASA). He subsequently served as the Head Coach of ASA from 1993-2009. This saw him accompany the likes of Caster Semenya to multiple Olympic Games and athletics tours across the world.
In these roles Uncle Wilfie acted as the link between the struggle for unified sport during Apartheid and the dawn of democracy in South Africa in that he was able to lay the foundation for structures and roles that would open up doors for other young coaches, managers, administrators and athletes. Uncle Wilfie also spent time working as High Performance Coordinator at South Africa's Council for Scientific and Industrial Research (CSIR) Sport Technology Centre in Pretoria.
Being a mentor and role model
Uncle Wilfie is a tremendously generous person. Prior to the Covid-19 lockdown it was not uncommon to pop in and find him hosting competition nights for his grandchildren, encouraging them to sing, dance and share their other talents. As with his coaching, the competition nights encourage confidence in those who participate and push them to use and realise their potential.
Uncle Wilfie always tries to include anyone and everyone who sets foot at his home. Being well travelled, well-learned and compassionate, he is able speak to anyone and on any topic. A friend from Namibia was pleasantly surprised to find Uncle Wilfie, a South African who had a grasp of Namibian politics as good as his own. This has been experienced by many friends from diverse backgrounds who have all found Uncle Wilfie able to, not only find common ground with them, but also engage with their stories and experiences in an enlightened manner.
His house, time and knowledge was always available for anyone who wanted it. During my studies at Stellenbosch University I have often shown up at his house with friends and he would always be accommodating, include us in any ongoing discussion and tell us stories from his own life and career which contained valuable life lessons.
Uncle Wilfie fondly recalls being in the team bus with Caster Semenya in Berlin, just after her historic victory in 2009, when the Bob Seger song Against the Wind started playing in the bus. The song has always been special to him, it's story of an ongoing struggle that never ends spoke to him during his work in the fight against Apartheid as well as subsequent struggles he saw and supported various Olympic athletes, like Caster Semenya through. On occasion he also shared a more intimate story of a postcard he sent his wife Auntie Julia when he first went to the United Kingdom for studies at Loughborough.
In February 2021 Uncle Wilfie will celebrate his 70th birthday without any signs of slowing down. Currently retired and living in his home town of Stellenbosch, he continues to fight for empowerment.
He is the Chairperson of his local church, Chairperson of the Board of the Stellenbosch Work Centre for Adult Persons with Disabilities, a non-profit that aims to empower people with disabilities through upskilling and finding employment for beneficiaries. He continues to use his coaching abilities to bring out the best in others, his administrative abilities to execute projects and initiatives that will improve communities shape future generations,
Over the years Uncle Wilfie has told many stories which offer many lessons. The best of these always start with him saying that he will give his guest an education, "it's free but it's compulsory."
Aydn Parrott is a freelance writer and storyteller and currently serves as Programme Manager of the Africademics Scholarship Ambassador Programme. He also runs the 'Power of Thought' blog: https://powerofthoughtblog.wordpress.com/