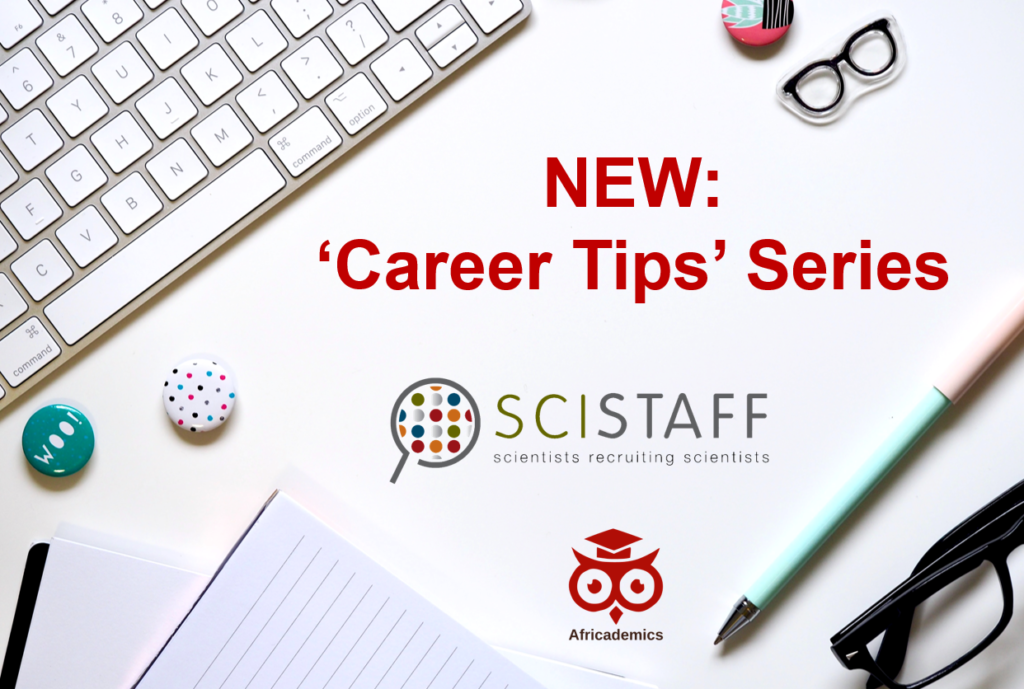 Launching the SciStaff 'Career Tips' Series
We are very excited to announce our latest collaboration with SciStaff, a South Africa-based recruitment consultancy founded by scientists for scientists. Over the next eight weeks, SciStaff will share a series of career tips for students and graduates, focusing on various aspects of career planning and job applications. The 'Career Tips' series will be published on our blog, as well as our Facebook, Twitter, Instagram and LinkedIn pages.
Topics covered will include choosing your ideal job and career path, job hunting during COVID-19, CV writing, preparing for an application interview, and much more. So keep an eye on our Facebook, LinkedIn, Twitter and Instagram pages, as well as on our blog and make sure you don't miss the first article next week!
About SciStaff
SciStaff CC is based in South Africa and was established in 2007 with the focus of recruitment in the scientific industry. All the recruitment consultants have a scientific background enabling a better understanding of the broad range of scientific areas in South Africa as well as providing a large network of contacts in various businesses and industries.
SciStaff is a small but dynamic, specialist recruitment consultancy for jobseekers in science-based industries, such as university graduates, early career researchers and academic staff. Because of their direct experience in scientific areas and academia, SciStaff is ideally positioned to identify the correct candidate for the correct job, meeting the needs of both the employer and job-seeker.
Their main focus is to provide suitable candidates for their clients who operate in the scientific industry thereby providing a link between employer and jobseeker. They recruit for various positions in areas such as chemistry, medical, pharmaceutical, biological, and environmental sciences. They also assist employers to place candidates in non-scientific position when required
For more information about SciStaff, visit https://www.scistaff.co.za and follow them on LinkedIn and Facebook!