By Aydn Parrott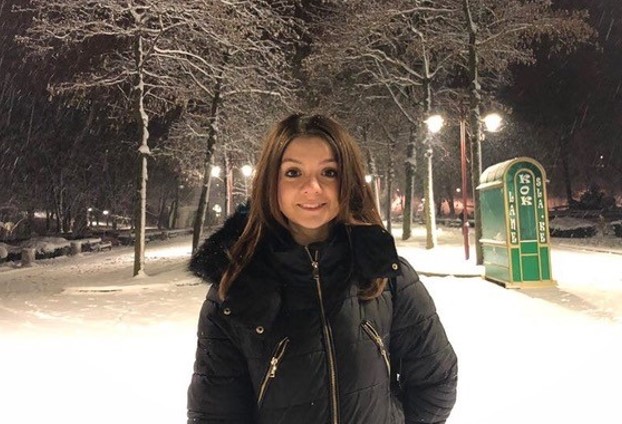 "Studying abroad is one of the most valuable experiences you can have"

Sarah Vahed, Rotary Scholar and interdisciplinary researcher
Sarah Vahed is a researcher born in South Africa and currently based in Amsterdam. She completed an LLB degree in Stellenbosch, South Africa, where she also obtained her LLM in International Law and Children's Rights. Sarah went on to complete an MSc in Psychology and Cognitive Neuroscience on a Rotary Global Grant Scholarship in Oxford, England.
Originally from Queenstown, South Africa, Sarah currently works as a research assistant at Donder's Institute for Brain, Cognition and Behaviour in the Netherlands. Sarah is also an Ambassador to the Institute for Economics and Peace and is an admitted attorney of the High Court of South Africa.
The aspiring neuroscientist says, "I am interested in the intersection of science and law through research and I am specifically interested in how knowledge from psychology and cognitive neuroscience can be used in the context of law and public policy."
As an example, Sarah offers the ongoing coronavirus pandemic. She says the pandemic has highlighted the need for a greater dialogue between scientists and law-makers. "Furthermore, it is my belief that some of society's most pertinent challenges require an interdisciplinary approach and we all can (and should) learn from each other," Sarah says.
She adds that while, in practice, different professions may often not engage with one another, she aspires to work in the field of neuroscience and be involved collaboratively with other fields, ultimately with the aim of being of service to society. "I would also love to become a professor because of my passion for working with others in different fields of research," explains Sarah.
Sarah, who is a lawyer and an admitted attorney in South Africa, has previously worked in litigation and dispute resolution at one of Africa's largest law firms, ENSAfrica.
However, her present research is in cognitive neuroscience. Sarah is currently a research assistant in the Decision Neuroscience Lab at Donder's Institute for Brain, Cognition and Behaviour. In addition, together with the director of the lab, Professor Alan Sanfey (who is an internationally recognised neuroscientist), she is coordinating an interfaculty initiative at Radboud University, called the Center for Decision Science.
The Center for Decision Science will span 6 faculties and will be a forum for researchers from all disciplines. This will include psychology, medical and natural sciences, law, economics and philosophy, among others. Sarah says the aim is to have interdisciplinary researchers work together on collaborative projects to tackle society's most pressing issues, including social inequality and environmental sustainability.
"When I am not in the lab," Sarah says, "I am a Rotary Ambassador for the Institute for Economics and Peace which involves communicating trends in peace with groups around the Netherlands and working with peacemakers across the world. I am very interested in scientific research, including communicating findings and translating them into public policy and laws." Therefore, she hopes to be involved in that process, whether through scientific research or law-making, throughout her career.
Sarah goes on to say that it is her hope that during her career she can assist in expanding knowledge in science and contributing to systematic changes that have a meaningful impact on lives. To this end Sarah says studying abroad is one of the most valuable experiences you can have.
"You will likely be challenged and pushed to your limits," Sarah says, "I truly believe that out of your comfort zone is where the greatest growth occurs." Sarah describes her own scholarship year as an adjustment to not only a completely new academic environment in England, but also to its culture. "During my studies, I was pushed academically," Sarah says.
In her personal life, she met individuals from very different backgrounds and upbringings. "Those encounters have had a big impact on my perspective of life, and are frankly, priceless," Sarah says.
Speaking about the benefits of her scholarship experience Sarah explains, "initially, I studied the MSc thinking that I might become a clinical psychologist. However, during the program I was introduced to avenues of research that I had never encountered." Thanks to her dissertation supervisor she became acquainted with cognitive neuroscience and realised she has a real interest in working in that discipline.
In this regard, "without the scholarship, my career trajectory might have been completely different," Sarah says. She adds that she has also been presented with opportunities post-scholarship that would not have otherwise been available to her. As such she, "would definitely encourage others to apply for a Rotary Global Grant Scholarship."
Sarah explains why she would especially encourage others to apply for a Rotary Scholarship. "Rotary District 1090 financed my whole year abroad and I would never have been able to achieve this without their assistance." Sarah continues, "the Rotary community that you become part of is a fantastic network of inspiring leaders and scholars that will stay in your life long after your scholarship year has ended."
"I would particularly encourage others to try to challenge themselves by applying for a similar scholarship in any country abroad," Sarah says. "Studying abroad is worthwhile not only professionally but also personally" Sarah explains. She says, "you will be introduced to professionals who you may never have otherwise met, and you will, in all likelihood, be forced to experience a completely different perspective of life."
According to Sarah, as a Rotary Scholar one becomes part of "the amazing organisation that is Rotary." The Rotary community consists of individuals from all walks of life who aim to contribute to society and their community. "Meeting and learning from Rotarians who have had long careers in different fields is inspirational," Sarah says, "and being part of a group of Rotary Scholars who are like-minded and will continue on to become prominent experts in their fields is motivational."
Sarah explains that there are numerous events and opportunities available to scholars during the scholarship year that all offer chances at networking and leadership development. "Importantly, even though my Rotary Scholarship year has ended, my relationship with Rotary has not," Sarah says. Rotary still plays a significant part of her day-to-day life now.
She is actively involved in Rotary activities and says she is still learning from her Rotary network. Speaking about her scholarship journey Sarah says, "I first identified a postgraduate degree I believed was right for me." She says, "I was very passionate about the program but knew that I would not have been able to finance it myself. I was not sure if I was ever going to be able to achieve my dream."
Therefore, she searched for scholarships and financial aid to help her achieve her goal. "After months of searching, I was lucky to have discovered Rotary, including finding out about their Global Grant Scholarship, and this changed everything for me," Sarah recalls.
Aydn Parrott is a freelance writer and storyteller. He represents Africademics as a University Ambassador at Stellenbosch University and runs the 'Power of Thought' blog: https://powerofthoughtblog.wordpress.com/