By Aydn Parrott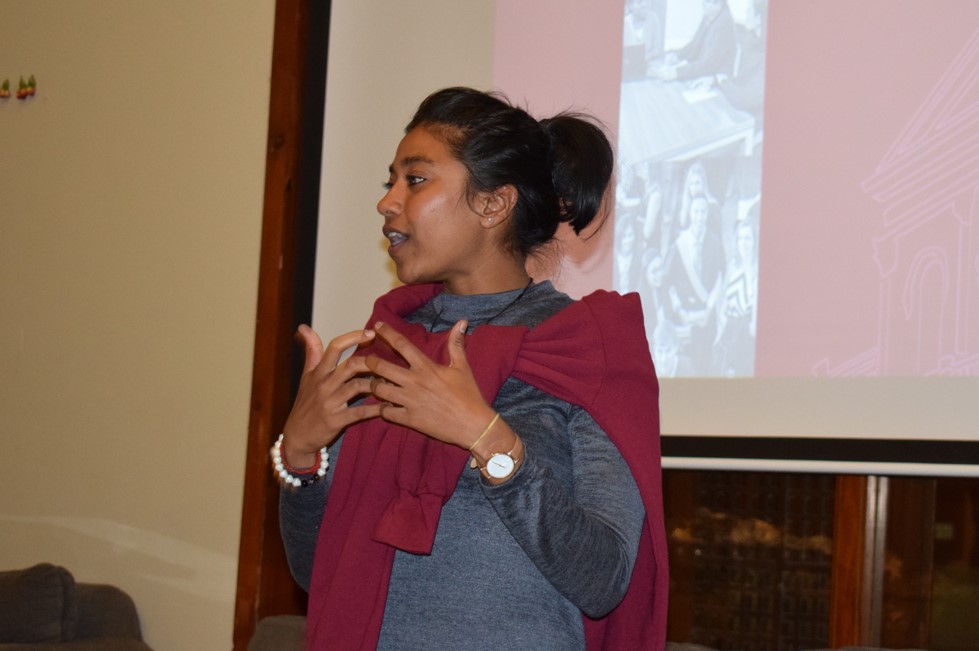 "Leadership comes with not keeping our research only in the academy but sharing it with the public; this is the social responsibility of education"

Nishai Moodley, Stellenbosch University student funded by the Water Research Foundation
Nishai Moodley is completing her MA in Public Sociology in the Department of Sociology and Social Anthropology at Stellenbosch University in South Africa. Originally from KwaZulu-Natal, Nishai has studied with funding support from Professor Cherryl Walker's Research Chair in Land, Environment, and Sustainable Development and is currently supported by the Water Research Foundation.
The 23 year old has hopes of working as a leader in research and education and in addition to her studies she holds three jobs. "I am a writing consultant at the Writing Laboratory, Language Centre, an academic tutor for the Extended Degree Programme in the faculty of Arts and Social Sciences and a student research assistant for Stellenbosch University's Water Institute and Water Research Commission collaboration for the Water Research, Development and Innovation, Roadmap Skills Study", Nishai explains.
Speaking about her scholarship, Nishai says, "this scholarship has helped me to make sense of my own identity as a female Indian South Africa." Nishai says, "the South African identity is incredibly diverse and unlimited, but relevant to Khoi, Indians, African, Black, European and Afrikaner descendants, Jewish, and Coloured people in South Africa."
The scholarship has made her appreciate this diversity more. Nishai says, "apart from diversity, this scholarship made me realise the real-life consequences of research, in dealing with empirical inequality."
She says there is a burden to having knowledge because one is familiar with why problems exist and what is needed as a solution. However, she adds, "this pushes the responsibility to make research readable to a wider audience, that extends beyond academic and elite spaces."
Nishai says the most unexpected benefit of the scholarship was travelling. "It was an unbelievable experience to conduct my research in the Northern Cape, after studying in the Western Cape and originating from Kwa-Zulu Natal," Nishai explains. A highlight of travelling was the opportunity to go to the 2019 annual Anthropology Southern Africa conference at the Nelson Mandela University in Port Elizabeth.
Nishai says the exposure to travelling in South Africa exposed the reality of social, political, ideological, infrastructural, economic, and environmental problems that stem from colonialism and apartheid. "More importantly," she says, "travelling in SA instills an appreciation for the unique multilingualism and diversity that we should not take for granted."
Nishai believes that scholarships are important because they provide financial and intellectual support, which she says is crucial for a student's development. She says, "there are many opportunities to study in Africa and this is a prospect for local-global relations in pursuit of Global South knowledge production."
To aspiring African researchers, Nishai says, "one should always try to apply for scholarships. Studying is expensive and where there are opportunities, one should not hesitate." Nishai says that scholarships do not only assist financially but also expand the networks of scholars and expose them to different professions, people, and cultures.
"The exposure to knowledge is most rewarding, and with monetary help, why not?" Nishai asks. In addition to those who she learned from during the scholarship, there are also those who studied with Nishai. "I have colleagues who are my dear friends," Nishai says.
She adds that, "leadership comes with not keeping our research only in the academy but sharing it with the public; this is the social responsibility of education. Friendships are also important here."
Aydn Parrott is a freelance writer and storyteller. He represents Africademics as a University Ambassador at Stellenbosch University and runs the 'Power of Thought' blog: https://powerofthoughtblog.wordpress.com/