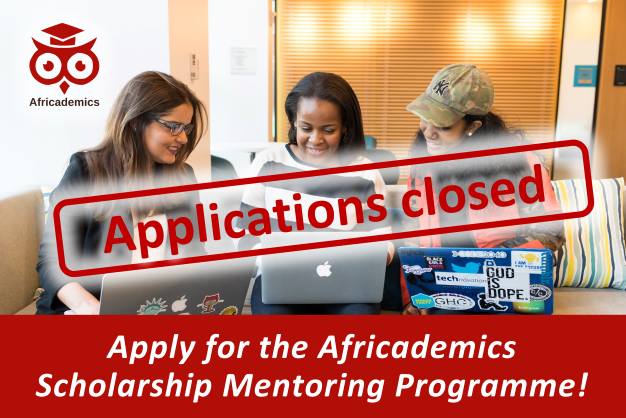 Applications for the next round of our Scholarship Mentoring Programme are closed!
We received over 700 applications for the next round of our Scholarship Mentoring Programme and are currently busy reviewing your applications. All applicants will receive a confirmation email, including information and instructions for the next step in the application process, shortly. So please keep an eye on your inbox and don't forget to check your spam folder if you haven't heard from us by Wednesday, 20 July 2022!
In order to be eligible for the programme, applicants will be required to complete two short online workshops prior to starting the mentoring phase with their allocated Scholarship Ambassador.
All consultations will take place virtually, i.e. via email, video call, messenger, or other suitable means of communication. Africademics will facilitate the initial contact with your Ambassador who will then schedule a call or email consultation with you. Your Ambassador will be there to advise and support you for a period of at least two months after your first consultation.
Important to know…
Please note that participation in our Scholarship Mentoring Programme does not guarantee you a scholarship. The purpose of the programme is to assist you in finding the right scholarship or fellowship, and to offer support and feedback on your scholarship application.
Please also keep in mind that Africademics does not award scholarships or funding – our aim is to offer support and information for scholarship seekers and applicants. Our Ambassadors are volunteers who offer their services for free and in their spare time. So please be considerate and respectful of the support they provide.
To learn more about our Ambassadors, please visit our Ambassador page. Should you have any questions about the programme, please feel free to contact us at info@africademics.com.