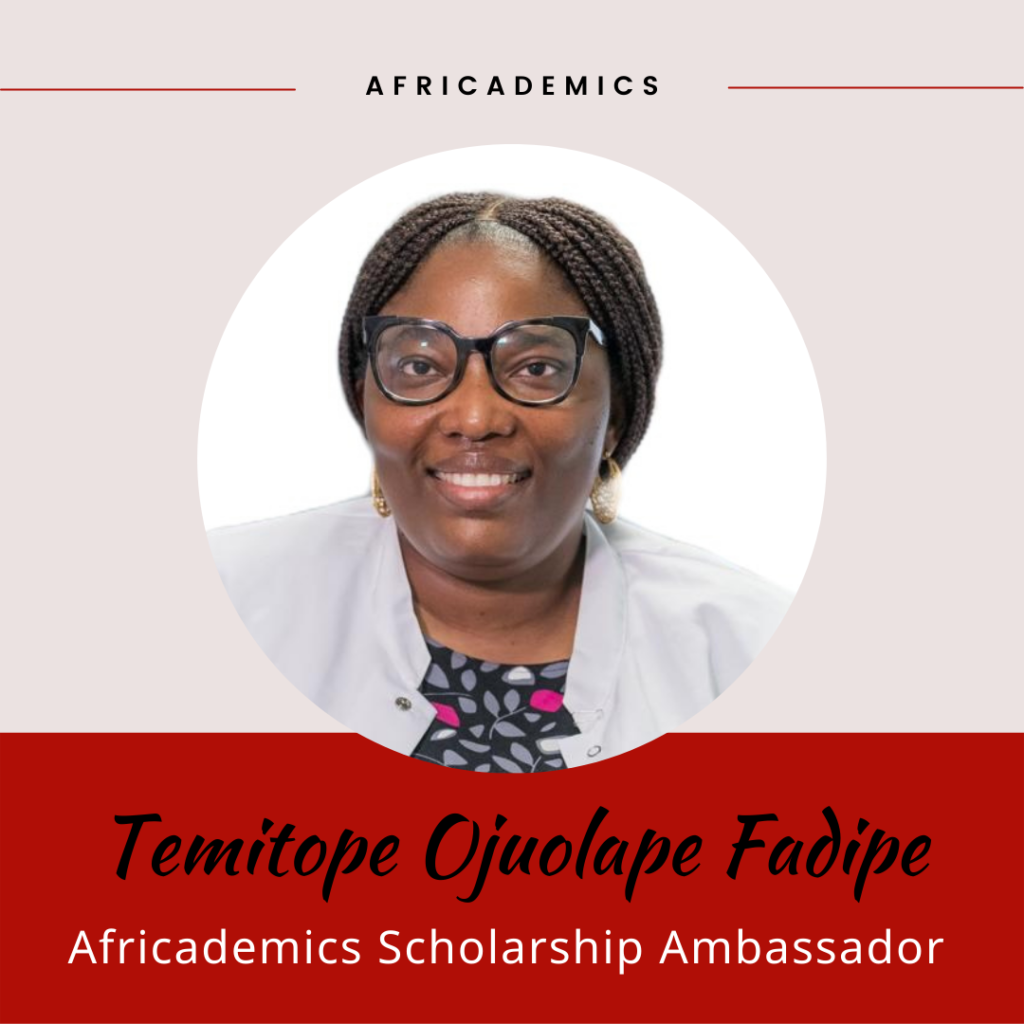 Temitope Ojuolape Fadipe from Nigeria holds Ph.D. in Cell Biology and Genetics and specializes in the field of molecular genetics. She is a Chief Research Officer and doubles as the Head of the Molecular Biology Laboratory at the Federal Institute of Industrial Research Oshodi.
She is currently a visiting Professor in the Systems Biotechnology group at the Centro Nacional de Biotecnología (CNB-CSIC), Madrid, under the Science by Women fellowship program of the Fundación Mujeres Por África (FMxA). She has also been a recipient of several prestigious fellowships and grants, including the Arturo Falaschi ICGEB-SMART Postdoctoral Fellowship, Society for Applied Microbiology Presidents Fund and Event Meeting Grants.
Since 2018, she convenes and facilitates a hands-on training in molecular biology techniques and workshop series at the Molecular Biology Laboratory at the Federal Institute of Industrial Research Oshodi. She is passionate about research in addition to development of molecular biology technical expertise among Nigerian life scientists. Temitope is passionate about mentoring and has mentored many in her past. For this reason, she joined the Africademics Scholarship Ambassadors, as she believes that Africademics will provide a platform and opportunity for her to further impact the lives of African students, graduates, and early career researchers.
In 10 years' time, Temitope sees herself as a more accomplished researcher with at least two patents and products from her current research project. In addition, she hopes to have secured and successfully completed an Alexander von Humboldt Fellowship. She also sees herself as an Ambassador for Girls and Women in STEM and an accomplished crusader for Molecular Biology Capacity Development in Africa.
A fun fact about Temitope is that she loves watching football.
Welcome to the Africademics Ambassador Programme, Temitope!
The Scholarship Ambassador Programme
Through the Scholarship Ambassador Programme Africademics trains volunteers from across Africa to become scholarship advisors and mentors. Ambassadors complete a 4-month online course with virtual lectures, case studies and additional activities. Once they have successfully graduated, our Scholarship Ambassadors offer personal support, advice and mentorship for scholarship seekers and applicants in and from Africa.
Our 2022 Ambassador cohort started their training in April 2022 and we are thrilled to have over 90 students and scholars from across the African continent on board this year. In 2021, we welcomed our first cohort of 30 Scholarship Ambassadors who completed their training in November 2021. They now offer free scholarship consultations, mentorship and application assistance for scholarship seekers in and from Africa on a regular basis.
Meet our team of Scholarship Ambassadors here and let us know via our contact form if you would like to book a personal consultation with one of them!