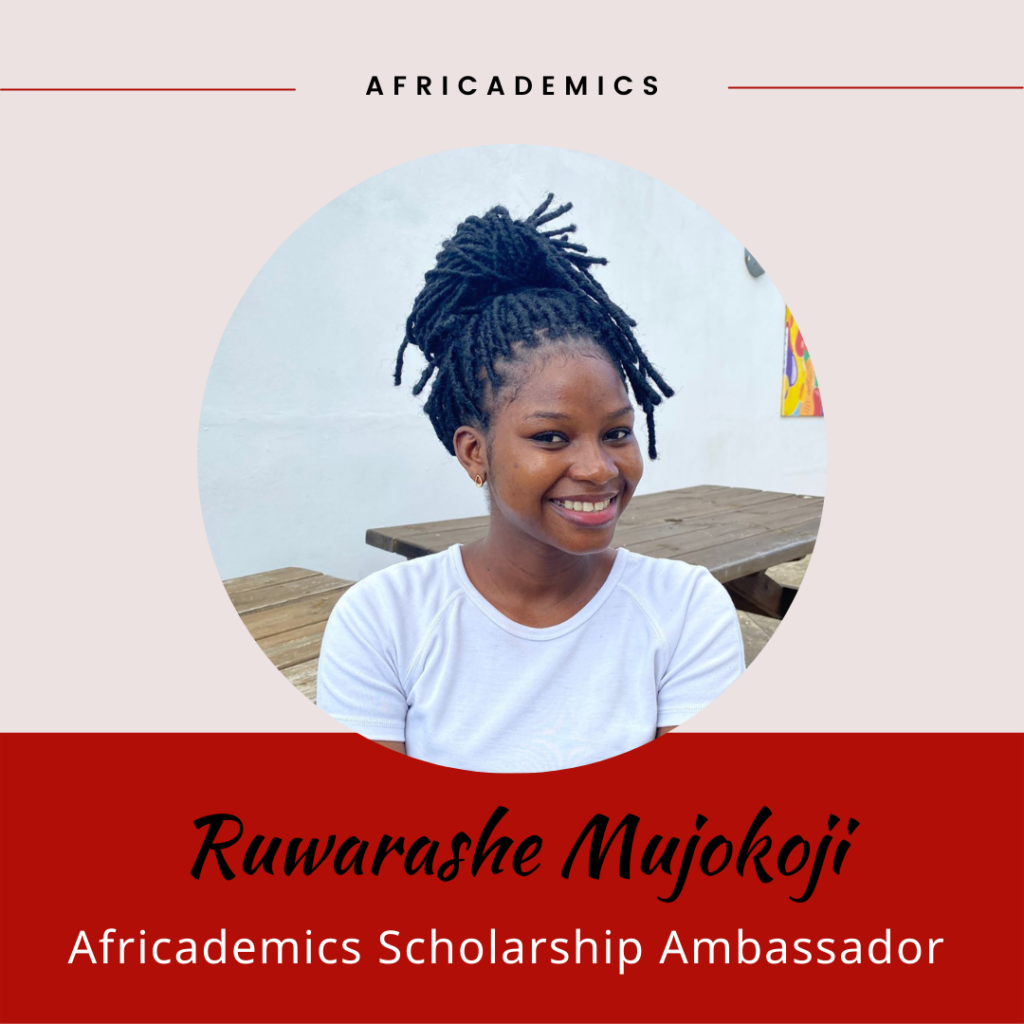 Ruwarashe Mujokoji from Zimbabwe is currently completing a Social Sciences Degree at the African Leadership College, funded by the Mastercard Scholarship. She is also volunteering at Ambitious Africa-Mauritius, an initiative that brings together African and Nordic youth to collaboratively build a sustainable future.
In addition to being a Medical Intern Volunteer at her college, the African Leadership College in Mauritius, Ruwarashe joined the Africademics Scholarship Ambassador programme because she herself has experienced the hardship of financial struggles for education and being alone in the challenge of looking for a scholarship. She would therefore like to assist others through this process, make them smile and help them reach their dreams.
She is also looking forward to meeting like-minded people in the Africademics community, as well as benefiting from her new gained knowledge in looking for a master's scholarship for herself. In 10 years' time, Ruwarashe would like to be a criminologist and fight for justice for the vulnerable people in her community who are often accused of crimes they did not commit.
Something people might not know about Ruwarashe is that she can burst out in laughter, and people usually don't expect this because she is an introverted person.
Welcome to the Africademics Ambassador Programme, Ruwarashe!
The Scholarship Ambassador Programme
Through the Scholarship Ambassador Programme Africademics trains volunteers from across Africa to become scholarship advisors and mentors. Ambassadors complete a 4-month online course with virtual lectures, case studies and additional activities. Once they have successfully graduated, our Scholarship Ambassadors offer personal support, advice and mentorship for scholarship seekers and applicants in and from Africa.
Our 2022 Ambassador cohort started their training in April 2022 and we are thrilled to have over 90 students and scholars from across the African continent on board this year. In 2021, we welcomed our first cohort of 30 Scholarship Ambassadors who completed their training in November 2021. They now offer free scholarship consultations, mentorship and application assistance for scholarship seekers in and from Africa on a regular basis.
Meet our team of Scholarship Ambassadors here and let us know via our contact form if you would like to book a personal consultation with one of them!