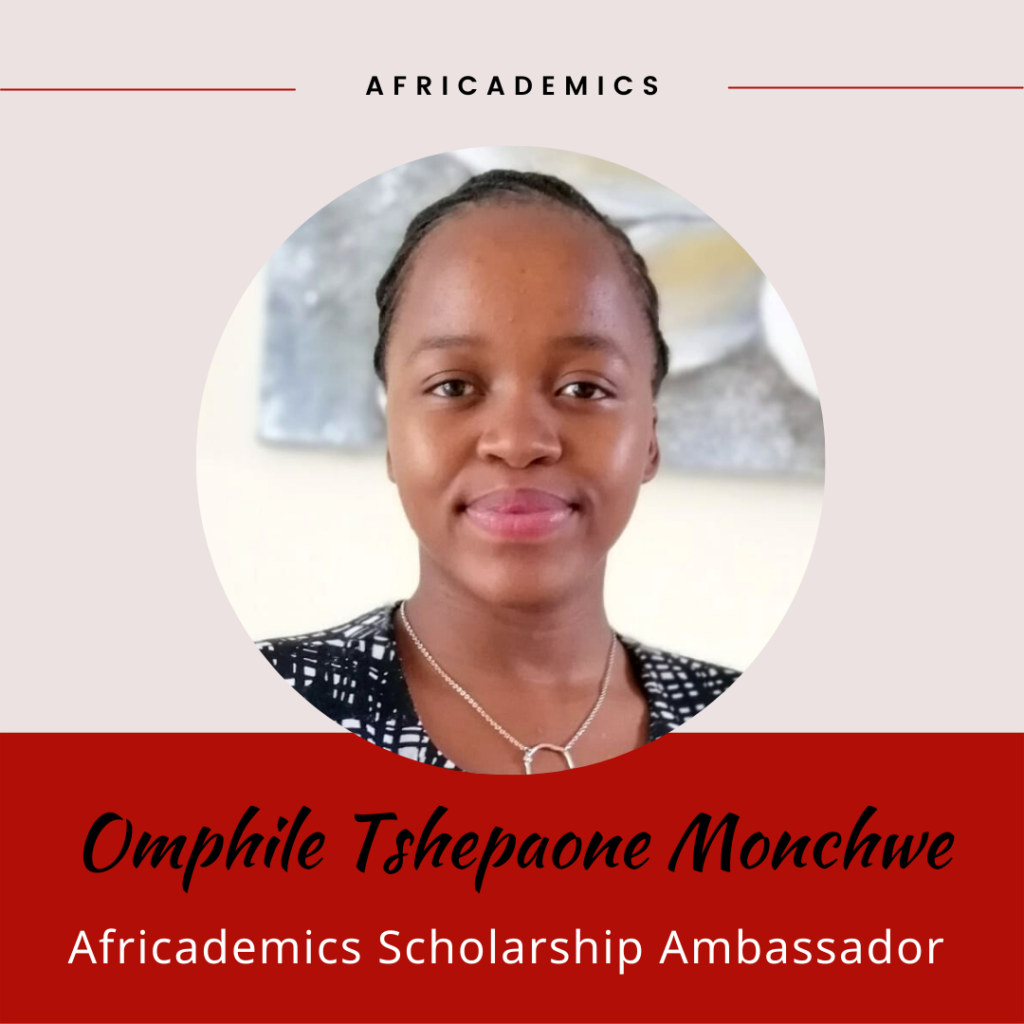 Omphile Monchwe from South Africa is currently in the final year of her Bachelor's degree in Computer Science and Informatics at the University of Johannesburg in South Africa. She is an aspiring software engineer and a tech-passionate young lady who believes in using the power of technology to improve the well-being of humanity.
She is a recipient of a Standard Bank full scholarship, provided by the Standard Bank South Africa Bursary Fund. Omphile is also passionate about giving back to her community and use to be the chairperson of the Keeping Girls in Schools (KGS) programme. This passion is also what drove her to join the Africademics Ambassador Programme.
Omphile has personally experienced the positive influence of receiving a scholarship for higher education, coming from a disadvantaged background, and would like to help others do the same. Her motto in life is "Be the change you want to see in the world" and she would one day soon love to teach young girls in disadvantaged communities how to code.
In addition, in 10 years' time Omphile hopes to have her own tech start-up company and work in areas of technology that support space exploration. An interesting fact about Omphile is that she is very good at untying knots.
Welcome to the Africademics Ambassador Programme, Omphile!
The Scholarship Ambassador Programme
Through the Scholarship Ambassador Programme Africademics trains volunteers from across Africa to become scholarship advisors and mentors. Ambassadors complete a 4-month online course with virtual lectures, case studies and additional activities. Once they have successfully graduated, our Scholarship Ambassadors offer personal support, advice and mentorship for scholarship seekers and applicants in and from Africa.
Our 2022 Ambassador cohort started their training in April 2022 and we are thrilled to have over 90 students and scholars from across the African continent on board this year. In 2021, we welcomed our first cohort of 30 Scholarship Ambassadors who completed their training in November 2021. They now offer free scholarship consultations, mentorship and application assistance for scholarship seekers in and from Africa on a regular basis.
Meet our team of Scholarship Ambassadors here and let us know via our contact form if you would like to book a personal consultation with one of them!