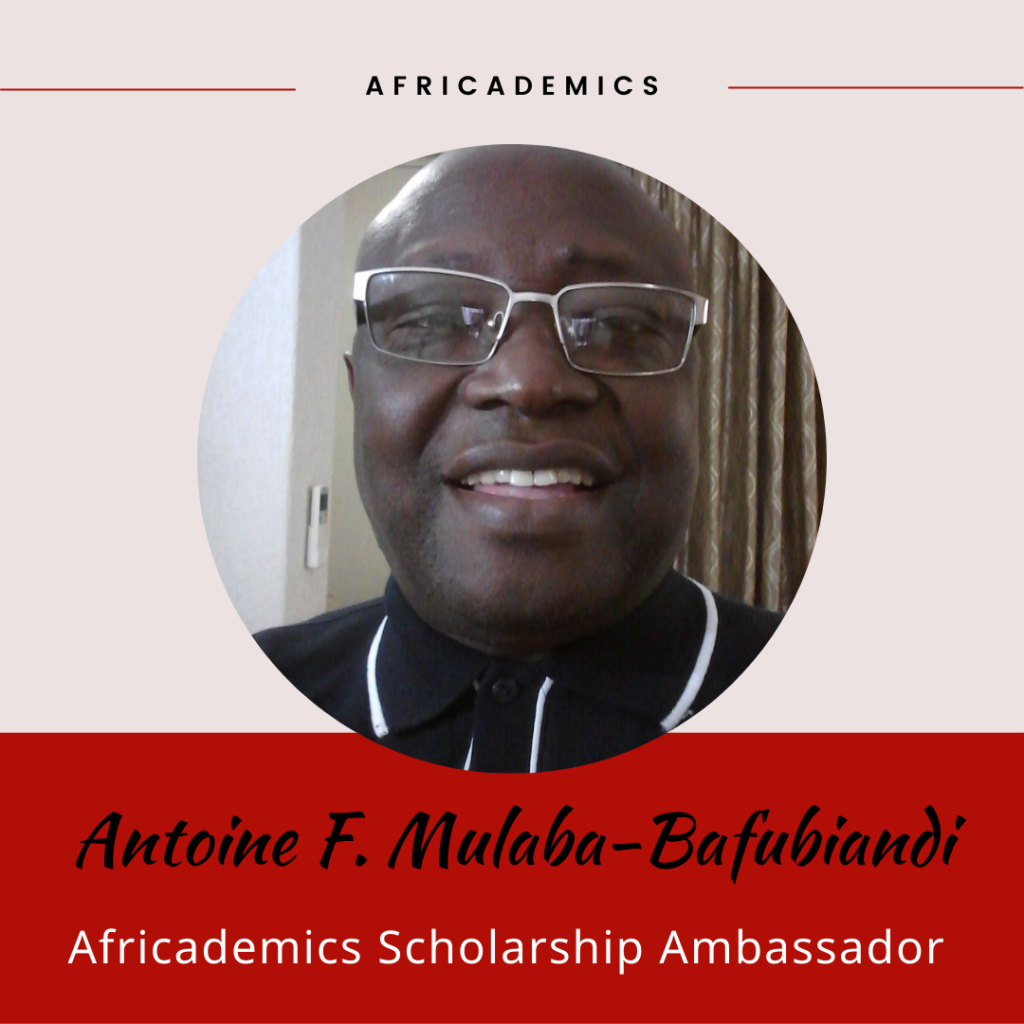 Antoine Mulaba-Bafubiandi from South Africa is a recently retired full Professor from the University of Johannesburg. He served for more than two terms as Head of the School of Mining, Metallurgy and Chemical Engineering at the Faculty of Engineering and the Built Environment at the University of Johannesburg where he was also the Chair of Hydrometallurgy in the Department of Metallurgy.
Antoine is recognized as an established researcher by the South African National Research Foundation. He holds a PhD and Master's degree in Engineering from KU Leuven in Belgium and has been the recipient of the Fulbright Scholarship and a scholarship for a student exchange programme from Belgium to Holland.
Antoine joined the Africademics Scholarship Ambassador team to share his study abroad experience with the youth to enable them to do the same. In 10 years' time, Antoine sees himself in regional countries working with and mentoring African youth.
An interesting fact about Antoine is that he is extremely observant, especially when people aren't aware of it.
Welcome to the Africademics Ambassador Programme, Antoine!
The Scholarship Ambassador Programme
Through the Scholarship Ambassador Programme Africademics trains volunteers from across Africa to become scholarship advisors and mentors. Ambassadors complete a 4-month online course with virtual lectures, case studies and additional activities. Once they have successfully graduated, our Scholarship Ambassadors offer personal support, advice and mentorship for scholarship seekers and applicants in and from Africa.
Our 2022 Ambassador cohort started their training in April 2022 and we are thrilled to have over 90 students and scholars from across the African continent on board this year. In 2021, we welcomed our first cohort of 30 Scholarship Ambassadors who completed their training in November 2021. They now offer free scholarship consultations, mentorship and application assistance for scholarship seekers in and from Africa on a regular basis.
Meet our team of Scholarship Ambassadors here and let us know via our contact form if you would like to book a personal consultation with one of them!