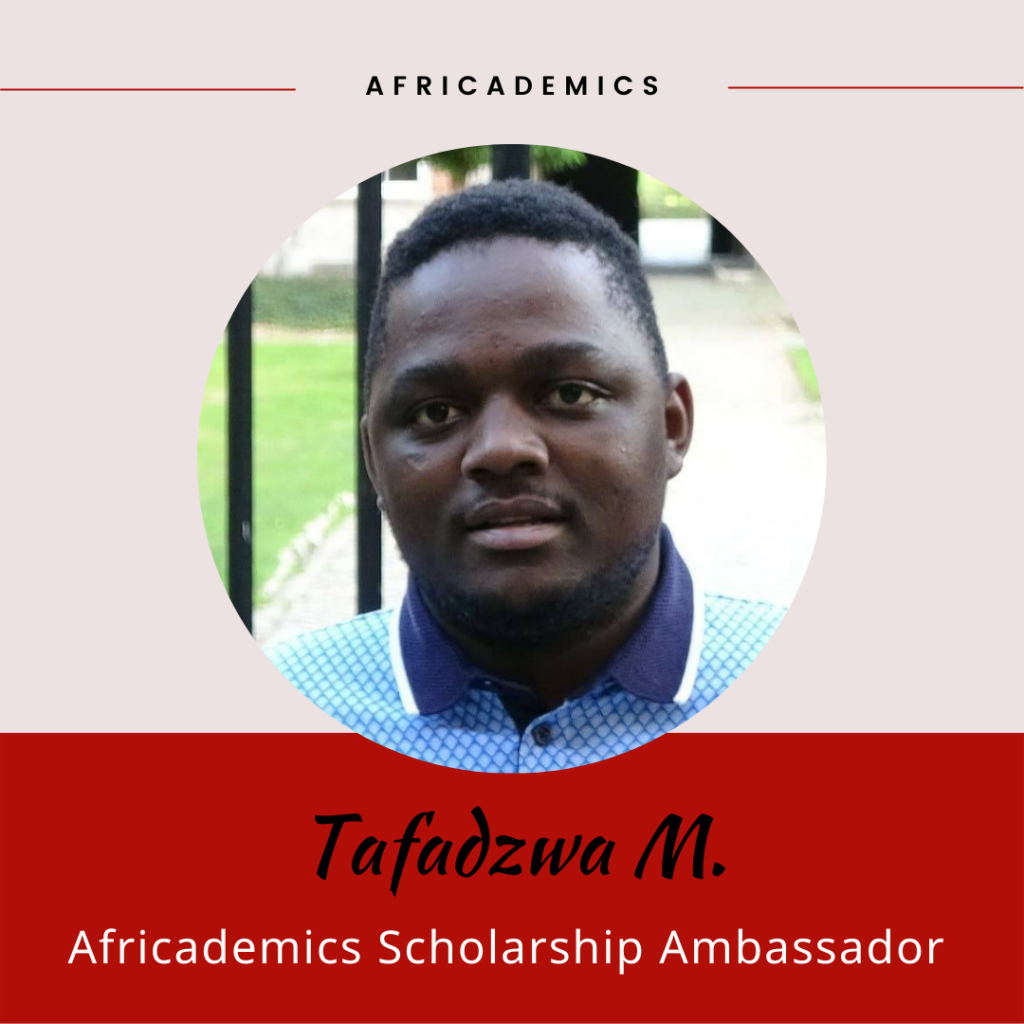 Tafadzwa M. from Zimbabwe is currently a student of the Erasmus Mundus Joint Master Degree in African Studies at the University of Bayreuth, Germany, the Bordeaux Montaigne University, France, and the University of Porto, Portugal.
Prior to starting his Master's degree, Tafadzwa underwent various training programmes on issues of nature conservation and governance, including the United Nations 59th Graduate Study Programme in Geneva, the Friedrich-Ebert-Stiftung Youth Leadership Programme, the Raoul Wallenberg Institute of Human Rights and Humanitarian Law's Sustainable Development and Human Rights Research Programme, and the Young African Leaders Initiative.
He is also the recipient of various scholarships, namely the Erasmus Mundus Scholarship, African Union Commission Pan African University Postgraduate Scholarship, and the Great Zimbabwe University Vice-Chancellor Scholarship Scheme.
The reason Tafadzwa joined the Africademics Ambassador team is that he believes in the transformative power of education to change a person's circumstances, and he feels that he is a testament to this. He wants to use his skills to help others succeed, and as a winner of several scholarships, he would like to share this knowledge. He is also excited to practically demonstrate his servant leadership skills while also allowing him to spend his time assisting others in climbing the ladder to achieve their academic goals. He is eager to share his skills and knowledge with peers from other programs who wish to participate in this program as well.
In 10 years' time, Tafadzwa would like to be a practising professor, running his own research think tank and making significant contributions to knowledge production and contributing to public sector development. An interesting fact about Tafadzwa is that he enjoys being alone and can go for days without speaking to anyone.
Welcome to the Africademics Ambassador Programme, Tafadzwa!
The Scholarship Ambassador Programme
Through the Scholarship Ambassador Programme Africademics trains volunteers from across Africa to become scholarship advisors and mentors. Ambassadors complete a 4-month online course with virtual lectures, case studies and additional activities. Once they have successfully graduated, our Scholarship Ambassadors offer personal support, advice and mentorship for scholarship seekers and applicants in and from Africa.
Our 2022 Ambassador cohort started their training in April 2022 and we are thrilled to have over 90 students and scholars from across the African continent on board this year. In 2021, we welcomed our first cohort of 30 Scholarship Ambassadors who completed their training in November 2021. They now offer free scholarship consultations, mentorship and application assistance for scholarship seekers in and from Africa on a regular basis.
Meet our team of Scholarship Ambassadors here and let us know via our contact form if you would like to book a personal consultation with one of them!