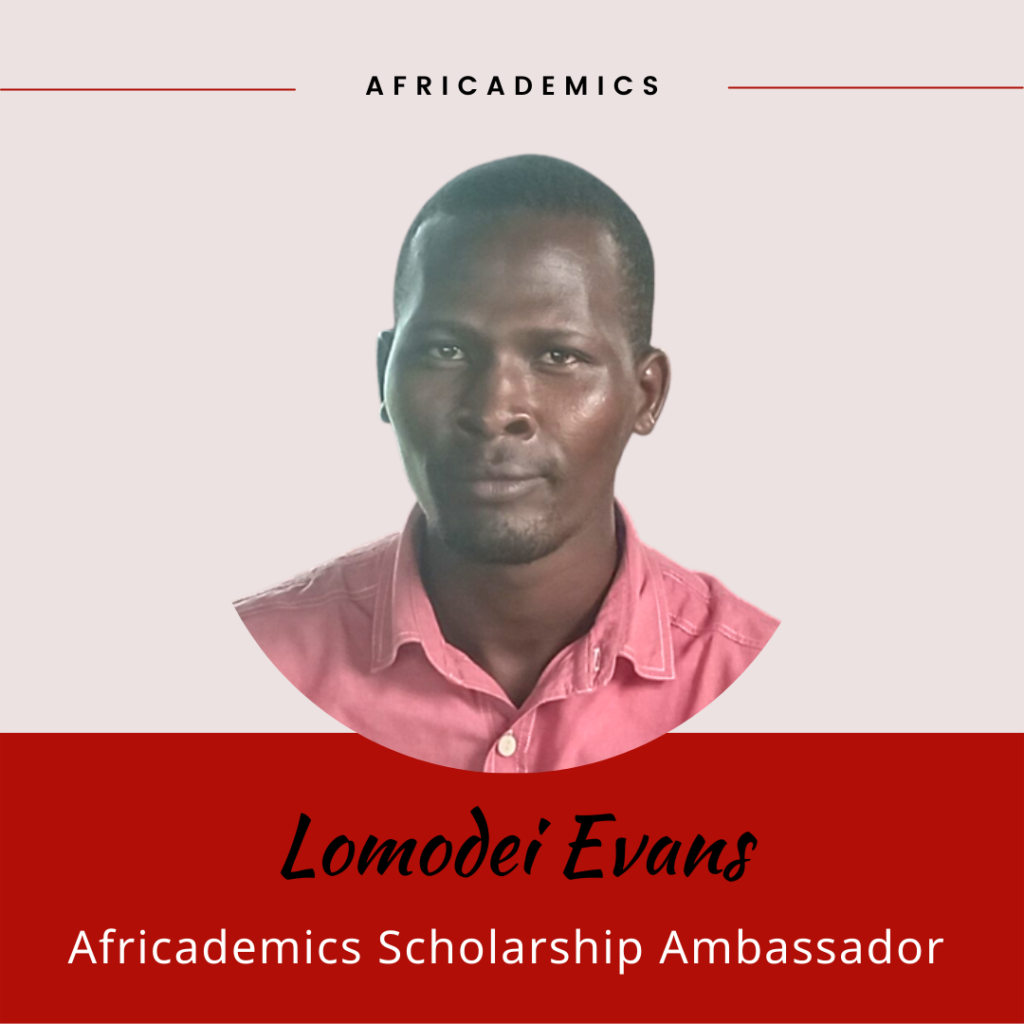 Lomodei Evans from Kenya is currently a lecturer at Turkana University College, while pursuing his PhD in Fisheries Science at the Africa Centre of Excellence in Coastal Resilience (ACECoR), University of Cape Coast, in Ghana. He holds a Master's degree in Applied Marine and Fisheries Ecology from the University of Aberdeen in the United Kingdom.
Lomodei has been awarded numerous scholarships and grants, namely the World Bank Africa Centre of Excellence in Coastal Resilience (ACECoR) PhD Scholarship, the British Ecological Society Ecologist in Africa grant, the Tullow Group Scholarship Schemes (TGSS), and the Charles Sutherland Travel Grant.
His motivation to become an Africademics Scholarship Ambassador is because he would like to expand his mentorship knowledge and skills to help his bright students, from poor backgrounds, attain scholarships. In 10 years' time, Lomodei would like to be a professor in his field. An interesting fact about him is that he is also a motivational speaker.
Welcome to the Africademics Ambassador Programme, Lomodei!
The Scholarship Ambassador Programme
Through the Scholarship Ambassador Programme Africademics trains volunteers from across Africa to become scholarship advisors and mentors. Ambassadors complete a 4-month online course with virtual lectures, case studies and additional activities. Once they have successfully graduated, our Scholarship Ambassadors offer personal support, advice and mentorship for scholarship seekers and applicants in and from Africa.
Our 2022 Ambassador cohort started their training in April 2022 and we are thrilled to have over 90 students and scholars from across the African continent on board this year. In 2021, we welcomed our first cohort of 30 Scholarship Ambassadors who completed their training in November 2021. They now offer free scholarship consultations, mentorship and application assistance for scholarship seekers in and from Africa on a regular basis.
Meet our team of Scholarship Ambassadors here and let us know via our contact form if you would like to book a personal consultation with one of them!