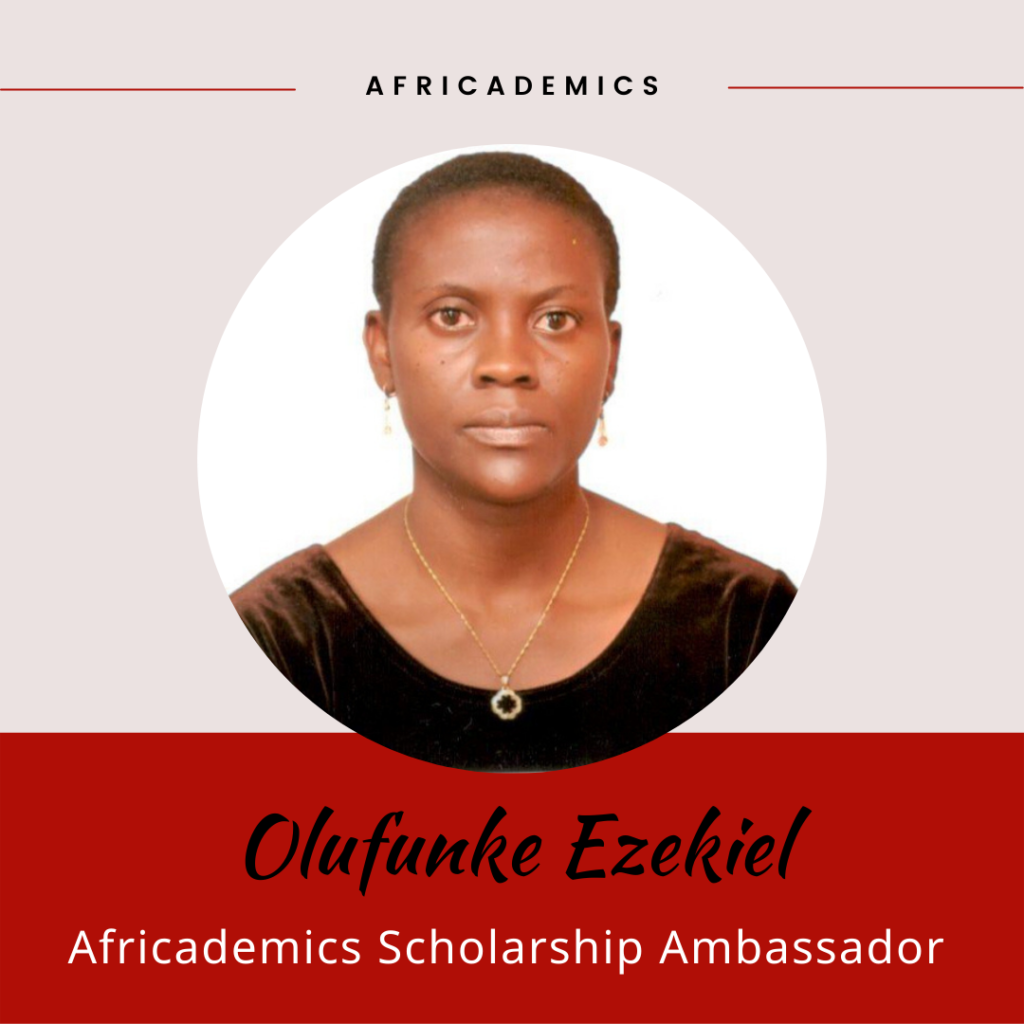 Olufunke Ezekiel from Nigeria is a Senior Lecturer in the Department of Food Technology at the University of Ibadan, in Nigeria, from where she obtained her BSc, MSc and PhD degrees in Food Technology. She presently teaches, among other courses, Fundamentals of Food Processing and Fermentation Technology.
Olufunke has been a recipient of several fellowships, including the prestigious Fulbright Fellowship sponsored by the government of the United States of America; the Mac Arthur Foundation Fellowship/grant and the Nuffic Netherlands Fellowship.
In 10 years' time, she would like to be a Professor of Food Technology, inspiring students to get to the peak of their academic potential and chosen careers in life. Throughout her career in academics, she comes across many brilliant indigent students who really need financial support in order to actualise their visions and potential in life. However, most of these students are void of proper guidance and direction as it relates to financing their academic goals and aspirations, therefore she would like to be a light and guide for such students and many more in a similar plight or condition.
Her motivation for becoming an Africademics Scholarship Ambassador stems from her desire for better access to quality education, as well as her passion for making a difference in the academic career of younger generations.
Welcome to the Africademics Ambassador Programme, Olufunke!
The Scholarship Ambassador Programme
Through the Scholarship Ambassador Programme Africademics trains volunteers from across Africa to become scholarship advisors and mentors. Ambassadors complete a 4-month online course with virtual lectures, case studies and additional activities. Once they have successfully graduated, our Scholarship Ambassadors offer personal support, advice and mentorship for scholarship seekers and applicants in and from Africa.
Our 2022 Ambassador cohort started their training in April 2022 and we are thrilled to have over 90 students and scholars from across the African continent on board this year. In 2021, we welcomed our first cohort of 30 Scholarship Ambassadors who completed their training in November 2021. They now offer free scholarship consultations, mentorship and application assistance for scholarship seekers in and from Africa on a regular basis.
Meet our team of Scholarship Ambassadors here and let us know via our contact form if you would like to book a personal consultation with one of them!