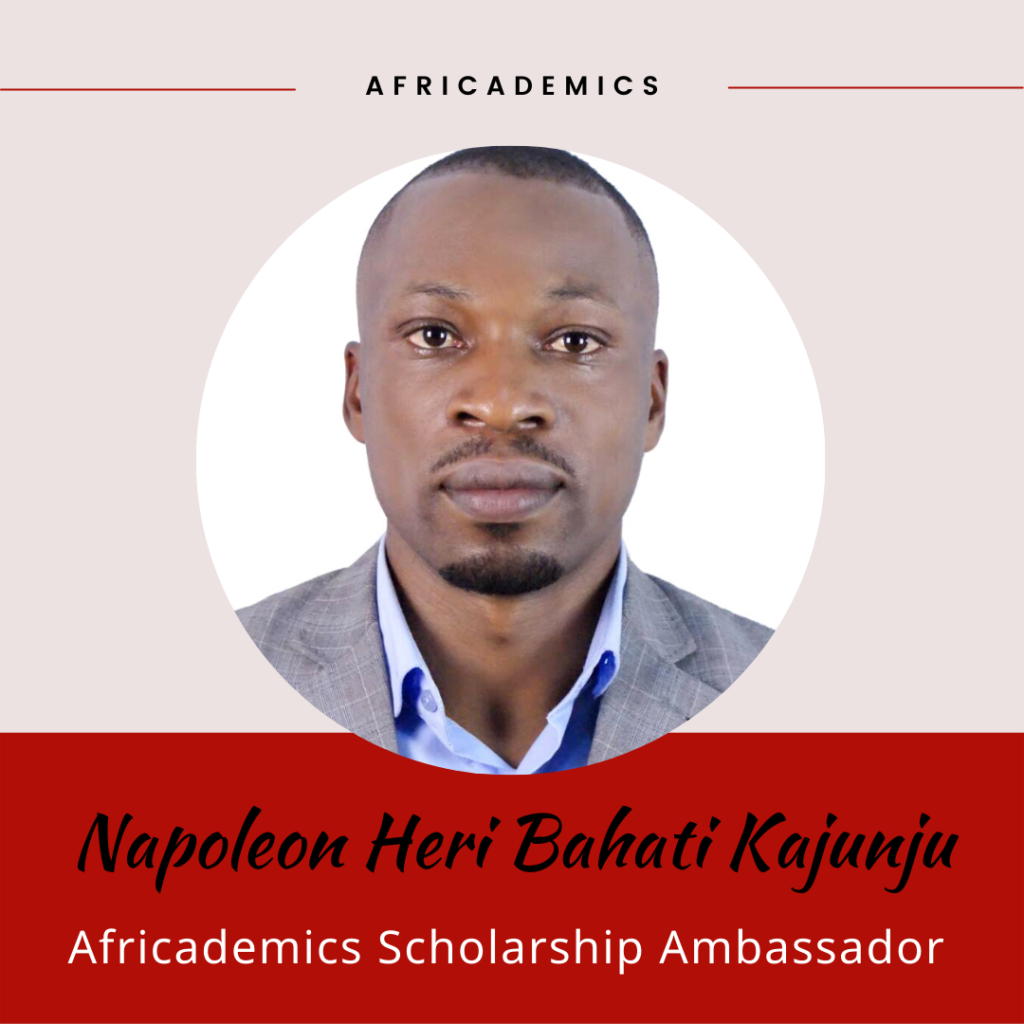 Napoleon Heri Bahati Kajunju from the Democratic Republic of Congo holds a Master's degree in Food Science and Technology from Makerere University in Uganda. He also holds two Bachelor's degrees, one in Agricultural Sciences and another in Chemistry and Agricultural Industries. Napoleon has been awarded the Mastercard Foundation Scholarship for TAGDEV's (Transforming African Agricultural Universities to meaningfully contribute to Africa's growth and development) Community Action Research Project.
Currently, Napoleon is a Project Administrator and Researcher at the Makerere University Research and Innovation Fund in Uganda, as well as a lecturer at both the Institut Supérieur d'Etudes Agronomiques et Vétérinaires de Walungu and Université Évangélique en Afrique. With overwhelming experience in agriculture, education and public management, Napoleon is passionate about becoming a researcher with a bias towards entrepreneurship, specialising in food processing and value addition as a means of creating employment opportunities for the youth.
His passion to give back to the community, especially the youth, is what drove him to apply to be an Africademics Scholarship Ambassador. In the past, he has successfully mentored various colleagues of his through the scholarship seeking process, but he believes that Africademics will equip him with more accurate, in-depth knowledge to improve his mentorship skills and give him the opportunity to assist even more people.
Something that others might not know about Napoleon is that he is very good at playing musical instruments, especially the guitar, and he also has a talent for stand-up comedy.
Welcome to the Africademics Scholarship Ambassador Programme, Napoleon Heri!
The Scholarship Ambassador Programme
Through the Scholarship Ambassador Programme Africademics trains volunteers from across Africa to become scholarship advisors and mentors. Ambassadors complete a 4-month online course with virtual lectures, case studies and additional activities. Once they have successfully graduated, our Scholarship Ambassadors offer personal support, advice and mentorship for scholarship seekers and applicants in and from Africa.
Our 2022 Ambassador cohort started their training in April 2022 and we are thrilled to have over 90 students and scholars from across the African continent on board this year. In 2021, we welcomed our first cohort of 30 Scholarship Ambassadors who completed their training in November 2021. They now offer free scholarship consultations, mentorship and application assistance for scholarship seekers in and from Africa on a regular basis.
Meet our team of Scholarship Ambassadors here and let us know via our contact form if you would like to book a personal consultation with one of them!