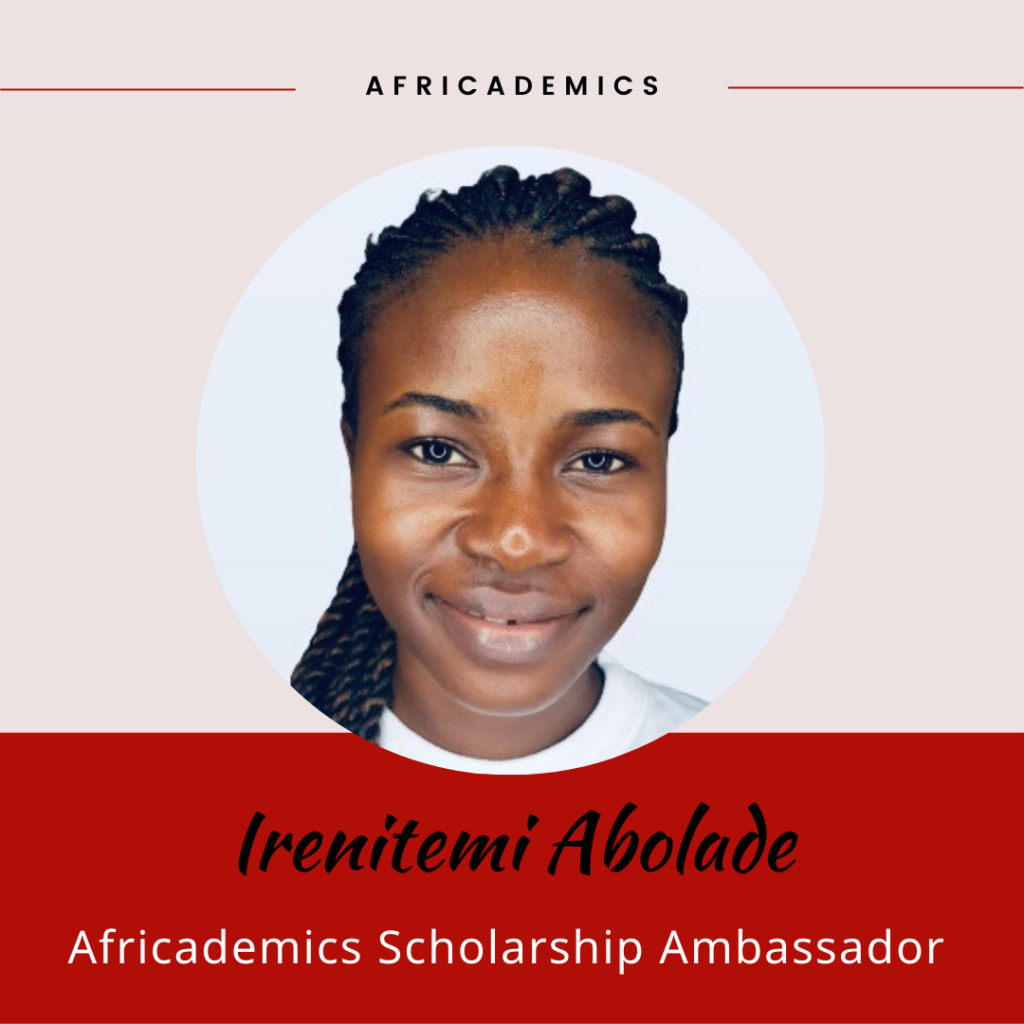 Irenitemi Abolade from Nigeria is a PhD student in Critical Management Studies at Technological University Dublin in Ireland where she is doing research on Decolonising Organisation and Management Studies: Embracing the Gendered Colonial Difference. She intends to explore Nigeria's informal economy from a decolonial feminist perspective. Currently, she is in receipt of a TU research/ first-time supervisor's Award. Irenitemi also holds a Master's degree in Development Sociology from the University of Ibadan where she graduated top of her class.
Irenitemi decided to become an Africademics Scholarship Ambassador because she is motivated to inspire those who are thinking of giving up on their dreams because of obstacles like scholarship rejections, and she wants to be a point of reference to a scholar's success story. Through the Ambassadors programme, she hopes to learn how to navigate scholarship opportunities, as well as how to network within the Africademics community.
A fun fact about Inrenitemi is that she looks very young and enjoys the look on people's faces when they find out how old she really is.
Welcome to the Africademics Scholarship Ambassador Programme, Irenitemi!
The Scholarship Ambassador Programme
Through the Scholarship Ambassador Programme Africademics trains volunteers from across Africa to become scholarship advisors and mentors. Ambassadors complete a 4-month online course with virtual lectures, case studies and additional activities. Once they have successfully graduated, our Scholarship Ambassadors offer personal support, advice and mentorship for scholarship seekers and applicants in and from Africa.
Our 2022 Ambassador cohort started their training in April 2022 and we are thrilled to have over 90 students and scholars from across the African continent on board this year. In 2021, we welcomed our first cohort of 30 Scholarship Ambassadors who completed their training in November 2021. They now offer free scholarship consultations, mentorship and application assistance for scholarship seekers in and from Africa on a regular basis.
Meet our team of Scholarship Ambassadors here and let us know via our contact form if you would like to book a personal consultation with one of them!