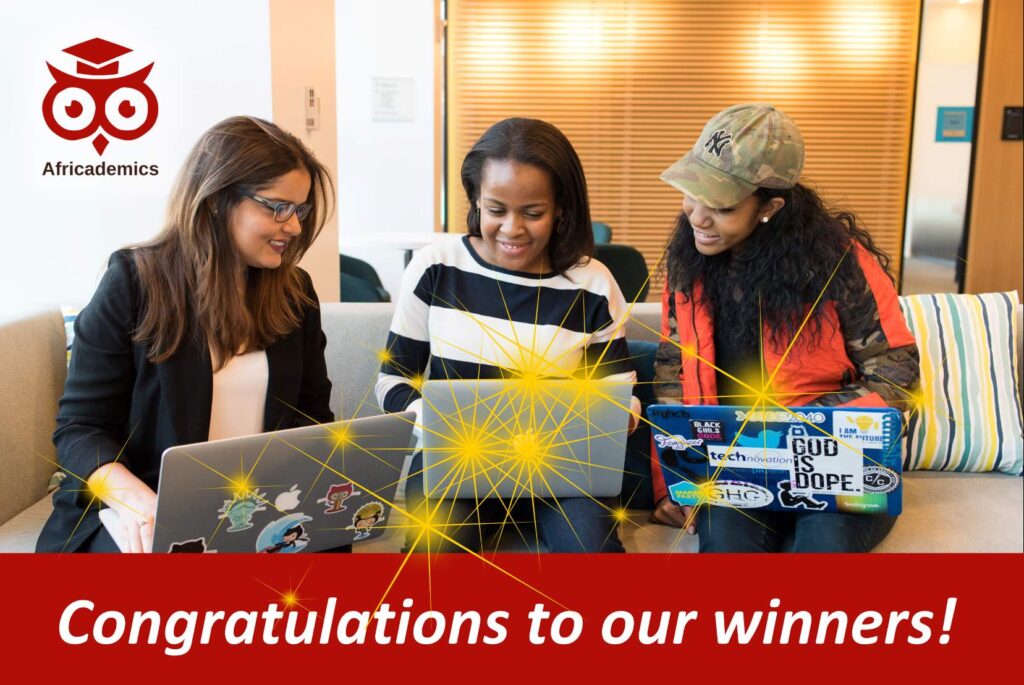 It's official: the lucky winners of our next round of scholarship consultations have been selected! Each of them will receive personal support, advise and mentorship from one of our Africademics Scholarship Ambassadors over a period of at least two months.
What can participants expect?
As part of our support package for scholarship seekers and applicants in and from Africa, our Ambassadors offer:
A revision of the your CV, provision of feedback on how to improve your CV;
A first call to discuss your scholarship needs, eligibility etc. and to advise on the next steps you should take in terms of finding and/or applying for a suitable scholarship;
A follow-up call to discuss progress and provide additional feedback and advice;
On-going mentorship and advice over a period of at least two months, depending on your needs and availability.
Meet our winners!
We received close to 250 applications for the current round of scholarship consultations and it was not an easy task to pick the winners. If your application was unsuccessful this time, please don't hesitate to re-apply for the next round which will start in May 2022. Make sure to keep an eye on our social media pages, our email NewsFlash and our WhatsApp and Telegram channels for the next call for applications!
The following individuals have been selected to participate in the current round of scholarship consultations:
Josiah Akinmusire from Nigeria
Asivhanga Mahandani from South Africa
Lawrence Ochieng from Kenya
Nonkululeko Sengkhona Zungu from South African
Isaac Owuor from Kenya
Francis Ofori from Ghana
Adiel Banda from Zimbabwe
Ruby Mang'eli from Kenya
Deborah Tshimanga from Congo
Ronald Adom from Ghana
Admire Mpofu from Zimbabwe
Buhari Abdullahi Bagwai from Nigeria
Chimfwembe Ngaba from Zambia
Kadijatu Posuwa from Sierra Leone
Sofunne Juliet Ohajunwa from South Africa/ Nigeria
Tarisai Kanyepi from Zimbabwe
Ibrahim Kamara from Sierra Leone
Abubakar Nura Ajiya from Nigeria
Amarachi Emenike from Nigeria
Joseph Kimani from Kenya
Virginiah Wame Metsing from Botswana
Bongane Mpande from South Africa
The Scholarship Ambassador Programme
Finding the right scholarship and submitting a high quality, successful scholarship application is not an easy feat. This is why we launched the Africademics Scholarship Ambassador Programme which offers personal support for scholarship seekers and applicants. Our Ambassadors have completed an intensive 6-month training and most of them are either scholarship holders or scholarship alumni.
Our Ambassadors offer support, advise and mentorship to a group of selected applicants on a quarterly basis. They offer this service free of charge and on a voluntary basis as it is their way of giving back and lifting others as they rise. If you are interested in a scholarship consultation with one of our Ambassadors, keep an eye on our social media channels and subscribe to our email newsletter, WhatsApp group and Telegram channel and make sure you don't miss the next call for applications!
For more information about our Ambassador programme and to meet our Ambassadors, click here!