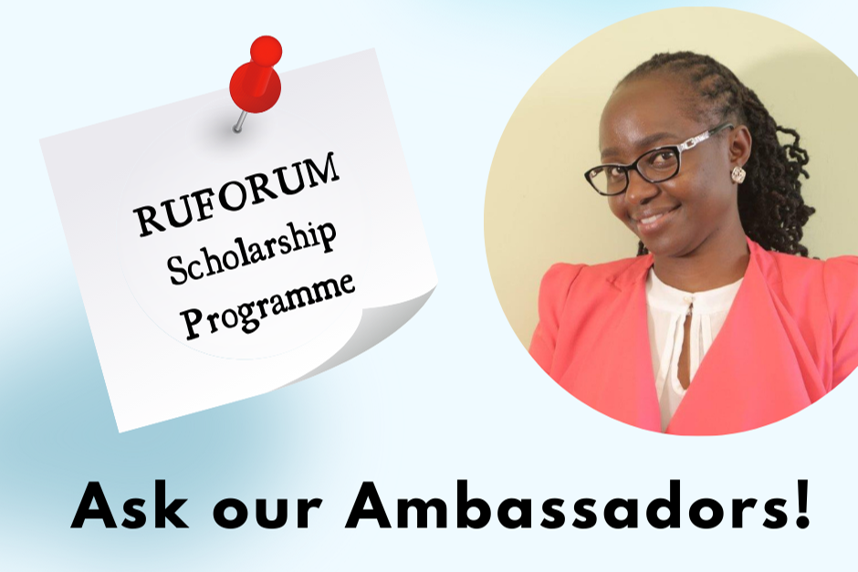 In our new 'Ambassador Advice' series, our Africademics Scholarship Ambassadors share their experience and advice for scholarship applicants in and from Africa. This week Jenninah Mbogoh from Kenya, a MSc graduate in Agronomy and Crop Science at the University of Eldoret and recipient of the RUFORUM Scholarship, introduces the programme and shares valuable tips for future applicants.
About the Scholarship
The Regional Universities Forum for Capacity Building in Agriculture (RUFORUM), established in 2004, is a consortium of 46 universities in Eastern, Central, Western & Southern Africa (ECWSA). The organisation evolved from the Forum on Agricultural Resource Husbandry (FORUM) program of the Rockefeller Foundation. RUFORUM is registered as an International Non-Governmental Organisation (NGO) and has mandate to oversee graduate training and networks of specialization in the Common Market for Eastern and Southern Africa (COMESA).
RUFORUM has a MoU with the African Union for strengthening science, technology and innovation capacity in Africa. The programme offers successful applicants tuition fee, project funding, a stipend as well as travel costs. RUFORUM supports universities to address the important and largely unfulfilled role that universities play in contributing to the well‐being of small‐scale farmers and economic development of countries throughout the sub‐ Saharan Africa region.
RUFORUM collaborates with a diversity of donors to provide scholarships for agricultural post-graduate training. When these scholarships are available, they will be advertised. The scholarships are competitive, and the best suited students are selected.
The Application Process
For one to qualify for this programme you have to be a citizen of any African country. Further, the applicants should meet the admission criteria for eligible programs in the university of their choice and must have completed a relevant bachelor's degree.
They should demonstrate interest in agriculture, agribusiness and entrepreneurship, and demonstrate commitment to leadership. The applicants need to have a commitment to working in agriculture, agricultural value chains and rural development and have a strong commitment to community engagement and transformation. If you would like to apply for a RUFORUM scholarship, you can do so via this link: https://www.ruforum.org/
Personal Experience and Advice
After I completed my undergraduate studies, I got a job at a vegetable export farm but deep down I really wanted to further my studies. I worked for one year and then decided to quit my job so that I could go back to university. I thought I would get a job near the University so that I could get money to pay the fees.
I enrolled for my Master's in Agronomy degree, but getting a job in the new town proved to be a very difficult task and I ended up being unable to pay my tuition fees. Fortunately, one day while at university I saw a notice board announcement about the RUFORUM Scholarship.
They were offering scholarships for two students who had already enrolled for Master's studies in any agriculture-related course and were able to submit a written project proposal, among other qualifications. Since I had already enrolled, I only needed to come up with a project proposal. I contacted one of my lectures, Prof.  Julius Ochuodho, who was a principal investigator for one of the RUFORUM grants, and asked for his help. He guided me and I was able to draft a proposal which I presented during the interview.
Since I was in the same university where I had done my undergraduate, it was very easy for me to get help especially from the lectures since they all knew me. After two long weeks of waiting I got the good news that my application was successful. I was overjoyed! The RUFORUM scholarship gave me an opportunity to travel and present my project results at various local and international conferences.
Through these presentations, I developed exceptional presentation and communication skills that have been very essential in my career life today. My research project needed a lot of collaboration, both with farmers and other institutions and departments within the university. RUFORUM kept tabs with every step of the project, addressing any setbacks in good time and ensuring that I had everything I needed to carry out a successful research project and complete my studies.
I recommend the RUFORUM scholarship programme to African students wishing to further their studies. I am a firm believer that where there is a will there is always a way. I would therefore like to encourage students who want to further their studies and are looking for a scholarship in the field of agriculture to take the first steps. Once you have started your scholarship journey the rest will follow because success occurs when opportunity meets preparation. Never be shy to ask for help!