By Lena Gronbach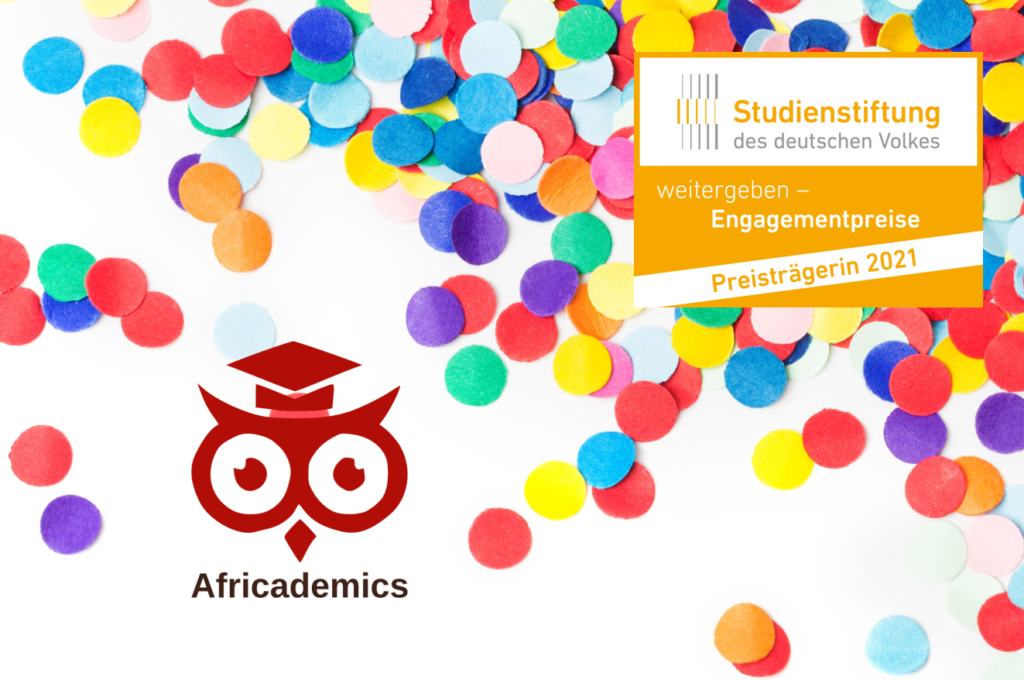 The Africademics Fundraising Campaign
As you may have read in our latest newsletter and social media updates, Africademics was recently awarded the 2021 'weitergeben – Social Engagement' prize by the Studienstiftung des deutschen Volkes (German Academics Scholarship Foundation).
As part of this prestigious annual award, the Foundation's alumni association is running a fundraising campaign to support us in expanding our Ambassador Programme, launching our scholarship database, and offering additional mentoring and support to scholarship applicants.
Join our fundraising campaign here: https://www.betterplace.me/africademics-spendenaufruf-studienstiftung
We have already received the first donations and are hoping to reach our fundraising target of EUR 10,000 – and in order to achieve this, we need your help! Even a small donation will make a big difference and will help us support more young Africans in accessing higher education through scholarships. Every contribution will bring us one step closer to our goal!
If you cannot support our campaign financially, there are many other ways to contribute: Share the campaign link with your friends, colleagues, family members and networks and encourage them to make a donation! Use your social networks to spread the word, post the campaign link on WhatsApp groups or other platforms, and speak to potential funders. We know that anything is possible with the help of a strong network, and we are counting on you!
For more information about the campaign, what the funds will be used for, and what Africademics founder Lena Gronbach has planned for 2021, read the campaign interview by the German Academic Scholarship Foundation here: Fundraising Campaign Interview.