By Hillary Frattini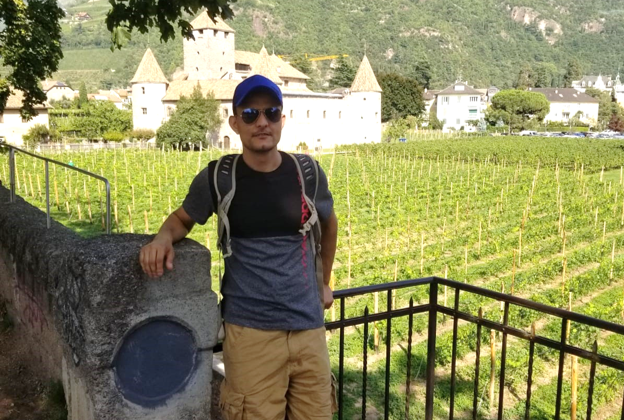 "The scholarship allowed me to achieve my goal without weighing on the shoulders of my family"

Bouchaib El Idrissi, PhD scholarship recipient, Université du Québec à Trois-Rivières, Canada
Bouchaib El Idrissi, born in 1988, is originally from Ain Harrouda, a Moroccan city located 17km northeast of Casablanca. He completed his PhD at the Université du Québec à Trois-Rivières in Canada, thanks to a scholarship provided by the university and the support of his mentor.
To provide some context to the educational path undertaken by Bouchaib, it is appropriate to briefly illustrate the Moroccan higher education system. It is known as LMD (License-Master-Doctorate) and was introduced in 2003. The first cycle of studies is divided into two different types of license: The License d'études Fondamentales (Licentiate of Fundamental Studies) and the License Professionnelle (Professional Licentiate).
Depending on the selected path, the first cycle may result in the awarding of an intermediate credential: the Diplôme d'études universitaires générales (DEUG – Diploma of General University Studies), or the Diplôme universitaire de technologie (DUT – University Diploma of Technology). This is effectively a bachelor's degree.
At this point it is possible to continue with the second cycle of studies to obtain a Master's degree. Students can choose whether to pursue the Master de recherche (Research master) – preferred by those who wish to obtain a doctorate – or the Master professionnel (Professional master) – preferred by those seeking immediate professional opportunities. The third and final cycle allows the achievement of the Doctorate for which, as explained above, a Research Master's degree is required.
In line with the system described above, Bouchaib completed the first cycle of studies in 2009 at the École Supérieure de Technologie (Superior School of Technology) in Casablanca, thus obtaining the University Diploma of Techonolgy (DUT). Obtainment of the DUT allowed Bouchaib access to the second cycle of studies.
In 2009 he moved to Agadir, and three years later he graduated with the diploma of Ingénieur d'État – which is equivalent to a Master's degree – at the École Nationale des Sciences Appliquées (National School of Applied Sciences). At this point Bouchaib could have finished his studies in Morocco and obtained a doctorate, but he preferred to follow a different path: "Crowning my academic journey with a doctorate has always been in my projects so that my future career can benefit from it in terms of earnings and personal satisfaction".
He continues, "considering the economic impact that my studies have had on my family I preferred to gain practical experience first and look for a job consistent with my educational path". After a long job search, Bouchaib started working as a project manager in water treatment for a company in Casablanca.
Months later, the desire to take on new challenges began to grow within him: "I liked my job" he says, "but it was quite static and I felt the need to find something more stimulating". In November 2013, Bouchaib packed his bags and went on an adventure to Dubai: "Many call it the land of opportunity and therefore I decided to give it a try."
He ads: "Initially I found a job as an AuPair that allowed me to get a visa and teach Arabic, French and science to the son of a local family". Over the course of two years, various job opportunities  arose for Bouchaib, but something always prevented him from getting the desired employment.
"Changing my visa conditions represented a significant problem" he declares, "at some point I started to grow tired of those visa related issues and I began to consider resuming my studies".  The first step for Bouchaib was to collect information related to  available scholarships for his study plan. "My stay in Dubai was undoubtedly useful for my personal growth" he continues, "but it definitely slowed my professional growth and this is why I wanted to find a scholarship as soon as possible."
After evaluating a various scholarship opportunities sponsored by different entities from all over the world, Bouchaib finally found what he was looking for: "There is a long-standing bilateral cooperation between Morocco and Québec, and one of the sectors that most benefits from this relationship is higher education" he explains.
"In order to convince more domestic and foreign students to obtain a PhD, the Canadian government and many post-secondary institutions offer international students possibilities for obtaining scholarship awards, grants, or bursaries to finance their education", he continues.
For Bouchaib, the Université du Québec à Trois-Rivières proved to be the most appropriate choice as it offered the course of study of interest to him, as well as a full scholarship, so he decided to move to Canada in 2015. Bouchaib soon found himself facing the first difficulties: "As the educational system in Morocco is different from the Canadian one, my Master's degree was not considered as such. For them it was worth  a simple Bachelor's degree" he says. "So before starting my PhD I had to enrol in an accelerated Master's degree programme for four semesters and only after completing it was I able to access the PhD course."
Bouchaib finally submitted his dissertation in early April 2020, and on April 29th he was officially awarded a PhD in Science and Engineering of Lignocellulosic Materials.
"It was a difficult but rewarding path" he says, "and my mentor was a key figure from the beginning of my experience in Canada because he has assisted me in everything I needed – from visa and scholarship information, to the development of my thesis. The scholarship allowed me to achieve my goal without weighing on the shoulders of my family" Bouchaib says. "Most likely I would never have completed my doctorate had it not been for the scholarship, because the costs to be incurred were too high."
Bouchaib is currently looking for a job: "The Covid-19 pandemic has turned my plans upside down" he adds, "I hope that the situation will stabilize soon so that I can start reaping the benefits of my academic efforts."
When asked if he misses Africa he replies: "What I miss most is the sea, hot summers, and mild winters. The climate in Québec is extremely cold and often limits the opportunity to fully enjoy the environment." Regarding his future aspirations, returning to Africa does not seem to be part of his plans for the moment: "I want to travel a little more and gain work experience abroad" he says. "I would like to move to Europe at some point, so as to be closer to my family."
Hillary Frattini is completing a Psychology degree through the University of Essex. She is a passionate storyteller and adventurer, and she firmly believes that education is the key to a better future. Hillary has recently started working on combining her passions for both academia and writing to represent the voices of her generation.