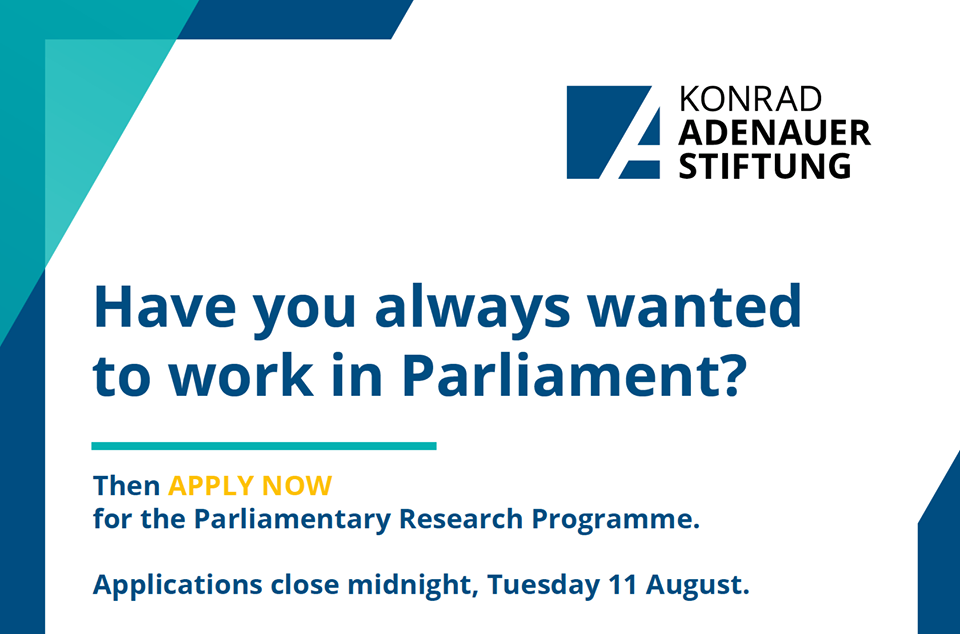 Have you always wanted to work in parliament? Then APPLY NOW for the Parliamentary Research Programme – applications close on 11 August!
About the programme
The Parliamentary Research Programme is a full time, three month placement as a researcher for a political party at the South African Parliament in Cape Town. The programme will run from 14 September to 14 December 2020. The Konrad Adenauer Foundation (KAS) will pay a monthly stipend and cover airtime and work-related travel expenses.
Benefits of the programme:
Increase familiarity with structures, processes and people in Parliament.
Opportunity to network widely in Parliament for job opportunities.
Generally improved job prospects and deepened knowledge of political sector.
Join the KAS alumni network.
Eligibility and Requirements
Applicants are expected to demonstrate outstanding academic performance, personal suitability, as well as political and social commitment. We expect candidates to have a broad general education and a strong interest in political issues, a positive attitude towards democracy and human rights and to exercise tolerance with regard to different-minded people.
The programme is open to individuals who hold, or are enrolled in, postgraduate qualifications in politics, economics, law, media and related fields.
Apply now!
Applications will close at midnight on 11 August 2020 (GMT +2).
For more information and to access the application portal, visit https://www.kas.de/en/web/suedafrika
About the Konrad Adenauer Foundation
The Konrad Adenauer Foundation (KAS) is a political foundation that is active in 18 forums for civic education and regional offices throughout Germany. Around 100 offices abroad oversee projects in more than 120 countries. Their headquarters are split between Sankt Augustin near Bonn and Berlin.
Konrad Adenauer and his principles define the KAS guidelines, as well as their duty and mission. The foundation adopted the name of the first German Federal Chancellor in 1964 after it emerged from the Society for Christian Democratic Education, which was founded in 1955.
KAS is committed to peace, freedom and justice at the national and international level. Their primary concerns are strengthening democracy, the rule of law and personal responsibility at home and throughout the world, as well as promoting European integration and international cooperation. More detailed information is available at https://www.kas.de/en/web/suedafrika/about-us