By Hillary Frattini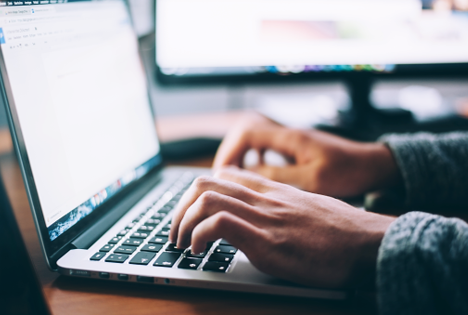 As we head toward an increasingly technology-orientated world, online learning is becoming more popular and efficient. Distance education traces its history back to 1800's, with the advent of Internet and the improvement of technological tools, also the popularity and credibility of online degrees did. E-learning is, nowadays, providing a wider array of courses and materials that are accessible to larger numbers of students.
Subsequent to the 2008 economic crisis, the number of enrolments in online Universities increased, with more resources now being invested in virtual learning, even though better choices could have been made (like investing more resources in the actual products offered instead of directing most capital to marketing).
With the world currently facing another severe crisis, distance education has proved to be extremely useful, but some of its weaknesses have also been brought to light. This can represent an opportunity for a growing economy like Africa to contribute to the development of the future of education models.
Online learning vs. traditional systems
When Nelson Mandela graduated through correspondence in prison in 1989, he proved that there are few limits to education, and that it can be a strong anchor of hope for the future. It is with this positive meaning that this article aims to examine the current situation of distance education, starting with answering one of the most typical questions regarding the topic: will e-learning replace the traditional education system?
The answer is that one should not replace the other -remote learning should assist the face-to-face system and vice versa. At least, this is how what is happening in this period should be interpreted: online degrees should not represent a threat, but a solution. An unexpected event such as the COVID-19 pandemic put a strain on traditional education models, which had to revise teaching plans in a very short time to ensure the continuation of studies to billions of students globally.
The establishments that didn't have their own platforms online and didn't have the possibility to collaborate with online program management companies due to timing and organizational problems have opted for fast solutions, which have generated several criticisms. Among the main concerns are poor content and instructor preparation, lack of interaction with other students, scarcity of instructions and limited teacher availability.
These type of issues have already been addressed and largely resolved by online institutions, which is why it is important for future planning to encompass a collaboration between traditional establishments and online platforms, so as to facilitate education for both students and teachers in uncertain times.
Remote degrees: today's challenges are opportunities for tomorrow
Amongst the most common challenges online students face are self-motivation and social presence, and in this sense mature learners are advantaged compared to younger ones. This also explains why the average online student falls within the 25-34 age range. Being able to plan a personal schedule effectively is fundamental to ensuring a successful outcome when it comes to distance education – in this case practical experience and cognitive maturity play an essential role.
Adult learners tend to have already experienced success in the academic or/and working environment; being more familiar with self-realization allows them to have more self-confidence and therefore obtain better results than younger students. Since the online education environment requires students to take responsibilities for their learning, adult learners find themselves at an advantage over younger students again, as they are often motivated by the idea of getting a degree in order to advance their career, whilst younger students often lack work experience and future projects are much less defined.
Having a social presence and creating an online learning environment is important to feeling part of a group and give meaning and purpose to the academic journey. When it comes to virtual interactions, young students seem to be more comfortable than adult learners, who prefer individual study and have mixed feelings about online discussions, judging their effectiveness based on participant feedback.
The best time for improvement
What has been explained in the previous paragraph reflects an online setup that is mainly a reproduction of the traditional system, barring the support of face-to-face interaction with instructors and fellow students. What could possibly happen if online institutions would make a wiser use of the countless advanced tools that technology offers to improve their current structures?
It could benefit younger students, who grew up closely with technological tools and are more familiar with them, and partly sorts out issues related to self-motivation. It could boost interactivity by introducing practical tasks that could reinforce theoretical knowledge and increase the engagement level. It could enable the prioritisation of student interests by delivering a contemporary product that fosters a direct relationship with the desired job channel. It could also provide online environments with a unique identity instead of being a replication of something that already exists, making them more appealing and competitive.
Now that distance learning has proved to be reliable and indispensable, it is the perfect time for online program management companies and higher education institutions to take some risks and invest in improving the current models.
The African potential
Developing online education can represent greater opportunities for Africa to make more effective contributions. The history of higher education in Africa can be tracked back to the 1930s, and it was originally born with the aim of fighting colonialism. Despite initial positive impacts, in the 1990s the African university system suffered a sharp decline through lack of funding and political crises, prioritising investments in basic education over tertiary. Only toward the end of the 20th century and the beginning of the 21st was it fully understood that economic development and higher education go hand in hand.
Nevertheless, problems such as funding, infrastructure and health systems slow the growth and development of University systems in Africa as well as making them difficult to access. Distance education has been seen as an excellent alternative to remedying the issues arising from traditional education in Africa, though it also involves significant limitations in terms of technological access.
According to World Bank, 38% of the population of North Africa and 60% of the population of sub-Saharan Africa live in rural areas, where internet access is still restricted to mobile devices. Computers are mainly available at cafes, youth centres and schools – for this reason, the perception of internet usage is limited to seeking employment, communicating with family and friends, and accessing general information. In addition to the difficulties related to accessibility, Internet in Africa has the highest costs worldwide, as shown by the research on Mobile Broadband Pricing carried out by A4AI (Association for Affordable Internet).
These issues represent limitations, but they can be seen as opportunities for improvement. Africa has great potential, considering it is home to well-established online institutions like University of South Africa (UNISA), University of Africa (UA), Wits Plus and African Virtual University (AVU), among others.
Professor Patrick Loch Otieno Lumumba provided good examples of African Universities and young African scholars who are contributing to develop different fields, from health to technology, proving that the continent owns the resources and the talents it needs. With the COVID-19 pandemic showing that relying mainly on imported assets can be an extremely dangerous choice, Africa should focus on providing local solutions that could benefit its economy and people, starting with bolstering distance learning, which will also facilitates the opportunity to access higher education for a larger number of people.
Hillary Frattini is completing a Psychology degree through the University of Essex. She is a passionate storyteller and adventurer, and she firmly believes that education is the key to a better future. Hillary has recently started working on combining her passions to represent the voices of her generation.