By Aydn Parrott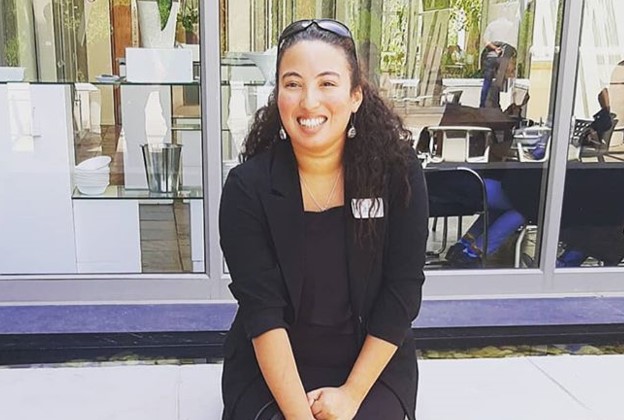 "My main goal is educating others on disability awareness and inclusivity"

Luigia Nicholas, FNB bursary recipient
Luigia Nicholas is a South African completing her Postgraduate Diploma in Tax Law at Stellenbosch University. Luigia hopes to work as a tax lawyer specializing in disability tax while also continuing the work in disability awareness she is doing.
Luigia completed her Bachelor of Commerce in Marketing & Entrepreneurship at Stellenbosch University. First National Bank supports students with disabilities at South African universities and Luigia is a one recipient of this bursary.
Luigia, who has a visual impairment and uses a guide dog, Haiku, for assistance with her daily work and activities, hopes to contribute towards a more accessible Africa for those with disabilities.
"My main goal is educating" says the 24 year old Luigia who is the current Special Needs Manager on her university's Student Representative Council. Luigia is also a co-facilitator on the University's Lead with Disability workshop series.
The workshops aim to teach students and staff at Stellenbosch University what accessibility is and how it can be implemented in all aspects of university life and beyond.
"I aim to educate others on disability awareness and inclusivity. My legacy will be encouraging others with disabilities to pursue their ambitions and to not let their disabilities limit their goals," says Luigia.
According to Luigia, her bursary from FNB introduced career workshops and skills development programmes for students with disabilities. She says, "This allowed me to learn more about the working environment which helped prepare me for job interviews and gave me more work readiness."
Encouraging other young Africans to apply for funding opportunities Luigia says, "bursaries can be a tool for students to thrive in their studies." She explains that "it gives you the advantage of not having to stress about your financial situation during studies."
Luigia adds that bursaries also give students motivation in their studies because they know that they were given this opportunity out of many others who applied.
Aydn Parrott is a freelance writer and storyteller. He represents Africademics as a University Ambassador at Stellenbosch University and runs the 'Power of Thought' blog: https://powerofthoughtblog.wordpress.com/